Mary J Blige Defies Her Age by Displaying Her Legs in a Silver Fringe Dress at Her Documentary Premiere
Iconic singer Mary J. Blige put her legs on display as she dazzled in a shimmery fringe dress at the premiere of her documentary, "My Life." 
Since breaking into the scene, American singer Mary J. Blige has represented beauty, talent, passion, and style. She brought those attributes to the fore during the premiere of her documentary, "My Life," on Tuesday. 
Blige fittingly stole the show by stunning in a silver double-slit gown, showing off her gorgeous toned legs and revealing the tattoo on her right thigh. The 50-year-old looked many years younger than she is in her lovely dress.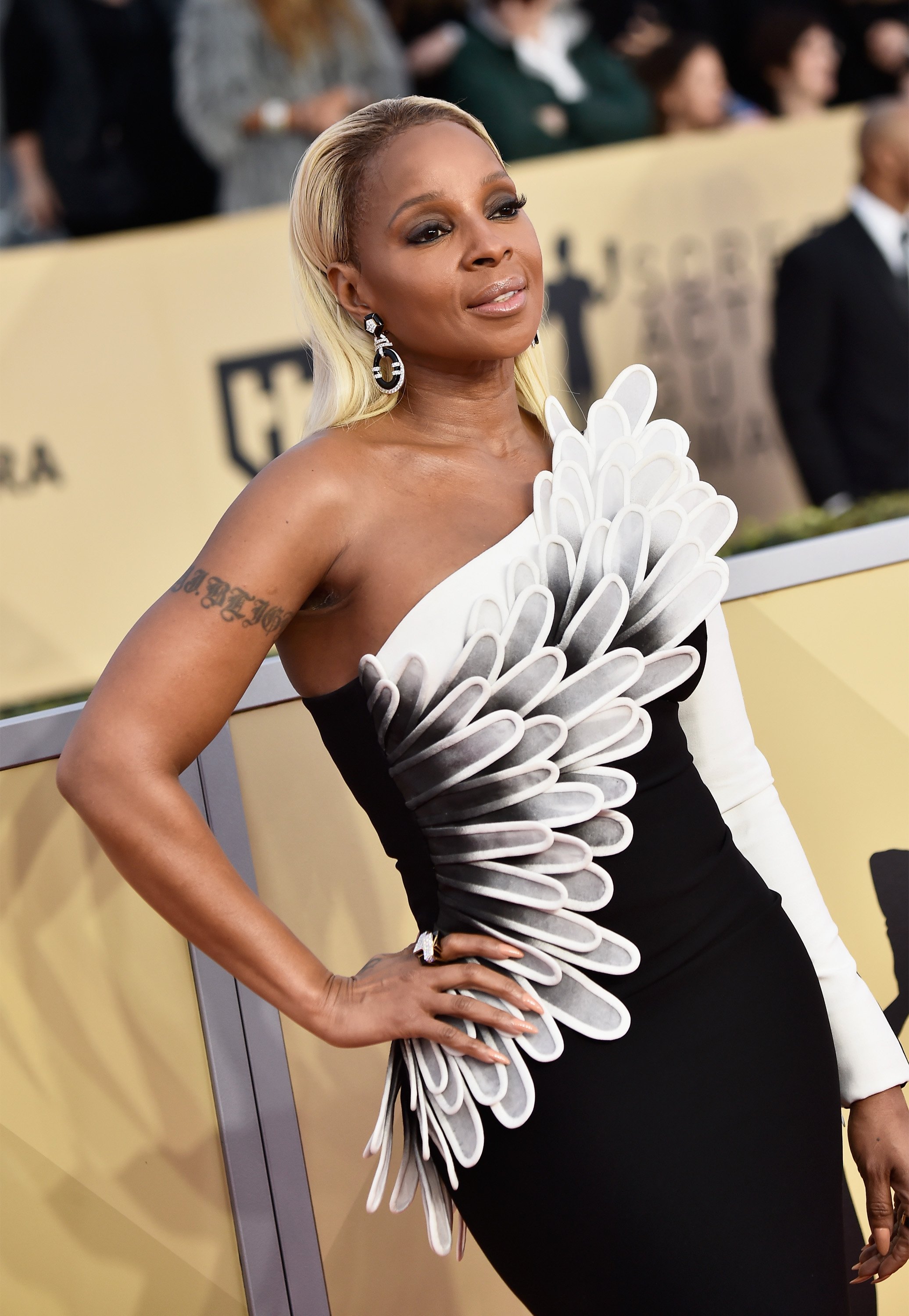 She accessorized her dress with two sparkly drop earrings that matched the color of her outfit and completed her look with open-toe stilettos. She also rocked a twisted blonde updo and smokey gray eyeshadow, along with bracelets and rings on her wrists and fingers.
On its official Instagram page, Fashion Bomb Daily shared a picture of Blige's dazzling look posing by a wall. The post's caption gave more details about her dress:
"#MaryJBlige wore an #AlexanderVauthier Spring 2021 look to the premiere of her new doc #MyLife."
Many fans who commented on the post expressed their love for Blige's outfit and took turns complimenting her. One fan loved everything about her appearance, while another fan described the singer as a natural blonde queen. 
Blige's road to becoming and remaining a superstar has not been rosy. She was sexually abused by a family friend as a child and has previously struggled with drug and alcohol addiction. 
She said going back to revisit the source of those pains was heavy for her.
She also went through a divorce with her ex-husband Kendu Isaacs, who she formally credited for helping her end her depression and drug addiction. 
However, she has since expressed regrets for crediting him for those things. In a 2019 interview with Self, she opened up on how she was able to stop her addictive behavior. 
The Queen of Hip-Hop Soul said she had to break the chains of addiction by realizing what would become of her in the future if she did not stop. Hence, she found the strength she needed to go forward and never look back. 
Since the official trailer for "My Life" was released, Blige has granted multiple interviews and opened up about making her classical 1994 hit album with the same title. 
Recently, she spoke to ET's Kevin Frazier about the painful experiences she had as a little girl growing up in the projects and how they inspired her "My Life" album in 1994. 
She said going back to revisit the source of those pains was heavy for her but it was important to her to show her fans what happened and where her pain came from. 
Blige went through the pain and darkness and emerged victoriously, earning her the respect of some of the world's biggest stars and millions of fans worldwide. 
About being adored by many people, Blige said it is beautiful, amazing, and humbling. She also described it as a responsibility because she got something right.