Diddy's Identical Twins Pose in Leather Balenciaga Ensembles with White Bags in New Photos
Diddy's twin daughters wowed fans as they struck adorable poses in identical leather outfits. Their cool ensemble received the thumbs up from Fashion Bomb Daily.
Rapper Sean "Diddy" Combs' identical twin daughters are growing up fast, and modeling is certainly in their genes. The twosome, D'Lila Star and Jessie James, recently posed in fashionable Balenciaga ensembles, showing off their trim physique.
The 15-year-olds shared the photo on Instagram, garnering several likes and comments. The pic showed the pair clad in identical black leather pants and jackets.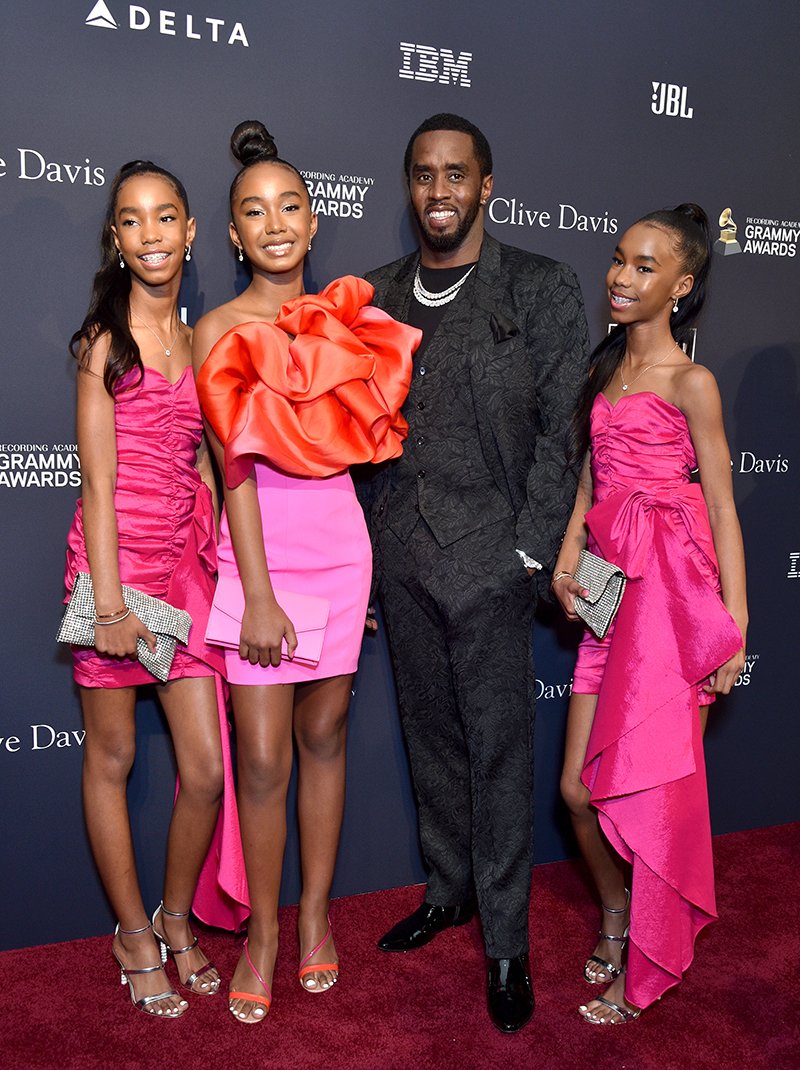 They paired the outfits with white Balenciaga handbags which matched the color of their fur slides. Diddy's girls stood casually, snuggling up to each other in celebration of their sisterhood.
The style-analyzing website Fashion Bomb Daily reposted the stunning snapshot on Instagram, giving the girls the nod of approval via a caption that read:
"@fashionbombkids: @the_combs_twins #jessieanddelilah posed for @foxthephotographer's lens wearing @balenciaga and more. So cute!"
D'Lila and Jessie have twinned up for photoshoots on previous occasions, sending fans raving with their unique fashion choices and making their dad proud.
They adopted the fashion culture from the cradle, quickly picking an interest in modeling and entertainment, thanks to their parents' careers.
Diddy's years of experience in parenting the two girls made the icon a master at the art of raising twins.
The teenagers made their catwalk modeling debut in 2013 when they walked the runway at the Swarovski and Ooh! La, La fashion show in New York. The proud father could hardly contain his excitement, taking to Twitter to gush about how proud they made him feel.
Since joining the family, the twosome has served as a source of pride and happiness to the hip-hop mogul. The father-of-six admittedly overcame the loss of his ex-partner, Kim Porter, thanks to their twin daughters.
Diddy shares the two girls with Porter, who passed away after a battle with pneumonia. The couple, who also shares a son, welcomed D'Lila and her sister in December 2006 and named them after their respective grandmothers, Lila Star Zimmerman and Jessie Smalls.
Diddy's years of experience in parenting the two girls made the icon a master at the art of raising twins. Years later, he was able to pass down some of that knowledge to his good friends, Beyoncé and Jay-Z.
During his appearance on "Late Night With Seth Meyers" in 2017, the record executive disclosed that after years of receiving counsel from Jay-Z, he gladly returned the favor by dishing some tips on parenting twins.
He also dished on the blessing that came with having two babies at once, describing how amazing it felt to receive twice the love. This father sure knows how to make parenting sound like fun!