Who Is Carl Nassib? Everything We Know about the First NFL Player to Come Out as Gay
Professional football player Carl Nassib came out as gay and became the first active NFL player to do so. Almost nobody believed he could play in the NFL, though.
Due to the draft system in the US, athletes need to stand out from a very young age. A football player's stats in high school are undoubtedly vital, but what they do in college really puts them in the radars of pro teams.
For this reason, not many people thought that Carl Nassib, the first active football player to come out as gay, would make it to the NFL. He was a walk-on in college!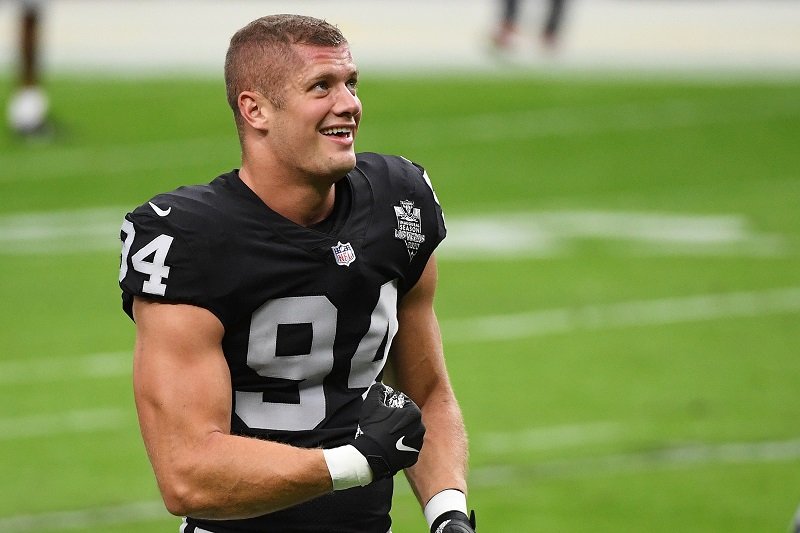 Nassib, a defensive end, never started a game with his high school team at Malvern Prep. He then went to Penn State, a Power 5 college, but couldn't make it to the starting team. 
One of his main problems was his size. For a 6-foot-6 defensive end, 218 pounds wasn't enough. He could have tried to become a basketball player, but he wanted to play football. 
Carl Nassib's family was probably a big reason, mainly because his dad, Gilbert, played tight end at the University of Delaware in the 70s. His younger brother and cousin also played college football. 
After two seasons at Penn State, his head coach told him he wouldn't play professionally. Fortunately, his senior season was remarkable, to say the least.
Apart from finally becoming a starter player, he won the Big Ten Defensive Player Of The Year and established the school record for single-season sacks. 
[Nassib's] public revelation will make easier the lives of several gay young people in the world.
Nassib's impressive senior season was good enough to attract the Cleveland Browns' attention, which drafted him in the third round of the 2016 NFL Draft.
Good on you. My son is gay. Every time someone of your status comes out it makes life better for him.

— Laura - #PROGRESSIVE #BLM 🐋🐶🗽🌈 (@LauraIwanaga) June 21, 2021
After two seasons, the Tampa Bay Buccaneers picked him up, and he played two very successful years with them. In 2020, he joined the Las Vegas Raiders after signing a three-year, $25 million deal. 
In June 2021, Carl Nassib came out as gay on Instagram. He said he did it because "representation and visibility are so important" and also donated $100,000 to The Trevor Project, an LGBTQ+ teen suicide prevention NPO.
His video went viral, and he got support from several people who believe his public revelation will make the lives of several young gay people in the world easier. 
Hall of Famer Warren Moon also made headlines after tweeting that he was proud of Carl Nassib for coming out and adding that he played with gay teammates who were never comfortable enough to go public with the news. What a brave move, Carl!