Fans Praise 'Fantastic King' William as He Joins the Queen for Her First Trip Amid Prince Philip's Death
The British Royal Family recently shared several images of Prince William accompanying his grandmother, the Queen, to Scotland. Fans praised him for playing his future kingly role well.
This week, the Queen, 95, will be undertaking a week of royal duties called #RoyalWeek, according to The Royal Family's social media pages. She kicked it off on Monday by having a visit to Edinburgh, Scotland.
The outing was her first public one since her husband of 73 years, Prince Philip, passed away in April 2021. She wasn't all alone, though, as her grandson, Prince William, 39, accompanied her.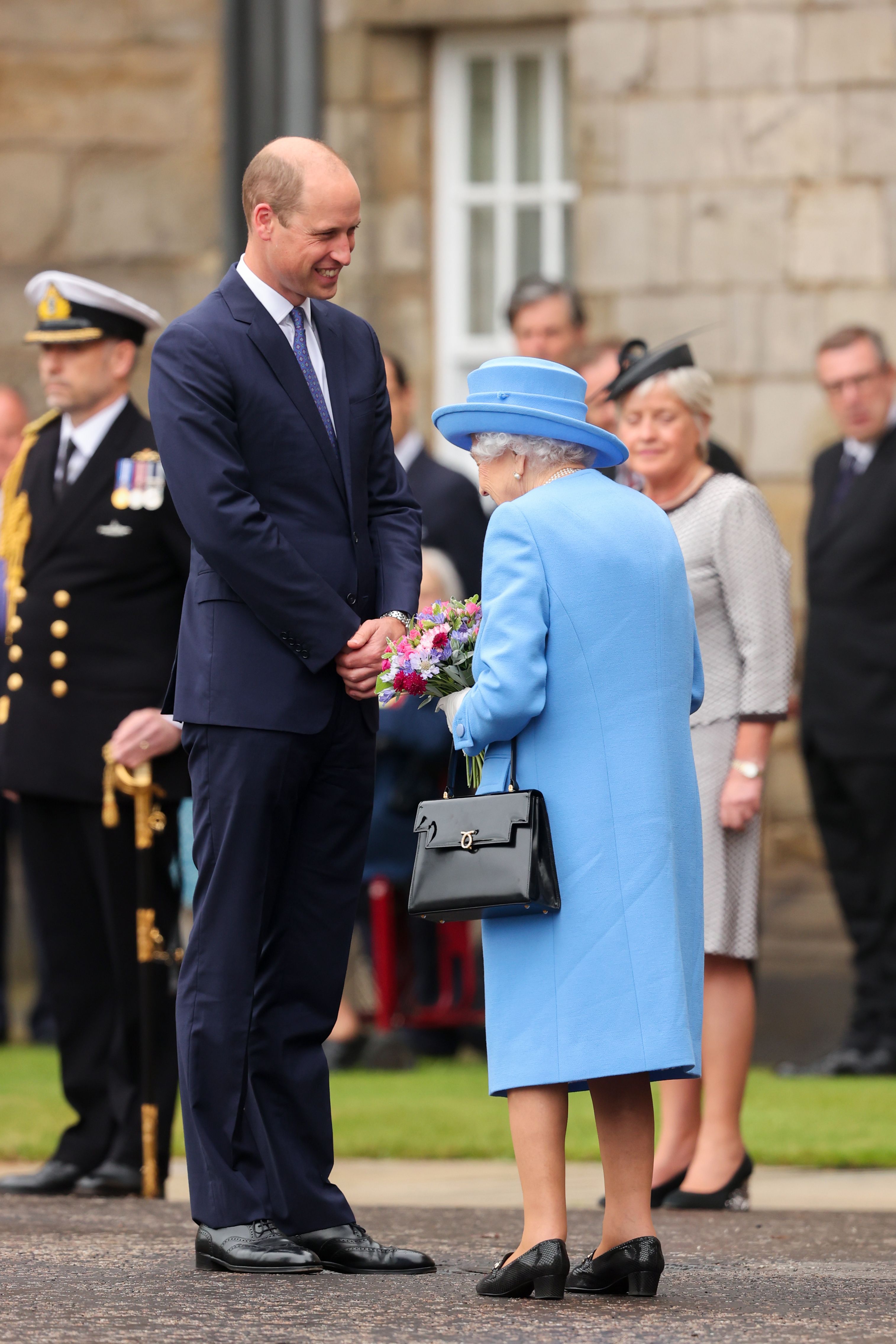 In social media images shared on The Royal Family page, William was seen walking behind the Queen and looking at her lovingly as she addressed those gathered. William is known as the Earl of Strathearn in Scotland.
He and the Queen started the day off at a soda maker's factory in Cumbernauld, near Glasgow. The factory is where A. G. Barr created the Scottish soda Irn Bru which is rumored to have 32 different ingredients.
In perfect harmony ❤️🌷, her Majesty Queen Elizabeth II 👸 and🤴 his RH Prince William the Duke of Cambridge on a special engagement. pic.twitter.com/N2iIorWbUN

— Elizabeth Barnes (@Elizabe55467595) June 28, 2021
William and the monarch got to hear about the company's history, met employees, and learned about the 140-year-old company's place in the local community. The pair also attended the Ceremony of the Keys.
They then met first responders and local volunteers to thank them for their tireless work during the pandemic. Fans felt the Duke of Cambridge played his role well during the outing; with one commenting:
"The way William looks at his Nan the queen… he is going to make a fantastic king when his time comes…"
LOVE this beautiful bond between our Queen and Prince William.
This way William!
A masterclass.

— Fazzles (@farchie03) June 28, 2021
Another person also noted how William appeared to have a look of respect and admiration for his grandmother. The social media user thought it was obvious that he loved the Queen.
A third person shared a throwback Gif of the Royal Family gathered together with Queen Elizabeth during one of their events. In the post, William was seen carrying his firstborn child, Prince George, when he was younger.
Enjoy the visit. Great team.🙂 best way to learn the job PW. Very fortunate that you have the opportunity to have first hand tuition & mentoring from your Gran.

— A. Li (@ALi73926544) June 28, 2021
Next to him stood his father, Prince Charles, and his wife, Duchess Kate. Right in front was the Queen, who smiled and waved happily to the crowd; the fan captioned the post:
"What a fantastic team, The Duke could not have a better mentor, our queen is a total proffesional [sic] in everything she does. We are so lucky to have her."
William looks like an enormous bodyguard. A very loving one ❤️

— Sally (@1sallysmith) June 28, 2021
Another royal fan thought William and the monarch were just in perfect harmony together. At the same time, someone else shared the same sentiments by noting how the pair made a good partnership.
A sixth person revealed how they wanted to meet the duo one day because they seemed like wonderful people. Someone also noted how William looked like a loving and enormous bodyguard to the Queen!
What a fantastic team, The Duke could not have a better mentor, our queen is a total proffesional in everything she does. We are so lucky to have her. pic.twitter.com/0qCZVTt3PK

— Lady Jenny from the block (@JRfromdablock) June 28, 2021
Another commenter wished them an enjoyable visit before calling them a great team. The fan also thought this was a great way for William to learn about his future post first hand.
Someone else thought the bond between the Duke of Cambridge and Queen Elizabeth was beautiful and that she was giving him a masterclass. William is set to become the king of England one day.
The Queen and Prince William make such a good duo ❤️👑

— Kayla Adams (@KaylaAdams___) June 28, 2021
When he does ascend, he won't have to bow to any Royal Family members anymore. At that time, his wife will only have to bow to him and won't curtsy to any of the senior Royal Family members.
In the meantime, William has to bow to his father, grandmother, and other senior members. As Duchess Kate and her husband celebrated their 10th wedding anniversary, it was noted how she would make a great queen.
I really wanna meet Her Majesty and Prince William someday 😭😭😭❤️❤️❤️They seem like such wonderful people.

— Atmadeep Ghosh 🌈 (@_brokensweet_) June 28, 2021
Speaking to "The Mirror" in April 2021, royal writer Penny Junor praised the Duchess of Cambridge as "a model of what a future Queen should be." Junor thought William's wife was just extraordinary.
Kate's future in the Royal Family was also detailed in by author Katie Nicholl's September 17, 2013, book, "Kate: The Future Queen." Speaking about ascending, Prince George will one day become king after his father.
William has a look of admiration and respect in his eyes. Plain for all to see, he loves his Gran.

— JS (@DrumDuchess) June 28, 2021
According to a royal historian, the Cambridges started speaking to George about his birthright around his seventh birthday. The delay in informing the boy was so that he could have a normal upbringing.
She's [the Queen] reportedly inviting them [the Sussexes] to the Platinum Jubilee celebrations next year.
Besides having a great family and an amazing bond with the Queen, it's said William is feuding with his younger brother, Prince Harry. The rift between the two siblings was blamed on Harry's wife, Duchess Meghan.
The way William looks at his Nan the queen 👌🏻☺️ he is going to make a fantastic king when his time comes ☺️

— sami (@Samihughes80) June 28, 2021
Hugo Vickers, a royal biographer, claimed Meghan controlled her husband and he would have to report to her upon his return to the US. Harry's currently in the UK for the unveiling of his late mother's statue on Thursday.
Since around March 2021, the Duke of Sussex has spoken candidly about his bad upbringing and his reason for stepping down from his senior royal role. Speaking up has caused more tension between him and his family.
He considers himself young? Well that does explain the tantruming.

— London (@londonmnh) June 28, 2021
In April, Harry, who was criticized by fans, returned alone to the UK to attend Prince Philip's funeral. His current visit is the second one he's gone home since he started opening up publically about his family trauma.
Despite the Royal Family not reacting well to Harry's claims, the Queen has allegedly extended an olive branch to him and his wife. She's reportedly inviting them to the Platinum Jubilee celebrations next year.