Serial Sunglass Thief Pretends Nobody Sees Him Robbing the Store
Beyond the possibility of jail time, theft produces negative consequences such as being caught red-handed on camera or missing out on $1 million.
A thief began stealing an excessive amount of sunglasses in a store. The man acted as though nobody noticed what he was doing, but a retail employee was well-aware, sneakily catching him on camera. 
The worker shared the video of the theft on Reddit as viewers watched him hurry into the sunglasses section. In a frenzy, he packed the unpaid-for shades into a pink backpack.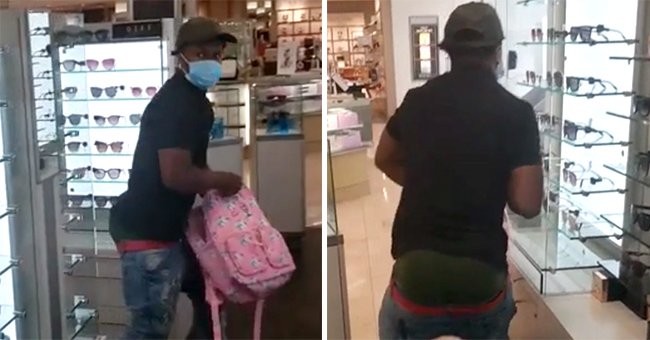 Just before the employee turned their camera off, they let out a huge sigh which could be because, as they elaborated, it is a usual occurrence in the industry. They penned: 
"There's nothing we can do to stop it as retail employees. We are to report to security and do not engage."
The individual expressed that workers could be putting themselves in danger if they were to approach someone stealing the store's products. They received around 200 upvotes for this remark.
The man wore low-hanging pants, which many commenters found hilarious. Poking fun at the robber, one remarked that someone should pull his pants down. 
An anonymous man left a tip of $16,000 for a bill that only stood at $38.00.
A lot of them also thought that the pink bag was comedy gold. One person asked if the thief got it from a little girl, while another expressed that he probably stole it. 
Another thief attempted to steal specs in a similar story -- this time, the robber targeted a Seattle couple. The individual broke into the pair's vehicle, nabbing sunglasses that were sitting on top of a lottery ticket.
Unknown to the thief and the couple at the time, this was a winning ticket. When they found out, the unnamed duo ended up taking home prize money valued at $1 million. 
The couple had left the Powerball ticket in the car for months without checking to see if they had won any money. According to the two, they would be spending it on home maintenance and overseas travel.
Another individual struck it lucky with the lottery, taking home $25,000 just 4 days after her 18th birthday. She expressed that she would be using her winnings for college.
Sloan Stanley reportedly chose to purchase the winning Cash Cow ticket because she finds the animals adorable. This was the Kansas woman's first-ever lottery ticket. 
A restaurant in New Hampshire received a similar cash-filled surprise. An anonymous man left a tip of $16,000.00 for a bill that only stood at $38.00.
Mike Zarella, who owns Stumble Inn Bar & Grill, took to Facebook to post the official receipt. He praised the unnamed customer for their insurmountable generosity.