Malia Obama Turns 23 – Meet Rory Farquharson, Boyfriend of Ex-president Barak Obama's Daughter
Malia Obama and her British boyfriend, Rory Farquharson, have been dating since 2017. Farquharson seems to make Malia happy, so, in case there's someone still unfamiliar with the young man, here's everything we know about him.
In November 2017, Malia Obama was pictured kissing a then-unidentified young man during a Harvard vs. Yale American football game. Soon after, he was identified as Rory Farquharson, a British student at Harvard who came from a wealthy family and studied at one of the top private schools in the U.K.
Farquharson has the perfect mix of good looks, brains, and personality, and it comes with no surprise that Obama fell head over heels for the 21-year-old. The same way she comes from a prominent US family also made her the perfect match for her upper-class boyfriend.
HIS FAMILY BACKGROUND
Rory's father, Charles Farquharson, has a degree in law from St. Catherine's College, Cambridge, and is the Chief Executive Officer of Insight Investment Management Limited, based in London. His mother, Catherine, is an accountant who works in London's Upper Tribunal.
Aside from Farquharson studying at Harvard University, the fact that the family also lives in a $2.2 million six-bedroom home in Woodbridge, Suffolk, says a lot about their financial status. 
RORY'S PRIVATE SCHOOL ROOTS
Meet Rory Farquharson: Malia Obama's British private school boyfriend https://t.co/7ij1FaKtvz pic.twitter.com/fbJ5BQOE0Q

— The Tab (@TheTab) August 2, 2019
Farquharson also attended Rugby School in Warwickshire, one of the top private boarding schools in the U.K with annual tuition of $47,000.  There, he was Head Boy from 2015 to 2016, a position often awarded to the most outstanding student, both academically and socially, and whose function is to serve as a link between students and professors.
He was also part of The Blue Bunsen Society chemistry club, and in addition to his academic achievements, he played rugby and golf. He even appeared in a rugby video played at the World Cup Opening ceremony in 2015, in which Prince Harry also took part.
HIS CONNECTION TO THE ROYAL FAMILY
Although being the boyfriend of a former president's daughter could be overwhelming for any young man, Farquharson seems to be handling the situation with grace. Perhaps, this has to do with the fact that he has a connection to the Royal Family.
Rory's second cousin, Andrew Farquharson, was a former aide to the Queen. He worked as the Queen's Assistant Master of the Household at Buckingham Palace in charge of organizing events a wide range of events for almost a decade. He also worked for Prince Charles at some point before leaving the palace.
LIFE IN HARVARD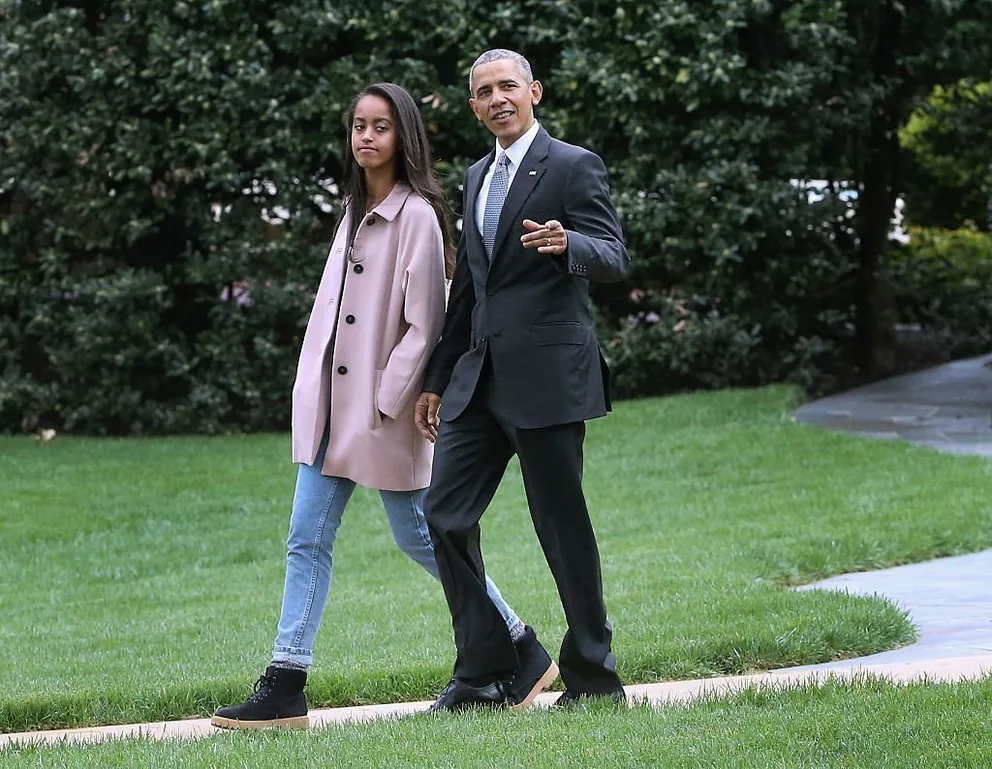 Farquharson joined the 2020 class at Harvard in 2017 and followed his father's steps by studying law. It is there that he met the love of his life, whom he has been with since his freshman year. 
It's not just Malia who's completely in love with Farquharson, as the rest of the Obama family has grown to like him as well. In fact, amid the COVID-19 pandemic, the former president and first lady got the chance to get to know the British man a lot more.
QUARANTINE WITH THE OBAMAS
When Malia Obama spent a chunk of her senior year at Harvard University at home, her boyfriend and fellow college student stayed with them to figure out his work visa as an international student. In recent interviews, Michelle had a hilarious thing to say about Rory: 
"We didn't raise boys and so – they eat a lot. And sometimes, we'd forget that he'd need to eat. He'd need to eat often! The poor boy would be sitting around waiting for the next meal... we weren't even thinking about lunch."
RORY AND MALIA ARE GOING STRONG
The young couple has been dating for four years now, and they've been seen together numerous times before the COVID-19 pandemic. Like any normal couple, they've been spotted having lunch with Rory's parents, walking together in New York, and attending festivals. 
While they've gotten used to being spotted together in public, Barack Obama once shared that his daughters, Malia and Sasha, have had some traumatizing experiences with the Secret Service following them around, especially on dates. 
EXPERIENCES WITH THE SECRET SERVICE
Malia Obama's Harvard boyfriend revealed to be British student Rory Farquharson who was head boy at Rugby Schoolhttps://t.co/Aw4BKYLlJt pic.twitter.com/8AYATBBkNw

— The Telegraph (@Telegraph) November 22, 2017
While speaking to James Corden, he revealed that his daughters must always have secret service members with them wherever they go. This experience has led them to shut down any ideas of running for public office one day. 
Obama further joked that his daughters might actually have PTSD from the secret service members talking into glasses and wrist microphones while on the way to events. However, on a more serious note, he expressed how proud he was of the two young women for all they continue to do. 
As for his eldest daughter Malia's boyfriend, the former president described Farquharson as a wonderful young man. He also seemed to have had no problems with the young man staying with them amid the pandemic.