Mark Wahlberg Gushes Over His 'Total Smokeshow' Wife Rhea Durham on Her 43rd B-Day
Actor Mark Wahlberg took to his social media accounts this week to celebrate his wife, Rhea Durham's birthday. His posts included some lovely family images that included their children.
On Thursday, July 1, 2021, Rhea Durham turned 43, and her husband, Mark Wahlberg, 50, made sure to honor her in a special way. Taking to Instagram, the actor uploaded a selfie of him and his wife.
In the image, the couple looked straight at the camera, and Wahlberg wished his wife a happy birthday in the post's caption. Before that, the actor took to his Facebook account with a more elaborate post.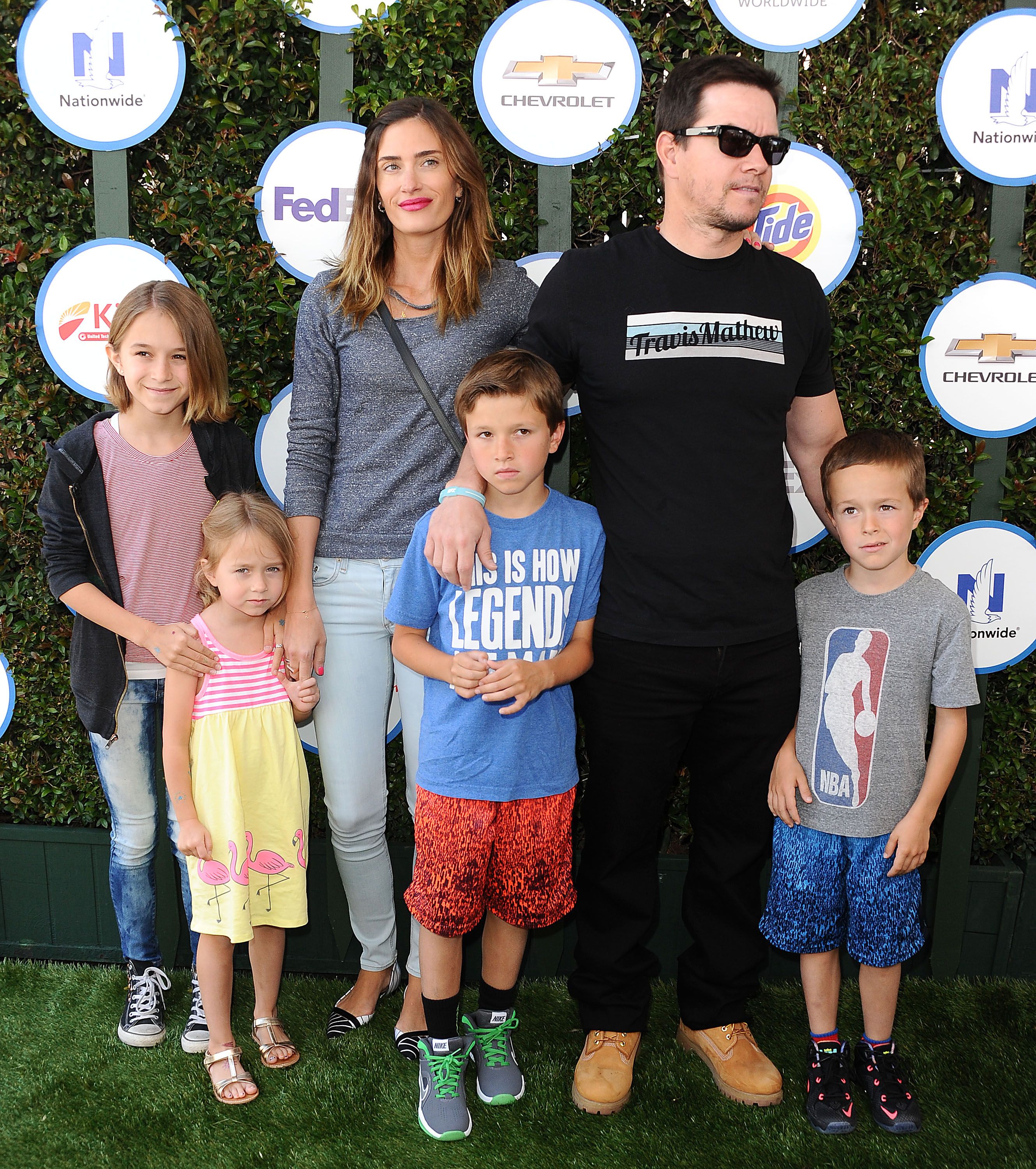 The "Spenser Confidential" star shared several photos in the post. These included one of Durham in an orange swimsuit with him lovingly nuzzling his head in her neck and a selfie of her with two of their children.
The couple shares daughters Ella Rae, 17, and Grace, 10, who posed beautifully with their mother. The "Father Stu" actor also included individual throwback images of their two sons  Michael, 15, and Brendan, 12.
In the post's caption, he wished his wife a happy birthday and described her as "a total smokeshow." He explained that she was mostly an amazing mother to their four children before concluding by adding:
"Love you, babe!!"
Durham looked ageless in the photographs where those who didn't know would've thought she was in her early thirties. Taking to her Instagram account, the supermodel shared her birthday balloon decorations.
Blue, purple, maroon, and pink balloons spelled out Wahlberg's wife's name while being displayed at the couple's Coeur d'Alene, Idaho living room. The pair started dating in 2001 after meeting at a press junket in New York City.
At the time, the "Lone Survivor" star asked the model if she wanted to go out on a date with him, and she luckily agreed. He then asked if their first date could be going to church the next morning, and she agreed!
So their first date was at New York's St. Patrick's Cathedral. Shortly after that date, the actor knew she was the one for him but Wahlberg still wanted to make sure that he could be the man he needed to be for her.
Ella Rae was welcomed into the family two years after Durham and Wahlberg started dating. In 2006 and 2008, respectively, the couple had Michael and Brendan, and Grace joined them in 2010, a year after their wedding.
His [Mark Wahlberg] post included a beautiful picture of his mother [Alma Wahlberg] during happier times.
The couple got married eight years after they first met. Their August 2009 wedding was held in Beverly Hills at an intimate ceremony at a Catholic church with their children and a few close family members in attendance.
In September 2021, the loving pair will be celebrating their 12th wedding anniversary. During a June 2015 "Us Weekly" interview, the "Ted" star shared the secret to what made his marriage successful.
He revealed that they made sure to spend some quality time together when they could. Even though Wahlberg had something great to celebrate this month, the star is still mourning after losing his mother in April 2021.
Sadly, the "Entourage" executive producer's family matriarch, Alma Wahlberg, passed away on April 18, 2021, at the age of 78. Taking to his Instagram at the time, the actor wished for her to rest in peace.
His post included a beautiful picture of his mother during happier times. He and his actor brother, Donnie Wahlberg, announced her death the day after on a Sunday but never specified the cause.