Daily Joke: Policeman Threatens with His Badge to Inspect an Old Man's Property
Today's joke is about a policeman who threatened an older man with his badge so he could inspect the older man's property, but the older man got the last laugh.
One hot summer day, a police officer pulled up to a house. He asked an old man who was standing on the house's property, "Who owns this property?" The older man said it was his home and asked the officer how he could help.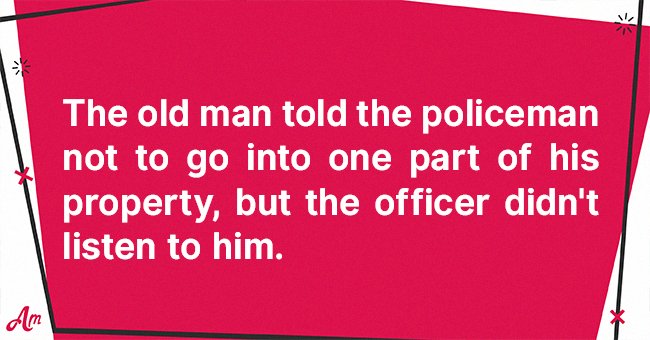 The policeman responded, "I need to inspect your property for illegally grown substances." The old man then said, "Do whatever you need, officer, let me know if you need anything from me. But I must warn you, do not go into the field over yonder."
The police officer didn't like it that the man was telling him what to do, so he said, "Listen here, old man, I am a law enforcement officer authorized by the federal government of our nation."
He then reached into his pocket, pulled out his badge, forced it to the old man's face, and continued, "You see this badge, buddy? This means I am allowed to go anywhere I want, whenever I want. If I want to go into the field over there, I will. Do you understand me?"
The older man nodded, apologized, and then continued with his chores. The police officer then went to investigate the property. A short while later, the older man heard a noise. 
He went out on the porch to investigate and saw the police officer running through the field, screaming for help, and running for his life as he was being chased by a big and angry bull. 
With each step, the bull was gaining on the police officer. It appeared that the bull would most likely ram the officer with his horns if the officer did not get out of the field soon. 
The old man realized how much danger the officer was in, so he ran to the fence as fast as possible to determine how he could help. He quickly climbed on the fence and started waving his arms frantically, and said, "Quick, your badge, officer, show him your badge!"