Check out 8 Precious Moments Between Doting Dad Machine Gun Kelly & His Biracial Daughter, Casie
Machine Gun Kelly, burst into the entertainment scene in the mid-2000s, and he has been known for his eccentric style. However, he admits that his daughter, Casie, keeps him grounded. See the times MGK gave a glimpse into his fatherhood.
Machine Gun Kelly is famous for his contemporary meets alternative Hip Hop music style and his high-profile relationships. However, fans get to witness a sweet side to the singer through his love for his daughter, Casie.
MGK's charismatic personality is something he keeps in his music and spotlight life, but he keeps it simple and with the right dose of sweetness when it comes to his biracial daughter. See the times MGK gave a glimpse into his fatherhood.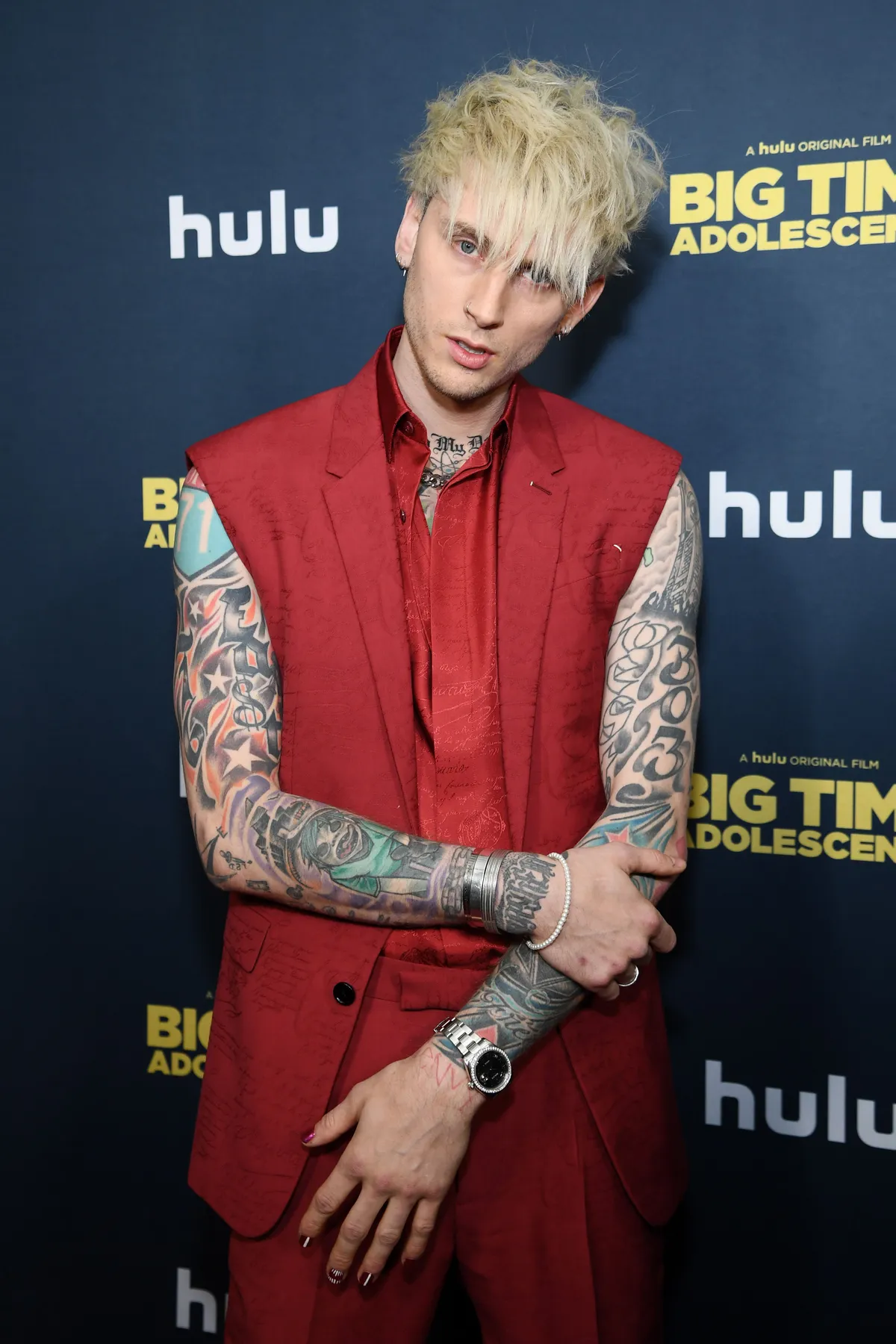 A TWINNING DUO
The music star's social media pages are mostly concentrated on his music and updates on milestones. However, he has shown his soft side with pictures of himself and Casie.
MGK is not shy of enjoying father-daughter moments, and this includes twinning with Casie. In one of his Instagram posts, the star dad shared a warm selfie of him and the little girl rocking velvet headbands.
The rapper donned a patterned pink and white fluffy headband while Casie hugged him from behind, showing her animal print headband. MGK let fans know it was their first movie night together. 
FATHER-DAUGHTER TIME
In one of the chart-topping rapper's posts, he presented a perfect picture of him and Casie looking straight out of a father-daughter promotional ad. The pair laid in the grass, posing for the camera.
Here, MGK sported blush pink and white striped pajamas and a pink cardboard crown presumably made by Casie. She laid close to him in an oversized blue sweatshirt and black shorts. The pair had their hands clasped together. 
CATCHING FLIGHTS
This pair not only have a good father-daughter relationship, they are besties who catch flights together and make every moment count. During one of his performances in Times Square, MGK had Casie by his side.
In the photos posted, the little girl rocked a two-piece outfit with her thick curls blown out like a crown. Her dad looked cool in his distressed jeans and a bohemian-style sweatshirt. The flight was fun, with the duo playing hand-clap games.
ADVENTURE TIME
It is safe to say that MG is an all-round dad who enjoys both calm and adventurous moments with his mini-me. Last August, the pair were at Lake Powell in Utah, and they proved to be the best vacation buddies. 
GLAM BUDDIES
Despite having a busy schedule, MGK has proved that there would always be time to play dress-up with his little princess. In one of his posts, the star dad showed the moment he and Casie decided to get decked out in his wide array of jewelry.
The post also came as a celebration of Casie's 11th birthday, and MGK heartily cheered her. Fans were not left out as they celebrated Casie and praised his daddy skills.
DADDY THOUGHTS
MGK is catching all the fun with his baby girl, but he also makes time to pause and look back on how fast his daughter was growing. In one of these moments, the rap artist posted a picture of him and Casie taking a walk.
However, his thoughts had him wondering where all the time went. Family days are never left out, and MGK makes the most of it, with Casie. Fans got to see more of the pair's adorable moments on Father's Day as MGK celebrated 11 years of parenthood. 
INSIDE MGK'S FATHERHOOD
When he was a young adult and was hardly getting a vision of his music career, MGK became a dad, welcoming Casie with his teenage sweetheart, Emma Cannon.
The star once shared that the flip side to his wild lifestyle did not dawn on him until Casie got to the age where she used google. He knew at that moment that he needed to censor some of his acts on the internet. 
The musician had also made it known that he was not much of a speaker. This got him emotional as he relayed that he has made some music inspired by Casie, which was a way to speak to her. 
MGK'S LOVE LIFE
The 31-year-old has had a few high-profile relationships starting with Amber Rose in 2015. He dated fellow music star Sommer Ray, but they were together for only one month.
MGK's love life headlined the news again when he was romantically linked with star actress Megan Fox. Since May 2020, the pair have been sharing romantic moments on social media. 
Their relationship was fraught with drama, mostly on Fox's part because of her separation from her long-time husband, Brian Austin Green. However, she and MGK further sealed their relationship with the release of his music video that she featured in.