Todd & Julie Chrisley Passionately Argue about Couples with Big Age Gaps: 'Everything Has a Cost'
Reality TV stars Todd and Julie Chrisley discussed a sensitive topic that caught listeners' interest. On the podcast, "Chrisley Confessions," the couple vehemently argued about couples with Big age differences.
In a recent episode of the podcast, "Chrisley Confessions," reality TV stars Todd and Julie Chrisley talked about couples with huge age gaps. The pair vehemently stated their opinions on the topic.
As the show proceeded, a caller requested their opinion on the age difference. The caller pointed out that her Current partner was 30 years older. Attending the information, Julie noted that the 30-year difference was "too much."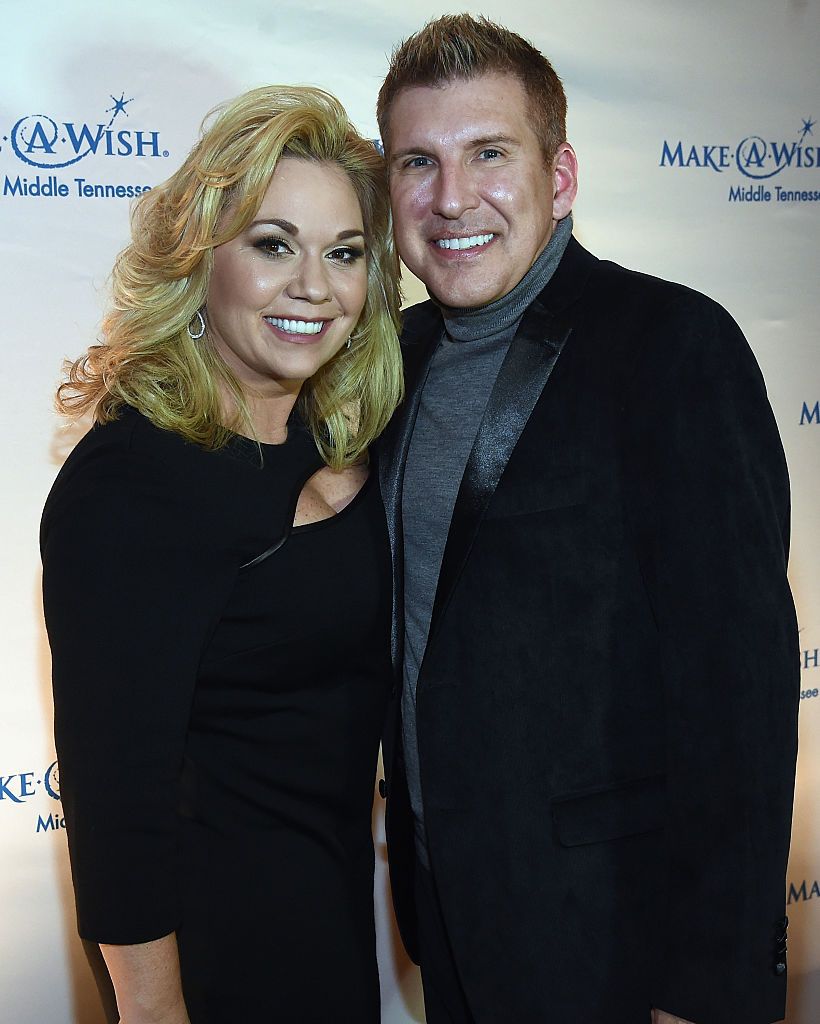 After Todd and Terry's marriage ended, his kids Lindsie and Kyle reportedly lived with Todd.
Although different things applied to other relationships, the star said the age difference between a couple should not be too much. According to Julie, a maximum of a 15-year gap was enough.
I CAN'T DATE YOU IF I CAN MAKE YOU
Todd supported his wife's opinion on dating a man or a woman old enough to be one's parent. He stated that he doesn't support the notion of dating someone young enough to be once a child. 
He stated that he wouldn't support his daughter Savannah Chrisley if she ever got involved with someone much older than she was. Todd explained that the caller would eventually get tired of the relationship when her partner gets older.
JULIE CHRISLEY ADDRESSED COMMENTS
On an episode of "Chrisley Confessions," Julie addressed some comments on the show. She noted that although she ignores people's words, she got curious and wanted to know what fans thought about the show.
She read out some of the comments and attended to each one of them. She answered questions and gave explanations when necessary. To one of the comments that asked why they answered questions on the show, the star said: 
"Because that is the premise of our podcast." 
TODD'S RETURN TO THE SHOW
In another episode of "Chrisley Confessions," "Chrisley Knows Best," dad Todd, who has been missing from the show for a while, explained the reason for his absence.
The star dad noted that he had been busy as the Chrisley family was had other businesses. He explained that the family had been filming other shows, and his schedule was tight. However, he didn't give details of the new shows on the podcast.
Todd did not mention that he and his wife are not used to doing things separately, and his words showed that the pair missed each other during Todd's short break.
TODD'S LOVE LIFE
Todd and Julie have been married well over twenty years. The pair tied the knot in 1996; although their marriage has experienced a few ups and downs, the bond between the couple remains strong.
The pair who are famous for their TV show "Chrisley Knows Best" have three lovely kids, Chase, Savannah, and Grayson. Todd was initially married to Teresa Terry, his high school girlfriend. They divorced in 1993 and had two kids.
The renowned TV show dad and his ex-wife had a custodian battle, but they eventually settled the issue, and both of them got joint physical custody to their kids. Their marriage had a lot of flaws, and Terry noted that she was happy about the split.
THE CHRISLEY FAMILY
After Todd and Terry's marriage ended, his kids Lindsie and Kyle reportedly lived with Todd. Reports showed that their kids stayed with Todd because he was more financially stable.
Julie later adopted Lindsie; however, a report also showed that Lindsie doesn't have a close relationship with the Chrisley family.  Rumors surfaced that Todd's oldest kid claimed that her dad and brother wanted to release a sex tape that involved her.
Lindsie left the "Chrisley Knows Best" show in 2017 due to the issues she had with her dad. On a different TV show, she revealed that her family made her feel like an outcast.  She later said in 2019 that she never wanted to be part of the show.
Rumors had it that Lindsie was involved in Todd and Julie's tax evasion claims. She left the Chrisley family TV show and has been hosting "Coffee Convos" with Kailyn Lowry.