Michael Jordan's Daughter Jasmine Shares Photo with Son Rakeem on a Golf Cart & Covers His Face
Michael Jordan's daughter, Jasmine Jordan, shared on Instagram a cute photo of her son, Rakeem, riding a golf cart. Although the little boy's face was covered, the mother-son duo clearly enjoyed the moment. See their cute snap.
Michael Jordan is not just an NBA legend; he is also an extraordinary grandfather to his first grandchild, Rakeem Michael Christmas, who is the son of his daughter Jasmine Jordan. 
Jasmine shares her son with her fiancé, 29-year-old basketball athlete Rakeem Christmas. Recently, the doting mom shared a charming picture of her and her little one riding a golf cart.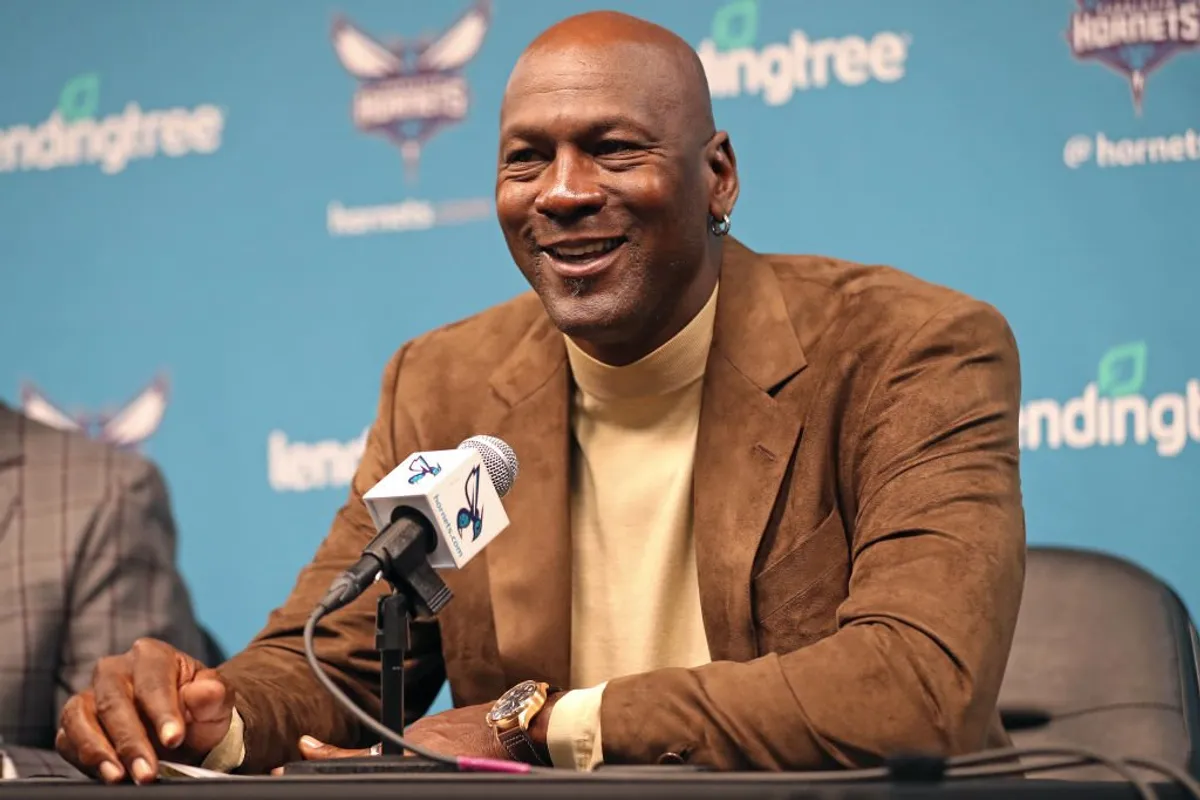 The photo showed Jasmine driving an orange golf cart named Otto, outside a quiet neighborhood with her son sitting beside her. She appeared focused on her son's curious actions. A fan gushed:
"Daddy Jordan's little princess and his first grandchild!!!!"
Jasmine donned a black shirt and purple-black leggings, which she paired with colorful footwear. She wrote that she couldn't shake nor freely move in the golf cart since she's holding her son for safety.
While she wrapped her right arms around him, Jasmine's left hand maneuvered the steering wheel. The way she positioned her left hand blocked the tiny tot's face but still, fans adored the duo's photo. 
Other followers left heart and orange comments about the snap. The boy's father, Rakeem Sr., also raved about Jasmine's post, playfully commenting about the latter's activity in the empty street. 
Even though fans could not see the boy's face, they seemed to appreciate the couple's parenting skills. Jasmine and her fiance welcomed their son in 2019, and they have since been very protective of him. 
When Jasmine shared about her little family's beach picture on her Instagram feed in February 2021, the couple smiled at the camera but covered her son's face with a pink sticker that reads "My BFF." 
She was only 10 when Michael played his final NBA game.
Another photo she recently took featured Rakeem Sr. enjoying a dip in the pool as he held his son close to his chest. The snap showed the boy's backside, curly hair, and swimming outfit. 
Although the couple keeps their son out of the spotlight, they can't keep Michael's eyes off him. While the pandemic hindered Michael from meeting his grandson in person, he used social media to connect with them.
Jasmine revealed her father would talk to them every day and would always look for her son. She described the Charlotte Hornets founder's relationship with her son as "incredible."
She also shared how her father wanted his grandson to address him "Mike" or "Michael." However, Jasmine made it clear that he should accept his new status as a grandfather.
Jasmine is Michael's youngest daughter with his ex-wife, Juanita Vanoy. The former couple, who wed from 1989 until 2006, shares two other children - sons Marcus, 30, and Jeffrey Michael, 32.
While her two older brothers grasped the extent of their father's popularity at a young age, it took Jasmine a while to understand her dad's legacy and remarkable accomplishments during his NBA days.
After ESPN released Michael's six-part documentary "The Last Dance," Jasmine realized how big of a star her father was. She was only 10 when Michael played his final NBA game.
Additionally, Jasmine admired her father's authenticity in the documentary, which lingered even after he retired. Michael retired from the game in 1998 and now focuses on his shoe business and philanthropic activities.
The entrepreneur has also provided financial support to college athletes. Besides his generosity, Michael became an outspoken activist against racial violence and healthcare injustice.