Daily Joke: Airplane with Three Engine Failures
Today's jokes are about situations that happened on an airplane, including a plane with engine failures, a pilot stuck in some fog, and a clever flight attendant. 
THE ENGINE FAILURES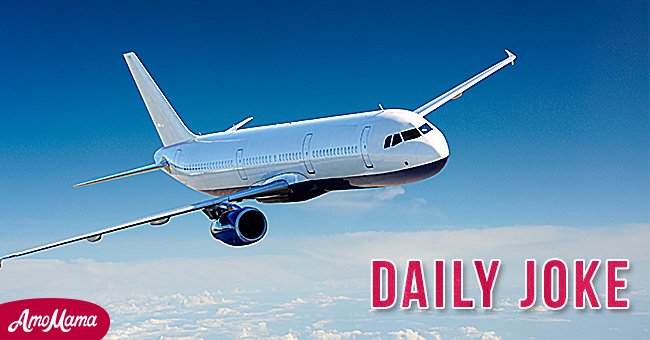 During a flight, an engine of a plane stopped working. So the captain went on the intercom and said, "Attention passengers, the plane has experienced a technical issue with one of our four engines, so we will be arriving at our destination a little later."
A short while later, another engine came to a halt and had smoke trailing from it. The captain got on the intercom again and said, "Attention passengers, we are having a minor issue with another of our engines."
He continued, "But do not worry, we still have two functioning engines. However, we will be arriving at our destination an hour late." The passengers began to grumble but hoped for the best. 
10 minutes later, the third engine stopped, and the captain quickly went on the intercom and said, "Attention passengers, we have one engine left, so we are looking for an open runway for an emergency landing and maintenance."
One of the passengers then stood up and said, "Thank goodness the fourth engine did not stop working. Otherwise, we would be up here all day."
A PILOT IN A FOG
A pilot was lost in his thoughts about his beautiful wife when he suddenly noticed a thick fog around the plane. All he could make out was what appeared to be a large building in front of the plane.
His co-pilot made a sign that read, "WHERE ARE WE?" and flashed it out of the window toward the building. In response, the people in the building made a sign that said, "YOU ARE IN A PLANE."
The pilot then successfully navigated the plane to the closest airport and landed safely. Surprised, the copilot asked him, "How did you know where to go?"
The pilot replied, "Well, I knew that building was the Microsoft office because their reply was technically correct, but it was completely useless."
A LAWYER AND HIS CRABS
A lawyer boarded a plane from New Orleans to New York with a box of frozen crabs and asked the flight attendant to take care of them for him. She took the box and offered to put it in the crew's refrigerator. 
The lawyer told her that he would hold her personally responsible for the crabs staying frozen, and mentioned that he was a lawyer, and then proceeded to rant about what would happen if she let the crabs thaw.
Shortly before landing, the flight attendant used the intercom to announce to the cabin, "Would the lawyer who gave me crabs in New Orleans please raise your hand?"
No one put their hand up. Luckily, the crabs stayed in good condition, so the flight attendant took them home and enjoyed a delicious crab dinner.