Daily Joke: Man Sobs to His Friend about Being Clumsy
Today's joke is about a clumsy man who has been in a terrible situation and shows up at his friend's place to vent his pent-up feelings. If you've ever had an awkward friend or still do, you might relate to this joke on a much deeper level. 
A man turned up at his friend's house, stumbled through the door, sat down, and started crying. His friend was confused to see him sob and asked him why he was crying like that.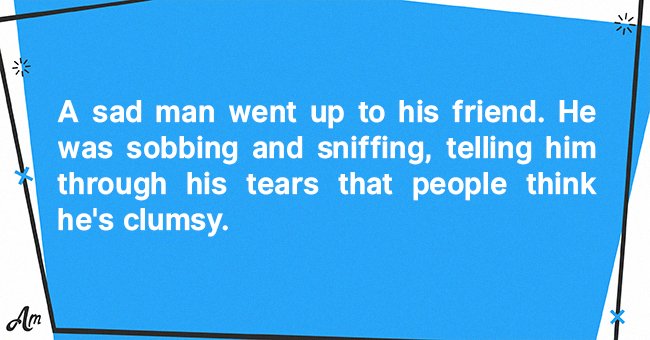 The man couldn't control his tears but sighed heavily and answered: "Everyone keeps making fun of me. They say I'm fat, careless and that I don't think of anyone besides myself! My landlord is so annoyed at my absent-mindedness, he's threatening to evict me! Where am I going to live??"
After hearing his side of the story, the friend remarked quickly, "My wife's flat."
The man's face beamed with a relaxed expression. He was taken over by feelings of gratitude and relief and replied: "Really? You would do that for me? Your wife would let me live in her flat?"
The friend was even quicker to correct him and added: "That's not what I meant. You're sitting on her." 
Here's another joke on clumsiness, and this one involves a carpenter named Larry. One day, he was working with a table saw on a plank, and he leaned in to check whether he was doing things right. Suddenly, he shrieked in pain as the table saw severed his left ear, and it went flying through the air. 
Crying with searing pain, Larry stumbled across the room to find his severed ear which had landed in a pile of sawdust. He was holding his head with one hand and fumbling through the sawdust with his other hand to find his lost ear. 
Larry's friend, Joe, heard him cry in pain and rushed over to help him. Larry narrated the tragic event to his friend, and together, they continued looking for the ear. After a while, Joe pulled an ear covered from the dust pile and asked Larry if it belonged to him. 
After taking a good look at the bloodied ear, Larry remarked, "Nah, mine had a pencil behind it." 
If you liked this joke, here's another joke about a man who accidentally runs over a farmer's cat.