Never Married Erykah Badu Has 3 Kids from 3 Different Men – Meet Her Children Seven, Puma, and Mars
Erykah Badu is a mother of three amazing kids, Seven, Puma, and Mars, who also shares a commendable relationship with her baby daddies— Andre 3000, The DOC, and Jay Electronica.
In recent times, singer, songwriter, and record producer Erykah Badu has been described with many superlatives— an icon, legend, star, and a strong woman. However, one word appears to qualify her perfectly, "a loving mother."
Despite her busy schedule, Badu has made it a point of interest to ensure she is always present for her kids— Seven, Puma, and Mars, whom she shares with three different men.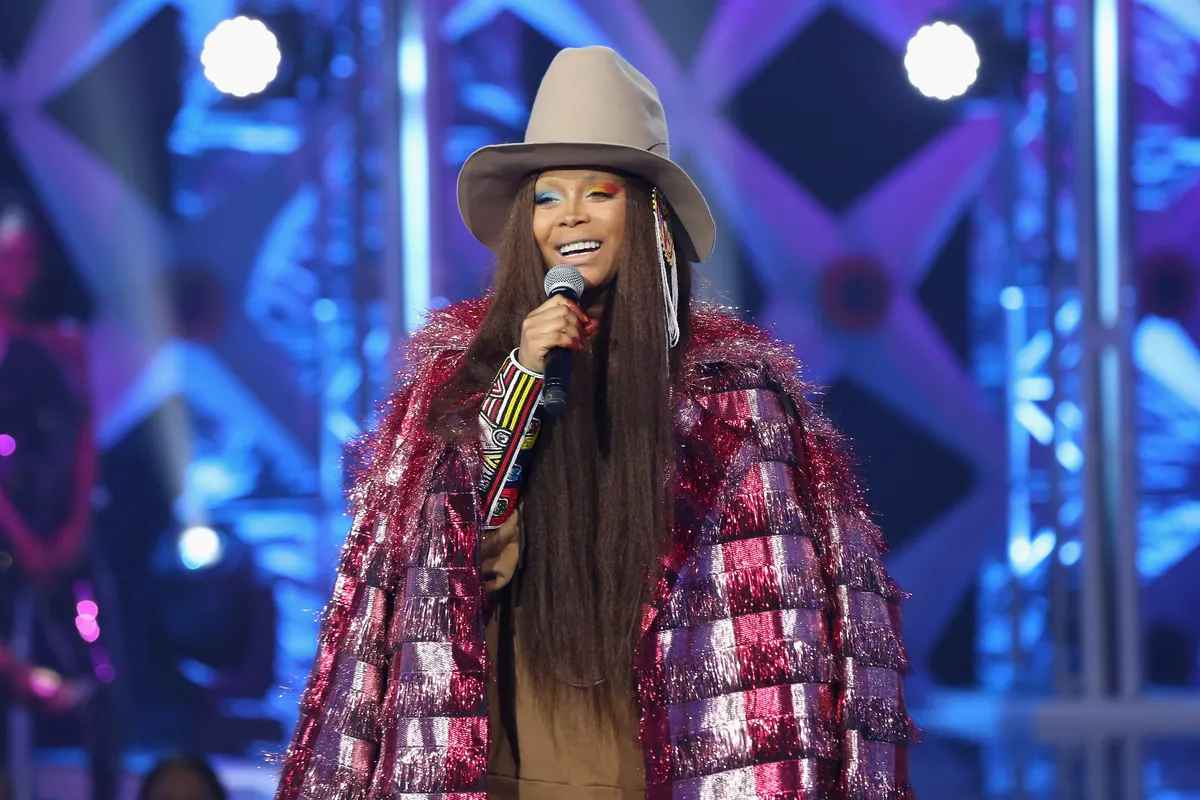 BADU'S FIRST OFFSPRING
In 1995, Erykah Badu met her first baby daddy and rapper, Andre 3000, for the first time, and the pair began to relate romantically. After dating for two years, Badu and Andre 3000 welcomed their first and only child together— Seven in 1997.
Although the former lovers broke up two years later, they joined forces to raise their son, who has turned out to be great. In April 2016, the 23-year-old, who was nineteen at the time, got accepted into four colleges. 
Proud and excited, Badu took to her Twitter page to share the good news with her fans and followers. In her tweet, the doting mother noted how proud she was that the dream came to pass.
Another image on the official Twitter page of DatPiff saw Seven and his father posing together. The snapshot was accompanied by a tweet that read: "Andre 3000 x Erykah Badu's son Seven Sirius Benjamin chillen' with dad."
On the 2018 Father's Day celebration, Badu took to her Instagram page to share a black and white picture of herself, Seven, and Andre 3000 posing together. Seven and his dad looked great while they grinned from ear to ear.
André 3000 x Erykah Badu's son Seven Sirius Benjamin chillen' with dad. pic.twitter.com/hdksguY2KU

— DatPiff (@DatPiff) April 21, 2016
BADU'S SECOND CHILD
After enjoying a four-year relationship with Andre 3000, Badu found love again in the arms of her ex-boyfriend and rapper, Common, in 2002. The relationship only spanned two years, and the duo called it quits in 2004.
Barely a year after her split from Common, the mother of three began a relationship with West Coast rapper, The D.O.C. Their relationship was a great one, and they welcomed their daughter, Puma. 
Badu revealed that the rapper was one of her best friends on the planet and she cared for him very much.
Puma is the spitting image of her mom and takes after the songstress in several areas, including fashion and music. Although the 17-year-old has not delved into the music industry fully, she constantly shows off her powerful voice on social media.
Puma shares videos of herself singing to chart-topping hits on Instagram and TikTok, which has made fans inquire about her thoughts on making a name for herself in the industry. 
Apart from singing, Puma is a fashion enthusiast. Recently, Badu shared snapshots of her and Puma's behind-the-scenes photoshoot for Vogue Mexico. In the photo, the mother and daughter donned orange and purple wigs and looked like twins.
Another post showed Puma looking stunning in a spaghetti-strap top paired with ripped denim pants. The youngster rocked long brown hair and finished off with a pair of white sneakers. 
BADU'S THIRD CHILD
Born in 2009, Mars is a product of Badu's five-year relationship with rapper Jay Electronica. The record producer constantly celebrates her daughter's milestones on social media.
Last year, Badu celebrated Mars' 11th birthday anniversary with an Instagram post. In the post, Mars looked beautiful smiling lovingly with her hair braided to the back. The series of images was captioned:
"Happy Born Day #3 MARS MERKABA 11, the master year. We believe in you."
Badu also updated her fans with a picture of herself and her daughters on the cover of the 2018 Harpers Bazaar's September Fashion Issue. In the snapshot, Badu, Puma, and Mars looked like the perfect trio.
In another post, the star shared a series of images that featured her and Mars. Badu rained powerful words on the child in the comment section, noting that Mars was loved and would always have her parents around.
A BEAUTIFUL FRIENDSHIP
Badu shares no romantic relationship with any of her exes. However, the 50-year-old has maintained a strong friendship with her past lovers. In an interview with Rolling Stone's Summer Walker, the actress opened up about her relationship with Andre 3000 after they split.
Badu revealed that the rapper was one of her best friends on the planet and she cared for him very much. She also noted that their bond is so strong that it could transform and fit any dynamics or anything that life threw their way.
Badu also shares a great friendship with her ex-boyfriend, The D.O.C. Last year, the former lovebirds took to Instagram to celebrate their daughter's 16th birthday with a heartwarming message.
In the short clip, the duo came together and serenaded Puma with sweet words. Badu started by recalling the day the teenager was born, and The DOC finished off by telling his daughter the world was not ready for her. Through thick and thin, Badu will always have her kids's back.