Whoopi Goldberg's Granddaughter Jerzey Flaunts Glowing Skin in Tiny Tube Top & Sunglasses in New Pics
Whoopi Goldberg's granddaughter Jerzey Kennedy displayed a trendy look from her fashion lookbook, and she had no hair out of place while flaunting her street style.
Jerzey Kennedy brought on her fashion-savvy self in new posts shared on her Instagram page as she gave her unique touch to a street style look she rocked. The young adult backed it up with eye-catching poses.
Jerzey posed indoors, crouching low with a perfect pout. She donned a black tube top and a pair of utility pants. The fashionista's tube top showed parts of her midriff while she rocked a sling purse across her chest.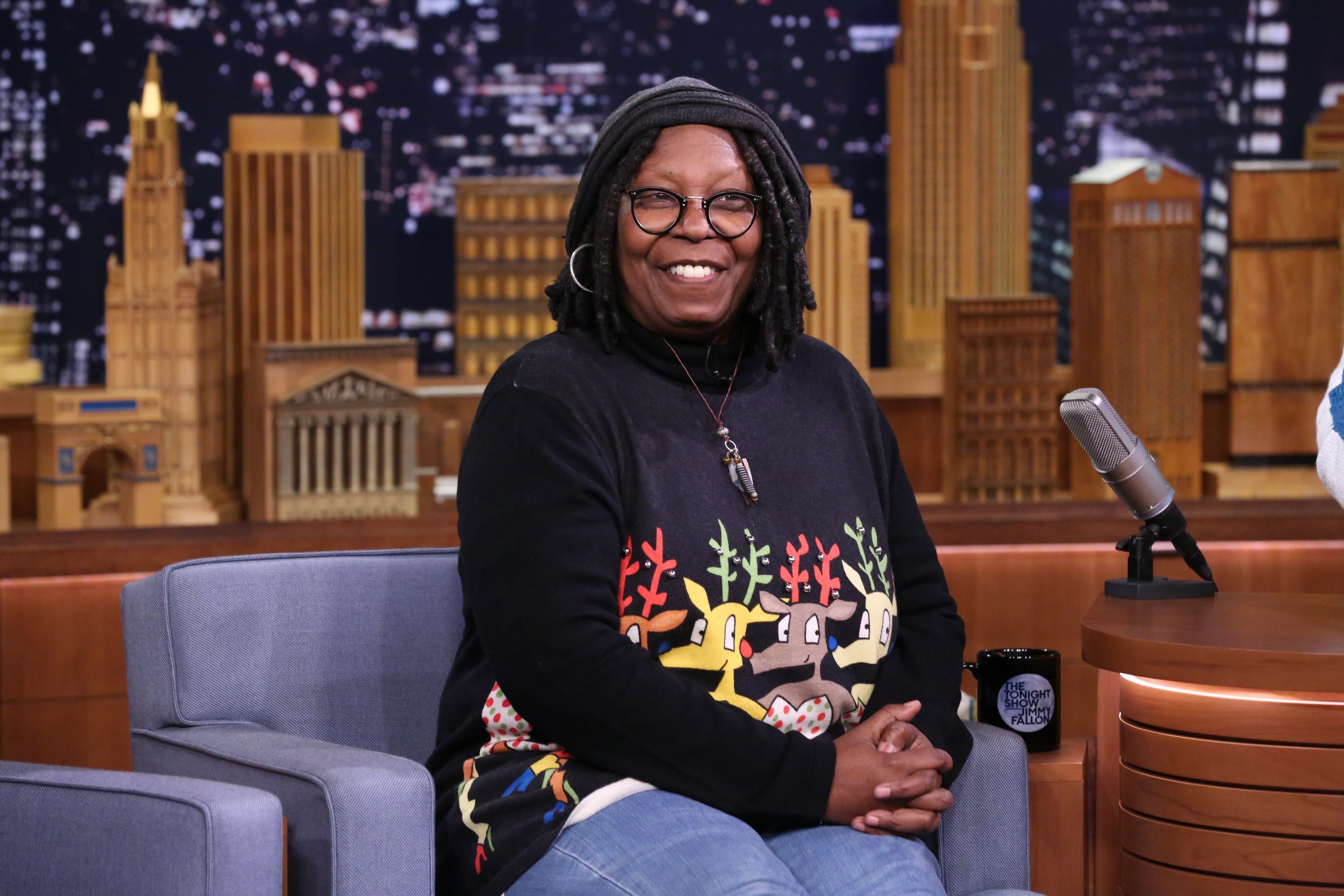 The youngster covered her hair in a black scarf fastened into a knot at the back and rocked a pair of crossed slides. In another of her posts, Jerzey showed off her look outdoors.
She maintained her crouched position while her eyes were covered with a pair of large shades. Behind her were skyscrapers, and the view of the sea adding some aesthetics to her photo. 
JERZEY AND GOLDBERG'S BOND 
Jerzey is one of three granddaughters that Whoopi Goldberg has, and just like her grandmother, she is quite ardent with the fashion world, and she perfectly delivers her looks.
The "The Color Purple" actress and her granddaughter share a bond through family and their love of fashion. This is evident through their 2014 appearance at the Stella Nolasco spring show at the New York Fashion Week.
Alex had a quite troubled married life with Bernard, but they stayed strong and kept their marriage going. 
The lovely duo sat front row reveling in the trendy presentations. Goldberg was also seen pointing out certain things to her fashion enthusiastic granddaughter. The pair dressed accordingly for the occasion.
Speaking during fashion week, Jerzey made it known that it was her first fashion week attendance ever, and she was taking it all in and enjoying the bits and pieces.
The youngster talked about her grandma's style making it known that she loved how Goldberg rocked oversized outfits. Jerzey also relayed that she loved the public school fashion on guys' clothes on girls. 
GOLDBERG AS A GRANDMOTHER 
Many fans have witnessed Goldberg as an exceptional actress, EGOT winner, and talented TV host, but above all that, she prioritizes her life as a grandmother.
Once speaking about her life as a matriarch, the "Sister's Act" star shared that she was not the cooking grandmother and noted that she does not cook, and her daughter was the good chef who fixed everyone with good meals.
Goldberg recalled her daughter, Alex Martin, growing up. Goldberg relayed that now that she was a grandmother, her grandchildren look up to her for adventures and the fun she brings in. 
INSIDE GOLBERG'S FAMILY
Goldberg was married to Alvin Martin from 1973 to 1979, and she had her only child, Alex, in 1973. Goldberg was married two more times to David Claessen and Lyle Trachtenberg.
Alex drew inspiration from her mother and became an actress as well. She welcomed her first child, Amara Skye, when she was 16-years-old. Details on Amara's father are mostly kept private.
Alex would later marry Bernard Dean, with whom she welcomed her other children, Jerzey and Mason Dean. Alex had a quite troubled married life with Bernard, but they stayed strong and kept their marriage going.
Alex became a grandmother in 2014 when her daughter Amara Skye welcomed her first child Charli Rose. This, in turn, made Goldberg a great-grandmother. At the time, the TV icon was 58.
She shared the happy news on Instagram, posting a video of her bonding moment with the latest family member. The happy matriarch did not keep the excitement from her voice as she bottle-fed the baby and introduced her to fans.