Daily Joke: Young Handsome Farmer Meets a Girl He Always Had an Eye On
Today's joke is about a young farmer who eventually succeeds in meeting the girl of his dreams. His "love at first sight" turns into an interesting encounter and leads in a direction he never saw coming. 
Jimmy was a young farmer boy in his twenties who went to the village one sunny Saturday afternoon to fetch a few supplies. The village was a few minutes away, so Jimmy decided to cover the distance on foot. He reached the hardware shop first, followed by the DIY and the pet shop.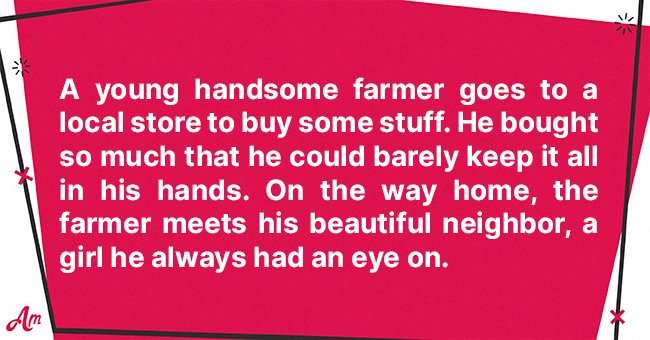 Jimmy was carrying a heavy load on his way back, including a bucket, a large can of red paint, one dozen eggs, two chickens, and a goose. He stopped outside the store for some time to balance the load and struggled in carrying all the items together. 
Eventually, he succeeded in balancing the supplies and resumed his journey. After a while, he noticed a gorgeous girl from the nearby farm looking at him. Jimmy had had a crush on her for a long time, but he could never muster up the courage to talk to her.
The pretty farmer girl saw him struggling with the items and was thoroughly amused. They started talking and decided to walk together to their homes, continuing the conversation along the way. Jimmy was astonished to discover that his feelings were mutual, and the girl also liked him. 
After walking for some time, they reached an intersection and had a difference of opinion on which road to take next. The farmer girl wanted to go left, but Jimmy tried to convince her to take the other turn. He justified his choice by saying that it was a shortcut that went right down the alley and would help them reach their farms in very little time.
When the girl heard Jimmy's response, she was quick to remark:  "Oh Jimmy, how could you! I am a lonely girl with no one around to defend me. How could I know that when we get in the alley, you won't hold me up against the wall, pull up my skirt, and have your way with me?"
Jimmy was utterly dumbfounded by the girl's reaction and added: "Oh my God, miss! Remember I'm carrying a bucket, a big can of red paint, a dozen of eggs, two chickens, and a goose. How in the world could I possibly hold you up against the wall and do that?" As usual, the farmer girl instantly struck back at him:
"Put those eggs aside, turn the bucket upside down, put the goose inside it, put the big can of paint on top of the bucket so it won't get away, and I'll hold the chickens!"
Do you want to laugh a little more? If yes, then enjoy this joke about a boy who plans to ask a girl to a school dance. 
Source: Upjoke