Robert Irwin Speaks about His Father Steve Irwin's Legacy & Following in His Footsteps in New Video
Wildlife photographer Robert Irwin got candid about his late father Steve Irwin's legacy in his latest interview. Robert is determined to follow in his footsteps. 
In a new interview with Entertainment Tonight, Robert Irwin opened up about his father's legacy and his determination to build on the positive impact the late conservationist made in the world. 
"I feel very, very lucky that I get to have such an amazing family around me, to kind of help keep this legacy going that my dad started. I feel like all the work that we do is important, and I feel like it's who I am more than what I do," he said.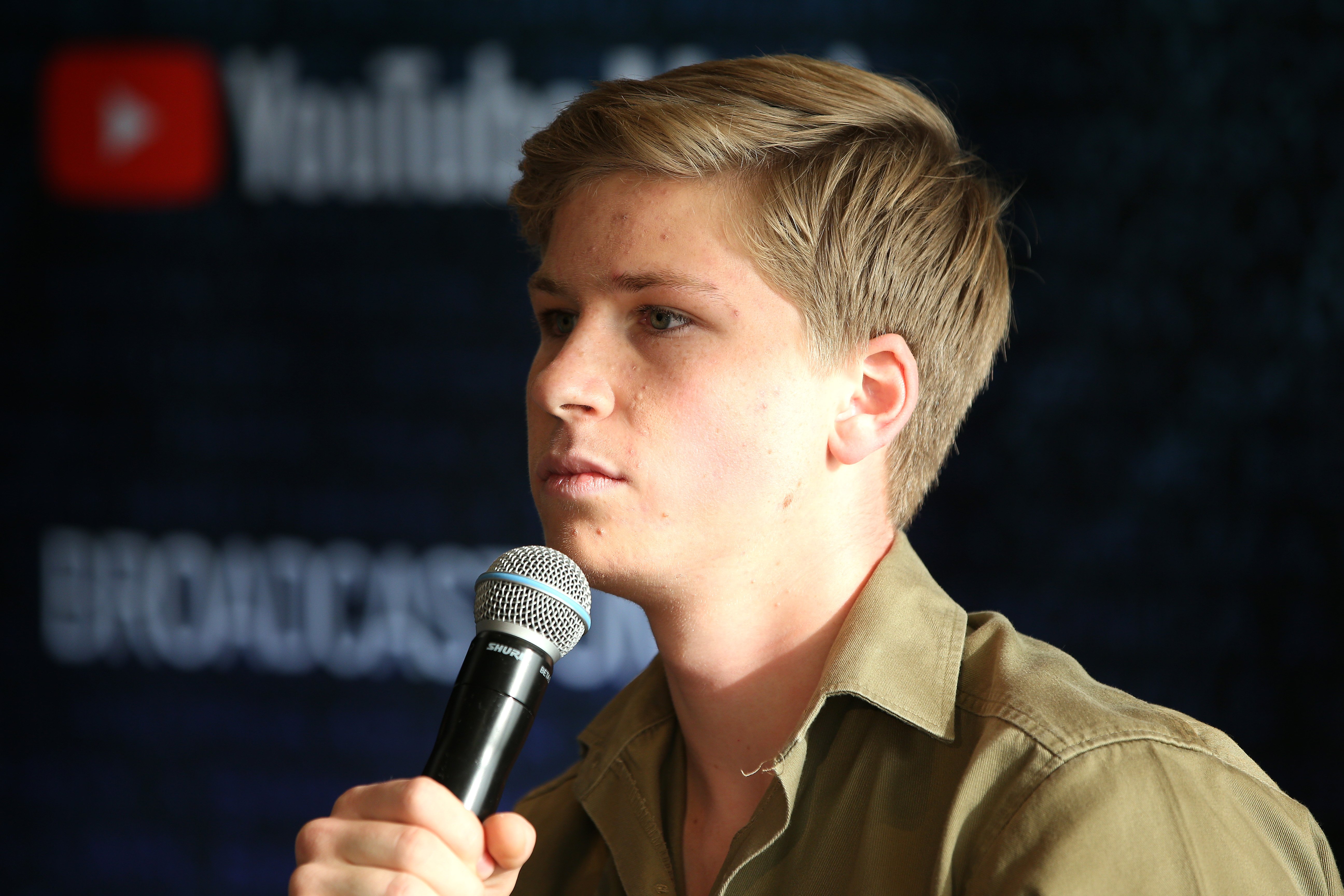 STEVE'S LEGACY
Robert continued: "Even right now, we're at our wildlife hospital at Australia Zoo, and every day is a new adventure, and I feel like I'm the luckiest kid in the world. It's an honor. It really is."
The 17-year-old was only two years when his father passed away in a stingray attack while filming at the Great Barrier Reef. Ahead of Robert's "Shark Week" special, the youngster released vintage footage of him as a baby, holding an alligator while his dad supervised.
Speaking on the clip, he said, "It's amazing. It's so meaningful. Honestly, I think that for me, of course, losing my dad at such a young age, that's a tough thing to go through, and everyone will experience grief at some point in their life, and I feel fortunate that I had such an amazing dad."
Robert described his father as a "wildlife warrior" and a "force of nature." He praised him for being the greatest dad as he was always there for him and his sister Bindi, adding his passion was to teach them and impart wisdom.
The "Crikey! It's the Irwins" star said he is fortunate to have had his entire childhood captured on camera because he can rewind, press play, and relive those moments.
Rewatching the memories on tape enables Robert to continue his dad's mission and fight for wildlife conservation. He said he feels grateful to be carrying on the mission.
"I feel very, very lucky, very honored that I get to continue this mission that he had. This message for wildlife conservation, this message connecting people with the natural world, it's never been more important than it is right now," Robert explained.
REMEMBERING DAD
In February, he paid tribute to Steve by taking to social media to re-create an image he took with him on a motorbike at Australia Zoo while recalling how he and Bindi, 24, rode the bike with their father.
Robert said that he has many memories of their dad's old bike, "hanging on to the front with Bindi as we'd ride around the zoo with Dad," he wrote while adding:
"And now, after being in the shed for a few years, it's all fixed up and running again. It's so special to be riding it after all this time!"
Last month, Robert celebrated what would have been his parent's 29th wedding anniversary by posting a sweet and funny image of his mom Terri and dad, Steve.
The "Wild But True" star shared throwback pictures of both his parents at their family's zoo – Australian Zoo in Beerwah, Queensland.
The photo displayed Terri, 56, pushing her spouse around in a wheelbarrow. Steve, the "Crocodile Hunter," was being wheeled around because he appeared to have injured his ankle that was bandaged and was holding on to crutches.
In July 2019, Robert remembered his dad again by sharing identical photos of them feeding the same crocodile 15 years apart.
The side-by-side photo featured the father and son standing in identical poses as they fed the same crocodile known as Murray. The duo wore similar zoo uniforms, and both faced the reptile and held up a snack with their right hand for the animal to eat.
CHANNELING DAD
In November 2019, Robert, who appears to have taken after his father's fearlessness, was tasked to go head-to-head with a giant crocodile.
He channeled his dad while wrestling Bosco, the giant saltwater croc, at the Australia Zoo. The zoo's crocodile environment park was undergoing renovations, and young Robert, at just 15, was faced with the daunting task of removing the reptiles from their enclosures.
THE RESEMBLANCE
Viewers watching on noted how the teenager resembled his father and had inherited his skill and passion for handling wildlife.
"Robert is the very image of his Dad with the same enthusiasm and happy nature. Wonderful. Steve would be so proud of both Robert and Bindi," one fan said.
Another person echoed the same sentiments saying, "he's the spitting image of his father," adding Steve must be smiling down on his son.
ALL ABOUT ROBERT
Robert appeared on television with his dad on January 2, 2004, as Steve carried him while feeding a 12.5-foot long crocodile. Steve later tragically died in September 2006 at age 44.
His son Robert was born on December 1, 2003, and like his dad, he spends most of his time at the zoo and specializes in nature photography.
He even has a website where he displays his photography skills. Before he was even a teenager, Robert was recognized for photography and captured the world's attention at just 13 years old by showcasing his talents.
He has also appeared on "The Tonight Show Starring Jimmy Fallon" and other late-night television shows and usually brings many animals.