Inside Stacey Solomon and Joe Swash's Love Story That Began on the Set of 'I'm a Celebrity'
Stacey Solomon and Joe Swash are one of the most beloved couples on the internet — they met on the set of "I'm a Celebrity." Here is everything you need to know about their love story. 
Stacey Solomon and Joe Swash have been together for some time now and are expected to tie the knot sometime this month. Solomon is a famous TV personality, perhaps most famous for participating in and winning the tenth season of "I'm a Celebrity."
On the other hand, Swash found fame as an actor when he portrayed Mickey Miller in "EastEnders." Should they get married, it would be the second marriage for them both; here's a timeline of their modern-day romance.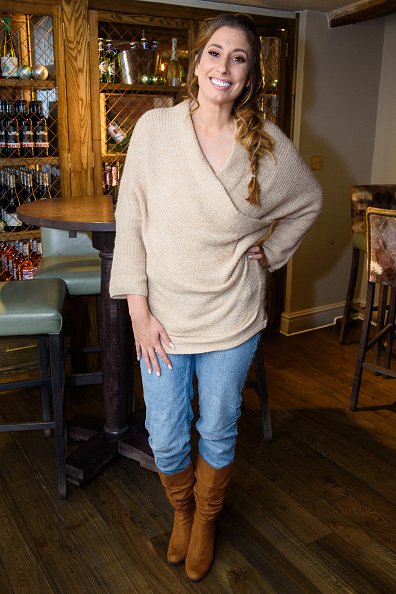 HOW THEY MET 
Solomon and Swash met in 2010 when she was crowned the winner of "I'm A Celebrity... Get Me Out Of Here!." He was the presenter of the spinoff show, and they reportedly became friends during its filming. 
They could have been more; however, she had been in a relationship. Swash would later admit that he found Solomon attractive right off the bat, but he knew the timing was terrible because he was aware of her relationship. 
The filming happened in Australia, and it allowed them to spend copious amounts of time together. She was attracted to him because of his calm, "down-to-earth" character and because he reminded her of home. 
THEIR BEGINNING 
Solomon and Swash's relationship can be traced back to January 2016, when they were pictured looking very intimate in Essex. 
They got heart-shaped love sweets at dinner, and he had presented her with his first one, which read "say yes."
They confirmed the rumors later that month after she revealed that they were spending time together to know more about one another. Her statement prompted the actor to make one of his, which saw him describe her as a lovely and amazing person. 
The pair made their debut public appearance in March 2016 at a gala screening of the hit TV series "Game of Thrones." A few months later, things got more serious between them as Solomon couldn't help but sing his praises. 
In August 2016, she admitted on "Loose Women" that she and Swash had gotten so serious, they had already discussed having kids together even though they already had three kids between them. 
Zachary is a product of her relationship with Dean Cox while she shares her second son, Leighton, with then-fiance Aaron Barnham. On the other hand, Swash is the father of nine-year-old Harry, his son from his romantic relationship with ex-fiance Emma Sophocleous.
He would have called for a break rather than put up with her, but he weathered all of it because of their child.
ENGAGEMENT RUMORS 
Because of the popularity they enjoy and the sincerity of their feelings towards one another, fans of the couple have been patiently waiting to hear the wedding bells ring for them.
However, they wanted to take time before plunging into another union. She revealed the reason behind their decision to take things slow to The Sun. She said:
"Because he's got a little boy and I've got two boys, we just want to take our time and make sure they're super happy and comfortable and we want to do it properly[...].
Even though they were vocal about being patient, it did not stop rumors of their engagement from getting circulated. In 2018, a media outlet alleged Swash had "almost" proposed at a dinner date, and it got so much attention from their fans that she had to address it herself.
Apparently, they got heart-shaped love sweets at dinner, and he had presented her with his first one, which read "say yes." The crowd around had been shocked as they thought she would announce her engagement, but to their disappointment, it meant nothing.
THEIR TROUBLED PARADISE 
Solomon had been unsure of having kids with Swash earlier in their relationship because she already had two boys from different fathers. That changed later on, and the two started to discuss having kids. They welcomed their first child together in 2019 and named him Rex. 
The first hint of trouble came when Solomon started getting too protective of their newborn — at some point, she allegedly banned him from getting too close to the child because he used too much perfume. 
He would have called for a break rather than put up with her, but he weathered all of it because of their child. They got engaged the following year on Christmas Eve but still wanted more kids. 
They had difficulty doing that, and she suffered a series of tragic miscarriages before they finally conceived their second child. Solomon opened up about her sad experience in a black and white video she shared over Instagram. 
Her revelation was an act of bravery that touched the hearts of those who love her, and it was followed up with encouragement and words of comfort geared towards making her feel better. Fans can't wait to meet the little one.