Eminem's Daughter Hailie Jade, 25, Flaunts Killer Curves in Low Cut White Top & High Waisted Jeans While Sipping Cocktail
Eminem's daughter Hailie Jade looked stunning in the images she recently shared on social media. Hallie rocked stylish wears channeling a lovely look for the sunny season.
American rap artist Eminem's grown daughter, Hailie Jade, had an inspiring summer look up on her Instagram page as she displayed her gorgeous features while enjoying a radiant afternoon.
Hailie enjoyed a relaxing moment outside her home while she basked in her beauty hour. She gleaned an impressive style from her fashion lookbook as she rocked a white crop-top with a corset-style bodice.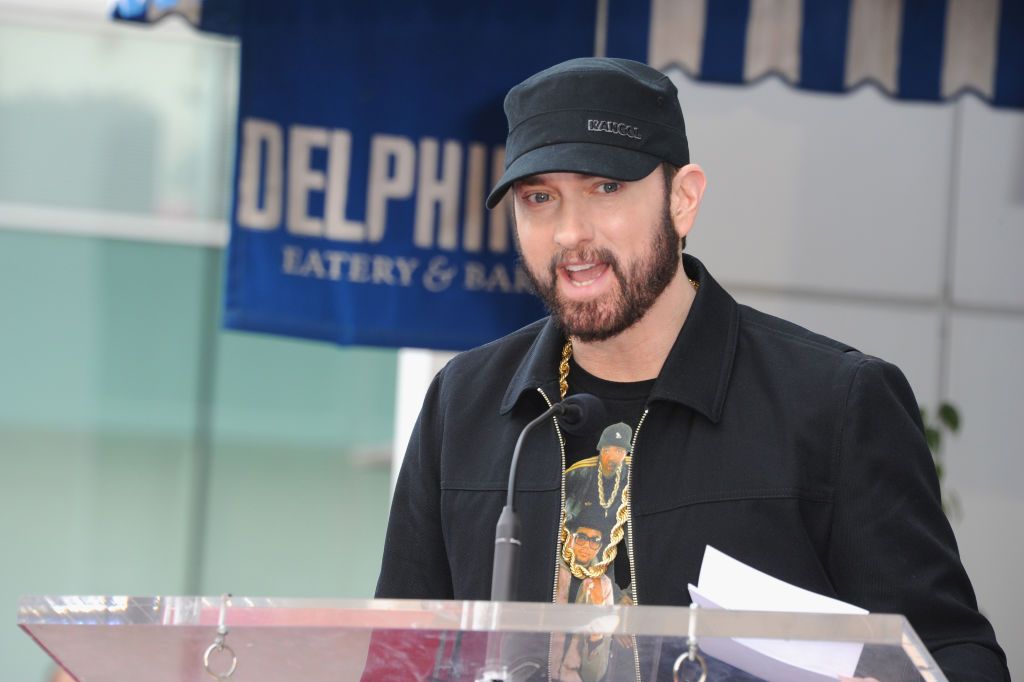 HAILIE PRESENTS A CHIC LOOK
The low-cut ribbed-knit top was worn with a pair of acid wash high-waisted jeans. The v-neck top revealed parts of her cleavage and also showed the layers of gold necklaces that she had on.  
She accessorized with a hot pink handbag while her face was done up in perfect makeup. Hailie styled her straight blonde tresses in a side parting while the length fanned the sides of her oval-shaped face. 
She raised a glass of refreshment in one hand as she positioned the camera. The young adult struck poses like an expert social media star. Hailie wrote in her caption: 
"If you ain't drinking cocktails on the patio, then where [expletive} are you aaaht."
Hailie's slew of fans filled her timeline with pleasing comments letting her know they approved her fashion choice and styling. She also received heart-eye emojis from a famous clothing brand, Forever 21.
Eminem had pointed out that his daughter was the inspiration behind his career. 
MAKING THE MOST OF SUMMER
Hailie launched the summer in grand style and has continued showcasing attractive looks. The star fashion influencer recently showed off her toned body in a white two-piece swimsuit.
Hailie sported her look with a baby blue bucket hat while giving fans a view of her spacious bathroom. In her caption, Hailie relayed that she was fully prepared and ready to enjoy the summer days.
In another of her summer fashion inspiration, the millennial posed outdoors, showing two different looks. The first photo showed her in a crouched position with one of her legs stretched to show her black and white Puma sneakers. 
She had a neon yellow crop top with spaghetti straps and boyshorts on and topped up her look with dark shades. In the next slide, Hailie donned white pants and blush satin halter top, cut low at the back. 
HAILIE'S LIFE AS A BEAUTY INFLUENCER
While many fans mostly knew of Hailie through her dad's music and how she inspired the rap icon, fashion lovers worldwide are beginning to see her in a whole new light.
Hailie is no longer the little girl who was her daddy's muse. Now, she has over two million followers on Instagram and a huge following across other social media platforms.
She often shares content ranging from fitness, travel log, self-care and beauty routines, fashion, and other spheres of lifestyle. Her style choices and mash-ups always have fans fawning.
THE FATHER-DAUGHTER BOND
Hailie was born in 1995 to iconic rapper Eminem and his childhood sweetheart Kim Scott. More often than not, Eminem had pointed out that his daughter was the inspiration behind his career. 
Eminem no doubt feels a surge of pride with how his daughter has advanced through the years. Once speaking about her, he noted that he loved that Hailie was a college graduate with a less dramatic lifestyle.
The star rapper has described her as his proudest achievement. Hailie is one of three kids that the award-winning rapper has. While she is his biological daughter, the two others, Whitney and Alaina, are adopted.