Tamela Mann Stuns in Navy Blue Wrinkle Dress Posing With Husband David in Matching Suit on Stairs
Tamela and David Mann shared a sweet image of themselves looking great in matching outfits on their joint Instagram account, and fans could not stop gushing over them. 
Gospel singer Tamela Mann and her lovely husband, David Mann, are among the most celebrated Hollywood couples. The fantastic pair are a delight to watch and they share beautiful chemistry, convincing people to believe in love again.
Over the years, the couple has grown inseparable even to the point of sharing the same Instagram account, where they update their fans with pictures of themselves. Here's a glimpse of what the duo looked like in a recent post.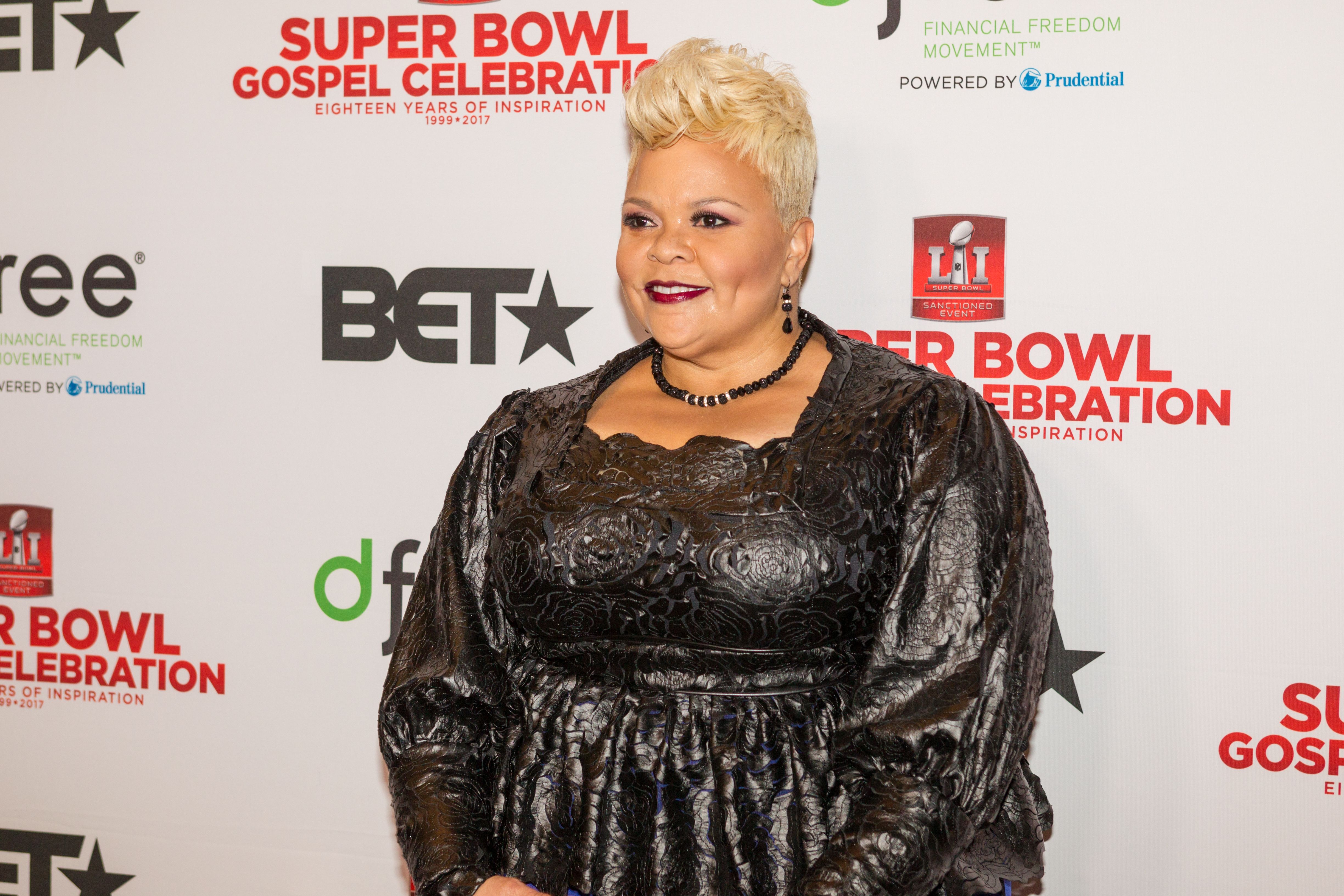 GLOWING IN MATCHING OUTFITS 
Two days ago, Tamela and David took to their Instagram page to share a stunning snapshot of themselves. In the picture, Tamela looked elegant in a fitted navy blue wrinkled dress that showed off her banging body.
The 55-year-old rocked long black hair and sported full makeup, which accentuated her good looks. Tamela finished off the look with a pair of transparent stilettos as she smiled gracefully for the camera.
The songstress posed beside David, who was clad in a matching navy blue suit, white t-shirt, and a pair of white sneakers. Tamela and David posed, standing on a plain-brown flight of stairs, and it was nothing short of stunning. The post was accompanied by a caption that read:
"The Manns 💙."
A few moments after the post was shared, fans, followers, and celebrities took to the comments section to swoon over the lovebirds. A user noted that the couple looked amazing, while another said Tamela looked stunning. Fellow celebrity actor Terry Crews wrote, "🔥🔥🔥🔥🔥🔥🔥🔥."
OVERCOMING DIFFICULTIES 
Time and again, Tamela and David have noted that their marriage remains a product of love, sacrifice, and surmounted challenges. At some point in their lives, they had to deal with what could be tagged "their most difficult moment."
Five years into their journey as a married couple, David who had previously fathered a baby outside the marriage welcomed a child with another woman, nearly tearing their marriage apart.
Even though Tamela was supportive of her husband's first child, the actress revealed in an interview that she felt like she could not accept a second one. 
However, at some point, she believed David's commitment to her was enough reason to stay. According to the "Take Me To The King" singer, she did not have to worry about being in the middle because it was her and David before anybody else. 
DAVID AND TAMELA'S JOINT ACHIEVEMENTS
Tamela and David enjoy achieving heights together; this has been a significant part of their success story. In 2018, the pair released an album and a book called "US Against The World," inspired by their thirty years of marital bliss. 
In a chat with Billboard about her first duet Album with David, the 55-year-old stated that their fans had always asked when they would create an album together. However, David also admitted that he was intimidated to sing with his wife because she is one of the best.
The album, which was co-produced by the couple's son and crafted with the help of a team of songwriters, turned out amazing and inspired many, and Tamela noted that she was proud of her husband.
Tamela and David are inseparable and complete each other perfectly. Even though they have released an album, a book, and done other things together, the award-winning singer decided to go through one thing alone— her weight loss journey.
During an episode of the "Yes Girl!" podcast, Tamela confessed that her journey to shed weight was one she needed to embark on alone.
She also let her husband know that he and their family did not need to join because it was something she wanted to do on her own with Weight Watchers. 
According to Tamela, she did not want her husband to get involved because she wanted to stand on her own and say she achieved her weight loss goal alone; and it worked.
Tamela once said she believes whatever anyone wants to change about them, they can look in the mirror and make those changes for themselves because that was what she did!