Simone Biles Stuns in Peach Outfit While Showing Cute Height Difference with BF Jonathan Owens in Pic
Simone Biles and boyfriend Johnathan Owens look like a match made in heaven in a recent Instagram story. The Olympic medalist loves to show off her adorable relationship with the football player.
Several people were recently introduced to Simone Biles' boyfriend, Jonathan Owens, through the gymnast's Instagram. The 25-year-old is an NFL player who is currently signed with the Texans. 
Both he and Biles live in the Houston area, making things effortless for their flourishing relationship. Being close to each other certainly seems to have paid off since they often share their sweetest moments online.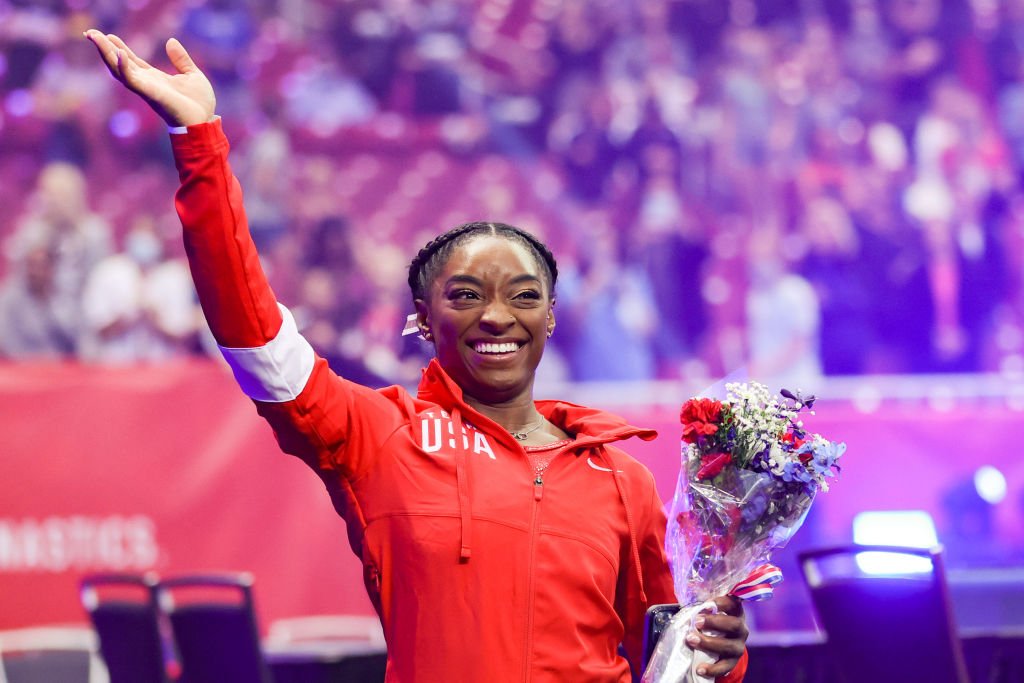 Biles and Owens recently snuggled up to take a snap for the gymnast's Instagram story and looked cuter than ever. Owens towers over his tiny athlete girlfriend, who smiles sweetly as her boyfriend rests his chin on her head. 
This adorable couple is also fashion-forward, as seen in the Instagram story selfie shared by Biles. The gymnast wears a stunning coordinating peach outfit and sandals, and Owens wears a white outfit with stylish sneakers.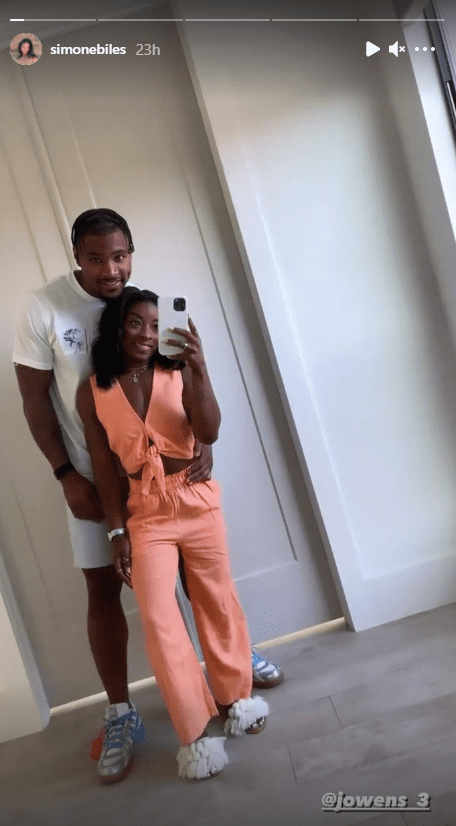 The couple's outfits are just as picture-perfect as their relationship seems to be on social media. Biles first posted the NFL player on her Instagram page in August last year, and they've filled our timelines with cute cameos since. 
Whether they enjoy a beachside vacation or a date night at home, this couple isn't afraid to pack on the PDA. The pair seem very in love and may have the pandemic to thank for their evolving love story. 
Owens revealed that the couple had plans to train for their careers last year, but the pandemic postponed them. As a result, the couple who had just started hanging out had more time to get to know each other. 
Since then, Owens has grown to become one of Biles' biggest supporters and believes they are the perfect match. Biles also agrees, referencing their similar senses of humor and athlete jobs as indicators that they're meant to be. 
The gymnast even revealed that Owens helps her stay on top of her game, even when she doesn't want to. She expressed how fantastic it has been to have someone who understands her job by revealing the following:
"He's the best because he also goes through it [as an athlete], so he knows exactly how it is in the process. It's been amazing to have him,"
Although Owens has positively influenced Biles' career over the past few months, he hasn't always been clued up. The NFL athlete admits that he didn't know the magnitude of Biles' skill until they were in a relationship. 
Owens explains that he was initially drawn to Biles' work ethic and not her stature. He also shares that his biggest giveaway to who she actually is and how great she is was the number of followers she has on Instagram. 
Now, Owens even features in Biles' Facebook Watch docu-series "Simone vs. Herself," where she shares vulnerable moments. The gymnast even opened up about suffering from depression after experiencing sexual assault in an episode. 
Biles was one of many gymnasts who accused disgraced USA Gymnastics doctor Larry Nassar of sexual abuse. However, Biles came out after the rest of the women after being in denial about her experience. 
Thankfully, Biles is in a much better place now and can thank Owens for contributing to her happiness. He has been by her side for vacations and dates and championships and training. 
Biles even revealed that her athlete boyfriend has been preparing her meals as she trains for the Olympics. It just doesn't get better than a man who truly knows that the way to a woman's heart is her stomach.