55-Year-Old Nun Shares Her Skincare Routine and It Only Has 3 Steps
Umbrellas play a significant role in a popular TikTok nun's skincare regime, as well as other strange yet effective methods that keep this middle-aged sister's skin looking flawless.
A 55-year-old nun Claudette Powell received several comments on her TikTok account about how she looked much younger than her age. Individuals also messaged her, asking the sister how she keeps her skin so youthful. 
Powell then took to her  TikTok account "Nunsense for the People," which has nearly 36,000 followers, to share her skincare routine. Her three steps are unpredictable.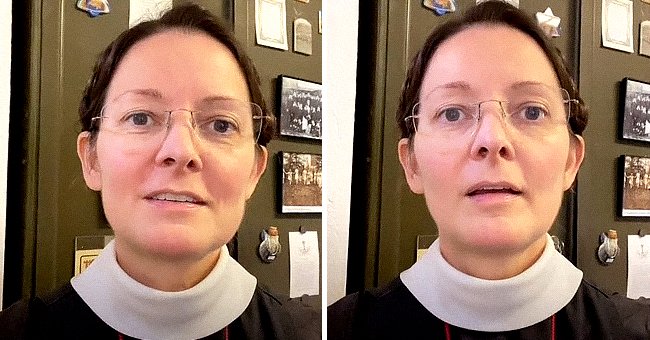 STEP 1: UMBRELLAS
Although Powell claimed that she doesn't have a conscious regime, the sister said she has an idea of why her skin may not reflect her chronological age. The nun referred to the aging effects of the sun, stating: 
"I think I probably have a few less wrinkles than people my age because I can't go out in the sun."
The nun revealed that the sun gives her migraines, so she has to use an umbrella or a sunshade. Many commentators emphatically agreed that sunlight is a significant factor in rapid aging.
STEP 2: PHOTOGRAPHY SKILLS
Powell may look younger over TikTok, she said, because she plays around with the lighting on her camera. The sister revealed she has experience with this due to a history of involvement in the photography industry.
The now-117-year-old French nun Sister Andre was reported as the oldest person to survive the virus. 
The nun explained that she always ensures that the lighting is excellent when shooting her videos. She recommended low lighting for all women who want to look like they have smoother skin on camera. 

STEP 3: DON'T OVERCOMPLICATE IT
In terms of skincare products, the sister expressed that she is pretty minimalistic.  Many dermatologists agree with this simple approach, such as Dr. Cybele Fishman, who said complexity might cause harm.
The nun then expressed that she generally refrains from wearing beauty products. Powell stated that it's because she finds it all to be costly. 

DANCING STEPS
Powell is not the only nun enjoying herself on TikTok. Earlier this year, Catholic nuns took to the platform sharing a humorous video of them dancing to Run DMC's "It's Tricky." 
"The Daughters of Saint Paul's" clip went viral. They did it as part of the trending "This or That Challenge," where they also jokingly revealed which saints and prayers they prefer. 
This is not the sisters' first challenge video, with many online viewers enjoying their content, so much so that they have 6 million combined video views as well as 45,000 followers.
STEPPING INTO LIFE
In February this year, another nun got to dance another day, surviving COVID-19 just days before her birthday. The now-117-year-old French nun Sister Andre was reported as the oldest person to survive the virus. 
When she was initially diagnosed, Andre stated that she didn't fear death. These nuns inspire all to keep their skin youthful, their inner worlds young through dancing, and not let age define one's ability to beat the odds.