Everything We Know About Sha'Carri Richardson's Girlfriend and Sexuality
Here is everything worth knowing about the young miss flash, Sha'Carri Richardson, who is already one of the most talked-about athletes. Take a look into her career, sexuality, and girlfriend.
Sha'Carri Richardson is quickly making the headlines following her recent victory at the US Olympic track and field trials last month. 
She is a 21-year-old, 5 feet 1-inch sprinter who shocked the world by winning a 100 meters race in 10.86, a little over Usain Bolt's impressive track victories.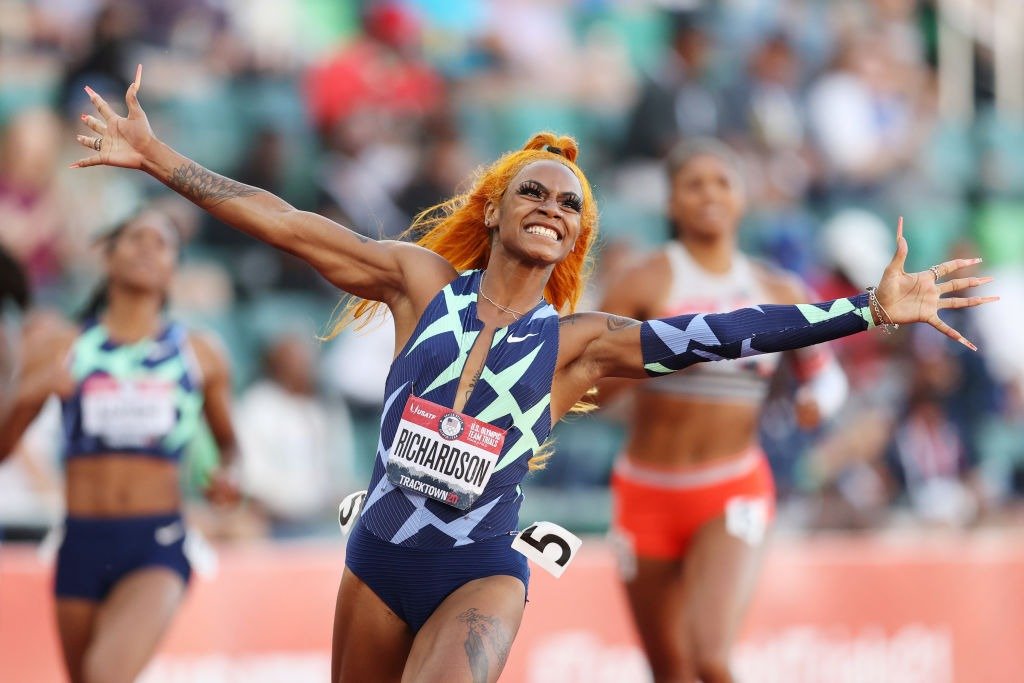 WHO IS SHA'CARRI RICHARDSON?
Richardson is a native of Dallas, Texas, who was raised by her aunt and grandmother, Betty Harp, a woman who takes credit for her wins.
During her latest victory, the athlete portrayed her love for family by hugging her grandmother, who graced the event with her presence. She later told the media that family is a high part of her success story and that the unit will be everything until death.
Apart from the lessons she learned from home, the young adult had mentioned two of the world's best female Olympians as her role models.
According to her, Florence Joyner and Wilma Rudolph hold a special place in her heart, as she picked a few lessons from their glory days and appearances in the field.
Richardson's distinct passion and talent are not the only qualities noticed on the track. She is also a fashionable individual who appears in a caked-up look, makes a fashion statement with her unique wigs and long artificial nails.
This does not disturb her performance or ratings, as the athlete often delivers beyond expectations; a solid case of a book cannot be judged by its cover. 
She has been rated as one of the fastest women after winning a 10.72 in Miami in April. The runner is the sixth fastest woman globally, fourth fastest African American, and was among the ten fastest teenagers in 2019.
SCANDAL & MENTAL HEALTH BATTLE
Following her records, the media and fans were more than ready to see the young athlete establish more groundbreaking records.
However, in July, a test Richardson took returned positive after being tested for THC, a chemical inherent in marijuana. This led to the disqualification of her Olympic results, and the board slammed Richardson with suspension for thirty days.
There is a possibility of the suspension being stretched beyond the beginning of the Tokyo Summer Olympic Games. Still, there is a little hope that the athlete would represent her team for the 100-meter relay race.
After the suspension, Richardson admitted her faults and revealed that she did not intend to get empathy over such behavior that could have been avoided.
She later apologized to fans about the scandal and the fact that she let down their hopes. The Dallas native was also candid about some personal struggles following her mom's death which a reporter revealed.
This came a few days before the trials began, and it was not only shocking to be informed by a stranger about the tragedy, it was hard coping with the news and competing at the same time. But, ultimately, she gathered enough strength and did make history while performing at the trials!
SHA'CARRI RICHARDSON'S SEXUALITY
Before establishing herself as a famous athlete, the young adult was vocal about her sexuality via Twitter. In 2015, she admitted that she is bi-sexual, a fact known and accepted by her family.
Richardson is currently in a relationship with another woman whose identity has been withheld. She appears to love the privacy and sometimes share hints of their unique romance via tweets. On different occasions, she has revealed her girlfriend's playful personality. In one tweet, she wrote:
"My girlfriend said we fry anything we can get out hands-on in Texas."
My family know im bi😋👭👫 https://t.co/wybUKPQdpS

— Sha'Carri Richardson (@itskerrii) August 24, 2015
In a Tik Tok video, Richardson playfully reacted to her lover having a fun night without her. The athlete shared a recording that showed her singing to Bruno Mars' "Leave the Door Open."
GAME RITUALS
To get ready for a sporting event, Richardson's rituals include, believing in herself, the urge to make her fans and family proud and a knack for whipping up breathtaking looks, especially with her series of colorful wigs often changed.
My girlfriend said we fry anything we can get our hands on in Texas 😂😂

— Sha'Carri Richardson (@itskerrii) November 15, 2020
These rituals make her stand out among her peers, and Richardson has admitted that her glamorous appearance means something. While speaking about wearing different bright-colored wigs, she explained that they symbolize her mood and helps to show the world who she is.
The color red makes her feel dominant, while black hair tends to calm her. For the trial, she rocked a yellow-orange hair, which symbolizes "running on fire." It was picked by her girlfriend, who thought that its loudness and vibrancy portrayed the athlete's true nature.
HER AUGUST RETURN
Richardson may be on a compulsory holiday at the moment, however, after the ban expires, she will be set to thrill her audience at 100 and 200 meters in the Diamond League Prefontaine Classic. The suspension will end on July 28th, and the Prefontaine Classics will commence on August 20-21.