Police Officer Pays Attention to Car at a Red Light, Saves 9-Day-Old Baby's Life
Officer Kristin Mitrisin, from the Pleasant Hills Police Department, was hailed a hero after being at the right place at the right time to save a 9-day-old baby's life.
It all happened back in April when Joe Schleicher and Jodi Schleicher were driving their daughter Olivia to the hospital after noticing that there was something wrong with her.
Unfortunately, while at a red light, the baby stopped breathing, and the worried parents were forced to call for help. Luckily, a police car was close by.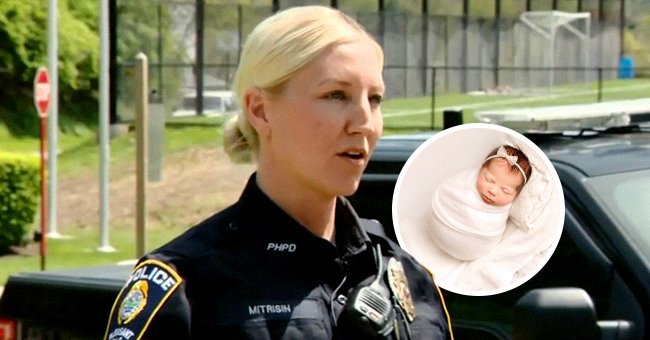 QUICK ACTING
According to Mitrisin, one of the drivers next to her started beeping and waving at her. She immediately understood what was happening and rushed towards the couple.
She was told that little Olivia was not breathing, so she took the baby from the parents and started doing compressions, which is not something easy to do on an infant.
Pleasant hills police officer Kristin Mitrisin is being credited with saving the life of nine-day-old baby Olivia. I'll have the story coming up on @KDKA news at 5. pic.twitter.com/dqtqEfw2Wf

— PAUL D. MARTINO (@PMARTVOICEOVER) April 27, 2021
Using just two fingers and by gently applying pressure, Officer Mitrisin did her best to bring the baby back. Luckily, while she was doing CPR, a corrections officer pulled up and offered assistance.
The man went to the police car and pulled out a defibrillator, which didn't need to be used because Officer Mitrisin was able to get Olivia breathing again. Later, she said:
"Continued CPR, the baby took a breath, then there was a couple more seconds, another large breath, and then we got a few more shallow breaths, and then she started crying. And that was the best sound to hear."
HEALTH ISSUES
Just to be on the safe side, the Officer decided that, instead of waiting for paramedics, it would be faster to drive Olivia down Route 51 to the nearby AHN Neighborhood Hospital.
Although Officer Mitrisin saved the baby's life, Olivia is currently battling several health issues, including heart problems. In order to help cover the medical expenses, the family has started a GoFundMe campaign.
ONE LAST HEROIC ACT
Sadly, not every rescue is successful, and the family of Officer Enmanuel "Manny" Familia is still mourning him after he lost his life trying to save a 14-year-old boy.
Back in June, the Worcester Police Department received several calls about a person drowning in a pond at Green Hill Park, and Familia was one of the officers who responded.
As the City of Worcester & @WorcesterPD mourn the loss of Officer Enmanuel Familia following his heroic efforts to rescue a drowning victim on Friday, June 4, City Manager Edward M. Augustus, Jr. has ordered flags at all municipal buildings and parks be flown at half-staff. pic.twitter.com/IbILjUWyRL

— City of Worcester (@TweetWorcester) June 5, 2021
When law enforcement arrived at the lake, they saw a boy who tragically died despite all the efforts to save him, screaming for help while waving his arm.
Other people were in the water trying to help, but they were brought back to safety by some of the officers. However, they noticed Familia was nowhere to be seen.
When divers managed to find him, paramedics immediately tried to resuscitate him. He was transported to the nearby hospital, where he, unfortunately, passed away.