Daily Joke: Man in Prison for the First Time Hears Strange Numbers
A man was sent to jail, and after changing into his prison uniform, the guards took him to his room where he met his cellmate. That was his first time in prison so after feeling sad for a while, he settled down to rest.
Hours later, he heard some noises in the hallway coming from the cell rooms across from him. A man shouted the number 18, and the cell rooms erupted into laughter.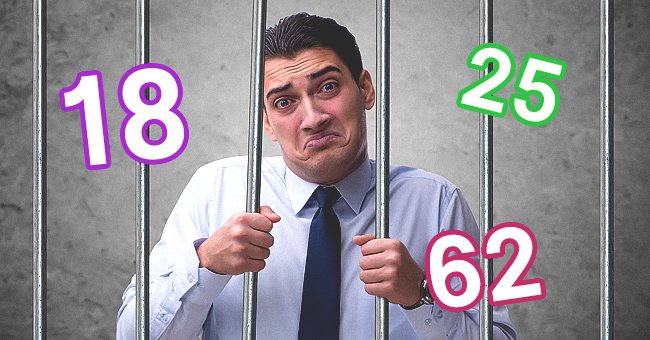 Everyone cackled and their volume went down in anticipation of the next number. Another guy from a different cell called out the number 25, and everyone burst into laughter again. 
The new inmate was so confused by this, but he kept quiet, listening to the men. Surprisingly, someone else called out number 62, and there was a deafening silence, no one made a sound.
At this point, the new inmate decided to find out what was going on. He asked his cellmate why everyone laughed, and the mate noted that they shared the same jokes most of the time.
Because of this, everyone knew all the jokes by heart, and the numbers were the indicators. The man understood and asked why no one laughed at 62. His cellmate replied, "Oh, that's Tommy. He doesn't know how to tell a joke."
DIFFERENCES BETWEEN A JOB AND PRISON
Prisoners live within the four walls of an 8 by 10 cell room, while a worker stays in a 6 by 8 work cubicle. Prison provides three meals a day, but at work, one only gets to eat once.
Prisoners are fed for free, but at work, you have to pay for your one-meal schedule. In jail, the reward for good behavior is to be released, and at work, the reward is more work. 
In prison, one gets to watch TV and play games, but you get the sack from work for playing video games. In jail, family and friends can visit, but at work, cordial visits are barely allowed. 
Taxpayers fund the welfare of prisoners on an all-expense-paid basis, but as a worker, you are required to pay tax from your salaries. In the long run, you pay for prisoners. 
In prison, one spends a lot of time behind bars watching what's going on outside. However, as a worker, one longs to go to the bar and unwind. Prisoners are frustrated by sadistic wardens, while at work, they are called supervisors.
Sources: Upjoke.com, Reddit.com