Physically Impaired Woman Was Told She'd Never Walk Again, She Suddenly Stands at Her Wedding
Brittney Bedwell, a woman from Indiana who was left paralyzed after being involved in a terrible ATV crash a few years ago, fulfilled her dream of walking down the aisle on her wedding day.
The 26-year-old had a wide and bright smile on her face as she walked towards her now-husband, Glen, with the help of her father and a walker.
According to Brittney, it was very important to her because she previously saw her sisters walking down the aisle with their father and she wanted to do the same, so she pushed herself harder than ever.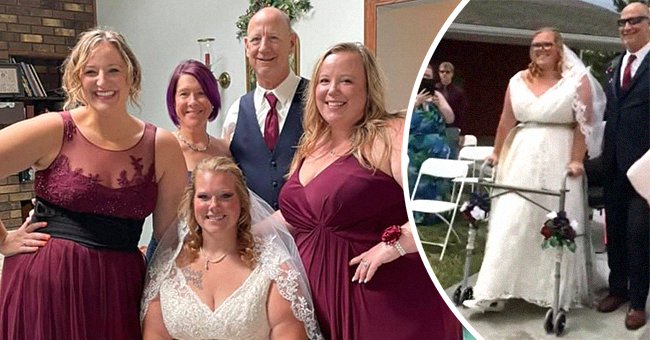 A LIFE-CHANGING ACCIDENT
As aforementioned, Brittney suffered a terrible accident while she was on an ATV with her son. Thankfully, the boy managed to escape unharmed but she didn't have such luck.
Brittney sustained multiple serious injuries and was in the hospital for several months. It was very hard for her as she had to undergo a number of surgeries and even fought a nasty infection.
Not only that, but she also received very disturbing news from her doctor, who told her that she would never walk again and would never be able to bear children.
In an interview with Wish, the 26-year-old revealed that her battle only got worse after that as she struggled with deep depression and anxiety because she truly believed in the physician's words.
GIVING UP WAS NOT AN OPTION
However, one day she woke up and felt something in her legs and she knew that the war wasn't lost yet. Brittney underwent physical therapy and it didn't take long to see some progress.
The mother-of-one still has a long way to go, but she is positive about her future. Not only was she able to walk down the aisle but she also did it while being four months pregnant. About the tough road ahead, she said:
"I have my kids, I have my husband, and I have my family and friends, and they're all in my corner so I'm pushing for them because they're pushing for me."
A BEAUTIFUL TRIBUTE
Everyone has to deal with their own struggles as they are a part of life, and just like Brittney did something amazing on her wedding day, so did Jony and Alistair Lee, a couple from New Zealand.
The couple tied the knot in November 2020 and in order to honor Jony's mother, Luna Macapagal, who was diagnosed with stage 4 ovarian cancer, they decided to shave their heads during the ceremony.
The moment was captured on camera and shared on TikTok, gathering millions of views. By the end of the video, Luna joined Jony and Alistair on the dance floor and hugged her daughter.
Sadly, Luna passed away shortly after the wedding, but the tribute to her and her battle against the horrible disease was a very beautiful way to honor her and raise awareness for cancer.