Daily Joke: Guy Spent a Long Time Collecting $100,000 to Make His Dream Come True
A guy had saved up enough money to purchase a Lamborghini. Hence, he went to the dealer's shop with a bag of cash containing a hundred thousand dollars to buy his dream car. 
On arrival at the location, the guy selected a car equivalent to the amount he brought with him. The salesman informed him that the paperwork would take an hour to be ready, so he was asked to return later.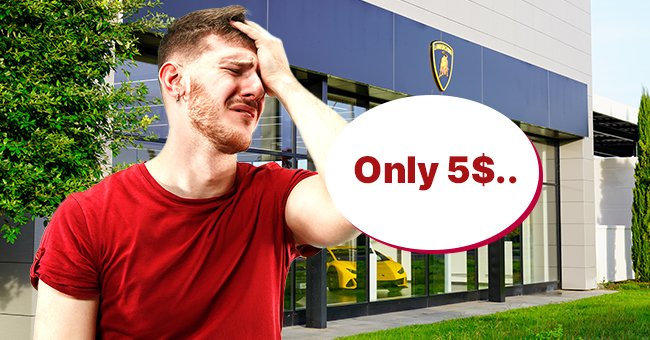 The guy decided to grab a meal while waiting for the car dealer because it was noon and he was hungry. He entered a nearby restaurant and bought a yummy sandwich and coke for five dollars.
He also got a meager token to celebrate his new achievement as a Lamborghini owner. After enjoying his meal, the guy went back to the dealership, and the salesman requested to count the money while he brought out the paperwork.
The guy presented the cash, they began counting, and to the salesman's amazement, the money was short of five dollars. The guy had forgotten his wallet and decided to pay for his meal from his bag of cash.
At once, he began to plead with the salesman to overlook it, but the salesman refused. Out of desperation, the guy dashed out to the streets and sought help from passers-by:
"Please, if you'd be so kind as to gift me with $5 so I can fulfill my lifelong dream and finally purchase a Lamborghini!" 
Finally, a kind pedestrian responded to the man, saying, "Tell you what, I'll give you ten dollars so you can buy one for me too."
Enjoyed the joke? Here is another joke about a mother and father argue over who to thank for their baby's beauty. 
Source: Upjoke