Magic Johnson's Son EJ Flaunts Legs & Caesar Cut in Gucci Ensemble Posing With His Parents on Vacation
Magic and Cookie Johnson's only son EJ flaunts his unique and most talked about fashion sense in a new snap. He displayed his toned legs while posing with his parents during their Italy getaway.
NBA legend Magic Johnson and his wife, author, and entrepreneur, Cookie Johnson, are parents to their only son EJ. Via his parents' celebrity status, a knack for fashion, and confidence, the young man has built an impressive following in the fashion industry.
EJ, a gay man with a fluid style, has starred on reality TV shows, partied with A-list celebrities and socialites, partnered with fashion houses, and has whipped up a few impressive red-carpet looks, all thanks to his skills as a designer.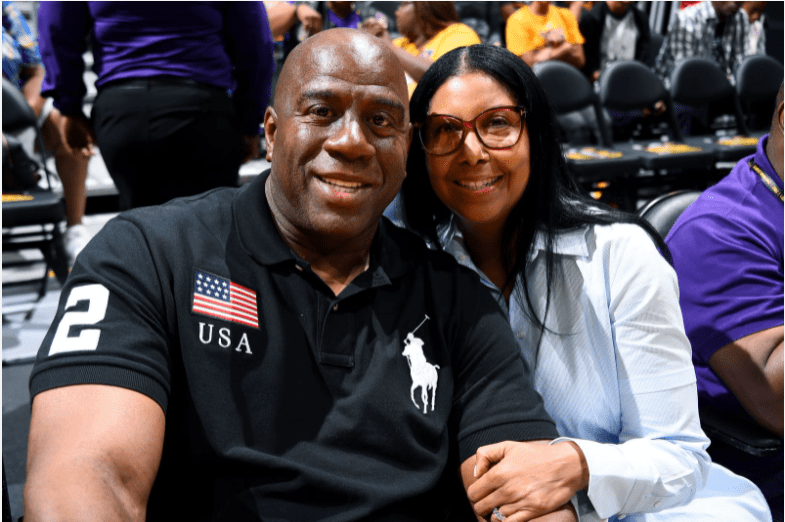 Both Cookie and Magic are taken by their son's unique talents, and they have gone to great lengths to support him in whatever he does. 
Apart from the many ventures, EJ also takes out time to create memories with his family. Over the weekend, he joined his parents in Italy for one of their family getaways.
POSTS FROM THE ITALIAN TRIP
One day ago, the basketball icon shared an image displaying himself, Cookie, and their son posing on the streets of Fort Dei Marmi in a shopping district.
The Johnson's patriarch dressed in a casual round neck t-shirt with shorts and matching kicks, his wife proved that black does not crack, as she stunned, looking youthful in denim jeans, puffy sleeves top, and x-designed sandals.
As expected, the family's fashion icon on the extreme right brought in some vogue-worthy model fashion in his caesar cut hairstyle, raised collar, Gucci romper, nude gladiator sandals, and matching bag.
For the sweet family snap, the Johnsons all smiled, and it was easy for fans to recognize that they were in high spirits as Magic wrote:
"Cookie and I are so happy our son EJ arrived! We are in the heart of the shopping district in Fort Dei Marmi."
Cookie also shared the same photo and penned down a similar message via the caption, revealing the joy of having her family together; she concluded with "#FamilyIsEverything."
THE FAMILY'S SUPPORT
Time and time again, the Johnsons have confirmed that they treasure their family above any decision or choices. When their son announced his sexuality to them as a teenager, Cookie quickly threw in the towel of complete acceptance. 
Although Magic found it hard to grasp at first, he confessed that he did not want his boy going down that path. In no time, after being criticized by his wife, the NBA star realized his role as a parent and apologized. 
He not only accepted his son's choices but has continued to enlighten other parents on the need to be supportive of their kids. 
In 2013, the paparazzi captured EJ holding hands with another man; that was when he publicly declared his sexuality. Magic admitted that he was happy when his son confronted the world with the news.
EJ JOHNSON'S LOOKS 
Apart from loving her baby unconditionally, Cookie has been a big influence on her son's fashion choices. The young man learned from his mother, who never skips any detail regarding her luxury accessories and closet choices when getting dressed.
EJ is talented at rocking any look effortlessly, from luxury items to regular brands as a fashion icon. In addition, his demeanor and poise make his thread choices eye-catching and head-turning.
Last month, the socialite made the headlines over his gorgeous ensemble during a stroll in West Hollywood. He donned a white Calvin Klein sports bra, framed it with a mesh top, detailed with glittering designs on black bike shorts.
The 29-year-old accessorized his look with a black leather bag, matching kicks and sunglasses, while he busied himself with chatting and smiling at his phone.
Ever since going under the knife a few years ago to help with his weight, EJ has been impressed with how he styles his new body and revealed that it makes him happy.
While speaking to Wendy Williams, the former "Rich Kids of Beverly Hills" star proudly flaunted his snatched body and confessed to appreciating the new weight; while establishing that he is on a quest to show some skin by rocking something sexy, with holes.
Over the years, rumors had it that the fashionista may transition from a male to a female; even though he confessed that he considered it in 2015, EJ confirmed that he takes pride in his muscular frame and would not change it.
While Cookie's son is not bothered about changing his physical form, the 29-year-old is big on spicing his looks through some daring hair changes.
At the moment, EJ is serving fans with the caesar cut after being on a low cut for some time. In 2018, he unveiled a new blonde hairdo, which came after he wore a platinum bob to an event.