Darcey & Stacey Silva's Tumultuous Love Lives Including Forgiven Affair and Recent Engagement
Darcey and Stacey Silva are twins that had wild love lives not only filled with joy but personal dramas as well. We noted the reasons why below. 
Darcey and Stacey Silva's tumultuous love lives include forgiven affair and recent engagement. Stacey, 46, recently addressed the rumors surrounding her newlywed status and sister Darcey, also 46 years old's engagement in an exclusive sneak peek.
"Florian and I have been happily married for a few months now and are ready to start our new future. Which for us that's a photoshoot," Stacy revealed during the sneak peek at the "90 Day Fiance spin-off.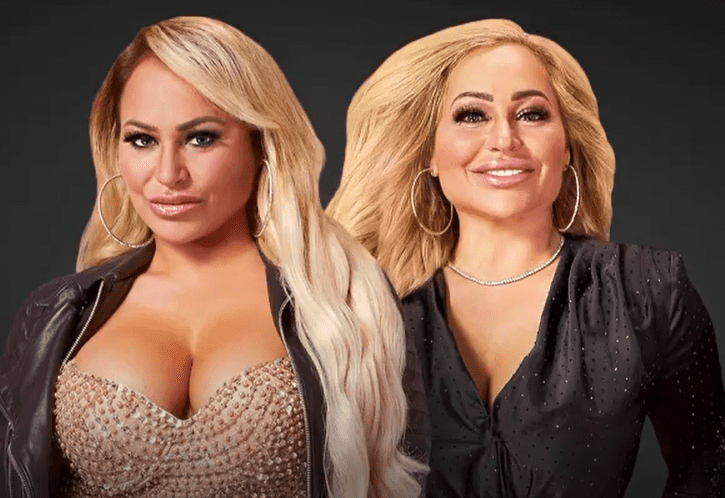 The newly wedded couple are moving into a new apartment and hope to celebrate getting married again, but this time, on a grander scale.
"It wasn't our dream wedding, but we will get our dream wedding one day. We talk about it all the time," she explained. Her spouse added that he is looking forward to their "Cinderella moment" and is loving being married.
"It's good to be married, like, you have somebody for a full life in heart and happy to be happy. It's hard to explain," Florian Sukaj shared.
His wife chimed in to help him further explain and said, "You have your love, your best friend, your teammate for life. He's not only been my rock but Darcey's rock, like a brother."
Stacy shared her sister has been hurt too much in her relationship with fiancé Georgi Rusev and hopes she remains strong and figures out what to do.
Darcey was previously married to Frank Bollok, and there is not much known about the timeline of their relationship. Bollock was first featured in the Silva sisters' show "The Twin Life's" YouTube trailer in 2010.
At the time, Darcey described him as a "new up-and-coming" rapper she met in New York. Presently, he has a bachelor's degree in liberal arts and sciences from Hunter's College in New York.
Bollock and Darcey went on to have two children together, daughters Aspen and Aniko. Since his former wife went on to get married, he also remarried Kristell Mapelli on December 21, 2018.
Bollock and his now wife are expecting a baby together. Darcey's girls appeared to be close to their stepmom and were present at her recent baby shower.
She also appears to be cordial with her former husband and baby daddy, including Mapelli, as evident in social media posts.
The clothing designer first got engaged to Rusev during the season 1 finale of "Darcey & Stacey" and has experienced ups and downs in their relationship.
In season 2, they appeared to have a hard time staying together, as the show picked up after Rusev proposed to her on a yacht in Rhode Island.
Darcey was shown crying over trust issues between her and Rusev and revealed he had already left her. Rusev is originally from Bulgaria, lived in the US for eight years, and worked as a lifeguard and a model.
The pair started talking on Instagram DMs, and two years later, they met in person in Miami during Super Bowl weekend. Darcey later found out the 33-year-old had kept a big secret from her.
Rusev was still married when he met the television personality, although he insisted that he told her on the night they met face-to-face, but Darcey shared did not have a clue.
Friends and family have started having doubts about the pair's sudden relationship with Stacey, specifically wondering whether Rusev is in the relationship due to love for her sibling rather than her "big wallet."
Nonetheless, Instagram updates suggest that Darcey and Rusev are still going strong, and this time around, the actress may have finally found her happily ever after despite going through heartbreak twice on TV.
Darcey quietly accepted Rusev's proposal in June 2020 and told People in October, "I still feel newly engaged. I haven't been able to really celebrate it yet with everybody."
She shared it was a definite surprise for her and that she and Rusev have a profound connection and felt like she was not expecting it.
Meanwhile, her sister Stacy's relationship with Sujak has had its fair share of drama. The couple was first introduced on "90 Day Fiance: Before the 90 Days and were engaged for five years.
The lovebirds eventually tied the knot on April 20, 2020. Since then, there have been alleged rumors of affairs by Sujak and other women, which ruined the honeymoon phase of the marriage.
The pair met on Instagram and instantly hit it off, and after only six months of dating, Sujak popped the big question, and Stacey accepted.
However, before they walked down the aisle, Stacy and Darcey found evidence that alleged Sujak cheated on her. The evidence was photos showing him kissing another woman.
The images were found online, with one incriminating second picture displaying Sujak shirtless in bed, next to a woman clad in lingerie.
In October 2019, the woman in the photos, Shanti Zhora, who happened to be Stacy's former friend spoke out about the affair and claimed Sujak did not have feelings for Stacey and that he pursued her instead.
Despite all the evidence presented to her, Stacey chose to believe her husband's claims that nothing happened between him and Zhora.
However, he eventually admitted to kissing Zhora but insisted nothing happened beyond that. The couple's marriage has now lasted for over a year despite the allegations that later resurfaced.