TikTok Mom Shares Brilliant Life Hack for Kids at the Beach
Motherhood can be a beautiful yet tiring experience. So, when one mom shared a mom-related hack online, others flocked to see how they could improve their own lives. 
Mother-of-3 Lindsey Agan took to TikTok to share a video for all her fellow internet moms. In the clip, she divulged a sunscreen life hack that parents can supposedly use on their children. 
While "Fancy Like" by Walker Hayes played in the background, Agan proceeded to show off her routine. Her little daughter stood in front of a pool in a swimming outfit while cutely looking at the camera.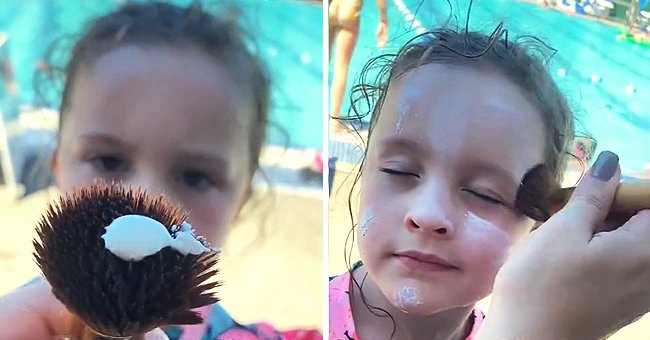 The mother proceeded to hold up a bottle of sunscreen and a makeup brush in front of the lens. She applied the sunblock to her child's face with the brush and blended it all in quickly and with ease.  
A nun also decided to share some skin-related tips on TikTok.
The little girl's eyes were closed when the cream was being put on, but she opened them and smiled at the camera when done. Agan asked other parents to do it and let her know if it worked.
Moms loved the hack, which was also shared on Facebook where one person remarked in the comment section that the technique was inventive. One individual viewing it on TikTok wrote: 
"This is genius!!"
Many of them claimed that they would be trying this technique out on their own children in the future. This entertaining TikTok video has, so far, received around 70 likes. 

Another sunscreen-obsessed TikToker @glowbyramon, shared his advice on how to apply sunblock to one's face. The aesthetician and cosmetic formulator wrote in his video: 
"What if I told you that 2-3 fingers of sunscreen for your face was TOO much sunscreen." 
He then claimed that one only needs to use one finger of the liquid. However, he explained the process using intricate math equations, which many followers exclaimed they couldn't quite grasp. 
To simplify the process, the TikToker stated that they could use two fingers. However, they must then put that on their ears, face, and neck, which will bring them somewhat close to the perfect application. 
This TikTok user has received around 2000 comments so far. He got about the same amount of shares as well, with around a whopping 62,000 likes. 

In a strange turn of events, a nun also decided to share some skin-related tips on TikTok. The 55-year-old spoke about her skincare routine since so many followers asked her how she looked so young. 
Claudette Powell's regimen includes staying out of the sun as much as possible and using minimal beauty products. From moms to aestheticians to nuns, everyone appears to be vying for perfect skin.