It Was a Regular Working Day for One Lobsterman until He Found a Rare Blue Lobster
There are millions and millions of different species of animals in this world, and some of them are truly rare, like the blue lobster that lobsterman Toby Burnham recently caught.
Joey Ciaramitaro, co-owner of Captain Joe and Sons Lobster Company, recently shared the picture of the crustacean after Burnham brought it to him.
The beautiful animal was photographed by Ciaramitaro, who later posted the pictures on the company's Facebook page before being released back into the ocean.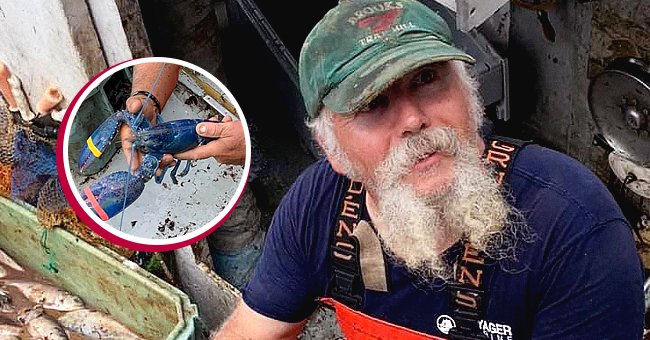 DIFFERENT IS BEAUTIFUL
The lobsterman was hauling in lobster traps when he noticed the odd-colored animal, which, according to Ciaramitaro, finds its way into the traps every other year.
As per the New England Aquarium, only one in 2 million lobsters are blue, but that is not the only color they can have as Ciaramitaro has also found a stark white lobster before. He recalled:
"We had one that was split directly down the middle of its shell. Stark, stark white. I nicknamed that one 'Phantom of the Lobsta'."
It has been reported that whenever Captain Joe and Sons finds a really rare lobster or a mutation in their traps, they are documented in Ciaramitaro's blog, "Good Morning Gloucester."
Not only that but they are also donated to the Gloucester Marine Genomics Institute or the local maritime museum and aquarium, the Maritime Gloucester.
As for the reason why they decided to release this rare blue specimen back into the water, Ciaramitaro shared that there was no right or wrong answer in this situation. He said:
"Some people really love the idea of sending it back to sea because it's such a strange oddity. I think maybe the wrong answer would be to just boil it up and treat it like any other lobster."
RARE FINDS
It is estimated that 80 to 90 percent of the ocean is yet to be explored, so there are still thousands or even millions of species still undiscovered. However, humans sometimes find quite odd ones.
Recently a brightly colored Opah, a tropical fish, was found in Oregon, although the fish is rare to the Oregon Coast, according to the Seaside Aquarium.
The 3.5-foot, 100-pound fish was found at 8 a.m. lying on the sand near the water's edge and was sent to the aquarium, where it will be preserved for the upcoming school year.
Back in May, a hybrid large-mouth, small-mouth bass was also found by Wyatt Frankens, a fisherman in Texas who scored a world record after catching the unique fish at the O.H. Ivie Reservoir.
REAL-LIFE JONAH
However, not every encounter with sea life is glorious. Michael Packard, a lobsterman from Cape Cod, Massachusetts, was almost swallowed by a whale in June.
According to Packard, he was in the water searching for lobsters when he noticed schools of fish hastily swimming by him before everything went dark.
The lobsterman first thought he had been swallowed by a great white shark, but since he couldn't feel any teeth, he quickly realized he was in the mouth of a humpback whale.
Packard was inside the whale close to 40 seconds before being spat out when the animal came to the surface and was rescued by a crewman before being rushed to the hospital with a dislocated knee.