Tracee Ellis Ross Exposes Toned Back While Striking Pose in Floral Two-Piece for Pic
Renowned actress and entrepreneur Tracee Ellis Ross recently teased her fans with yet another sultry two-piece bikini photo. See the Pattern Beauty founder's jaw-dropping snap.
Although she is the daughter of legendary singer and ever-fashionable Diana Ross, actress and style icon Tracee Ellis Ross continues to march according to the beat of her own drum.
On top of juggling acting and producing shows, Ross runs Pattern Beauty, a haircare line dedicated to curly hair. A jack of all trades, the 48-year-old actress is also a body-positivity advocate.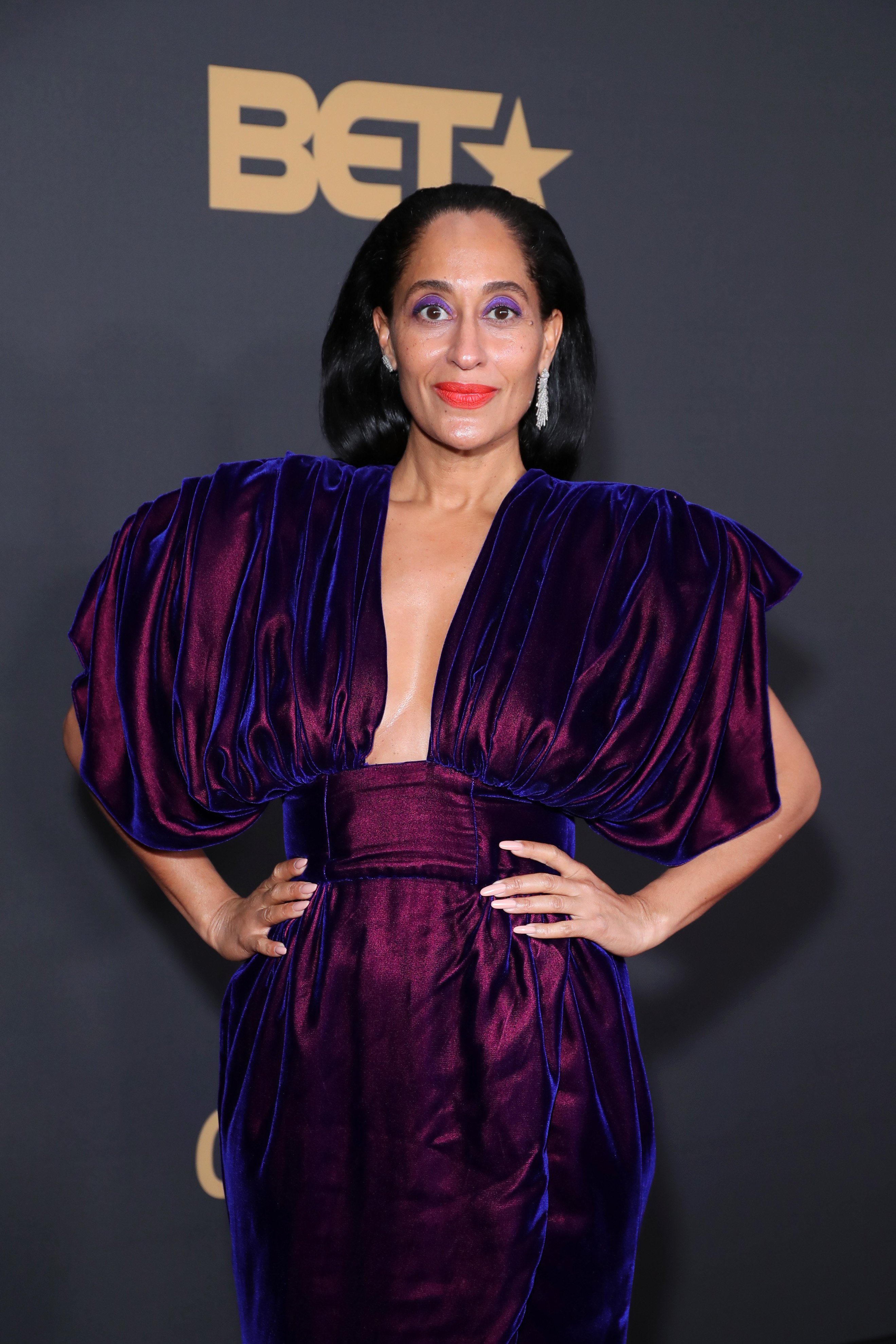 Ross remains true to what she believes in, and she's not ashamed to flaunt her unique beauty and body. She recently caught fans' attention with her stunning photo on Instagram. She wrote in the caption:
"Who's got my back?"
The photo, which amassed more than 160,000 likes, showed Ross displaying her enviable curves and flawless and toned back while wearing a two-piece bikini with bright floral patterns. 
An outline of flowers, a palm tree, and bright blue skies framed her background. The comedy actress held her thick black curls up for her followers to see how proud she was to have a perfect and raw body. 
Instead of shaming herself, Ross thanked her body for keeping her safe amid challenging times.
Although the "Black-ish" actress showed only a back portion of her body, it did not stop her legion of fans from swooning over her gorgeous snap. "Even you back is beautiful! For real [sic]," a follower commented.
Ross' unfiltered figure left some celebrities enthralled as well. Actresses Gabrielle Union remarked, "That's a good back," while Kerry Washington replied to Ross that she always got her back.
Ross keeps blessing her 10.4 million fans with photos of her wearing bikinis with stylish designs. Earlier, she delighted her fans with pictures and a video showing her taking an outdoor shower. 
While taking a refreshing shower, the "Girlfriends" actress rocked a gorgeous two-piece green-knotted bikini that showed her impressive abs, her toned thighs and arms, as well as her goofy personality. 
Although she has a shapely figure, Ross revealed in an Instagram video that she keeps lounging at home rather than following her regular workout routine. She has gained weight like everyone else, she said.
She then reminded fans that weight gain is normal, considering that they all dread stressful situations due to the pandemic. "It's something an opportunity to show gratitude to our bodies," she said.
The "Mixed-ish" actress shared that last year, she indulged herself in eating good food and drinking her favorite beverages as a way to comfort and treat herself amid difficult times. 
Instead of shaming herself, Ross thanked her body for keeping her safe amid challenging times. She encourages her followers not to feel bad about their bodies and show compassion for each other. 
Ross added that she felt a deep sense of understanding about her body and the people around her. According to "The High Note" actress, her life has changed for good because of the experience.
Apart from sharing her thoughts on body positivity and image, she recently shared her journey to self-acceptance about her curly hair. Her story will soon be heard and seen on a much bigger platform. 
In June 2021, Ross announced a new TV docu-series surrounding Black women's hair. She will executive produce the show alongside TV host Oprah Winfrey and book author Michaela Angela Davis.
Titled "The Hair Tales," the series connects the intimate and authentic personal stories of Black women. Additionally, Ross stated that the show would offer a broader look at black culture and identity. 
Besides her new career milestone, Ross is also up for an Emmy award for best lead actress in a comedy series this year. This is her fifth nomination for her character as Dr. Rainbow Johnson in the TV series "Black-ish."