Officer Tries to Detain a Man on the Street, But Then Regrets Doing So
An intimidating man in blue came right up to an individual to detain him. A borderline-aggressive exchange then ensued between citizen and cop.
A TikTok account called OurRightsMatter714 shared a video of a policeman attempting to apprehend him. Unfortunately for the officer, the man appeared to know the law on a more in-depth level. 
The cop first asked for his identification. The TikToker refused, stating that the officer had no legitimate grounds to request this as he himself had done nothing illegal.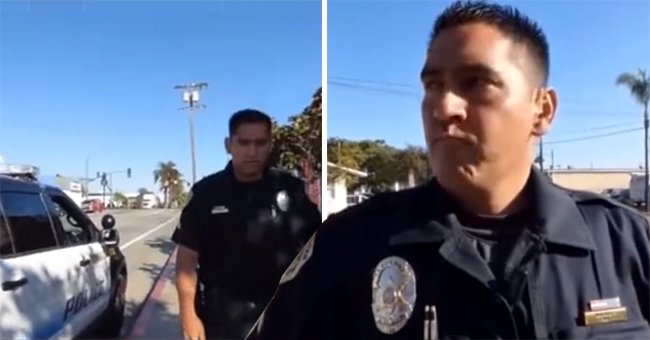 The policeman tried to justify his concerns by implying that due to this individual recording on his camera, he seemed to be acting dubiously. The TikToker appeared to be citing a specific law, then expressing:
"I'm doing a story on your police department and now you're going to be - anything from here out you're going to get charged." 
He warned the officer to contact his supervisor, claiming that his activity is covered by the First Amendment. The two men continued back and forth, but the cop eventually gave up, walking away.

With some exceptions, most commentators were on the side of the individual recording the cop. Some, after witnessing the scene, now intended to learn the law that the man had spouted. 
He began mocking the cop, telling him to engage in sexual relations with his partner's spouse.
Many found the incident hilarious. The now-viral post has gathered around a whopping amount of nearly 17,000 comments and around 2 million likes. 
The same individual posted another video of himself engaging with a different police officer. The cop asked him what his name is, to which he daringly replied: 
"I don't give my name out... not unless I commit a crime or something. That's right. Have a good day though." 
The officer asked him what he was doing. The TikToker said he was taking photographs. The cop seemingly appeared to allege that the man was not permitted to be within a facility nearby.
The man then became slightly more aggressive, telling the cop that he already knew this. The policemen stated that there were individuals concerned about what he was doing. 
The TikToker responded by saying that his rights are more important than others' worries. He began mocking the cop, telling him to engage in sexual relations with his partner's spouse. 

Someone else, who was merely a kid, also challenged a cop and won the battle. A clip showed an officer approaching the young man, asking him and his friends to ride their bicycles elsewhere.
However, eventually, the man in blue gave up, as the younger individual used the law to explain why they were allowed to ride in that area. In the end, knowledge truly is power.