Buckled Roads And Melted Cables: Scorching Hot Summers Throughout History And How People Dealt with Them
As you are sitting in a cafe during a hot summer day, drenched in sweat from head to toe … you might be wondering: "Can this be the hottest summer ever?" You can see the sweat soaking through your clothes, the views in the distance distorted by the hot rising air … the air is still and there's not a single cloud in sight.
Interesting fact—this thought probably occurred to those who came hundreds of years before you as well. 
Unbearably hot summers and heatwaves have always been a struggle for humankind throughout history, and without air-conditioning, some people (especially those back then) have found ingenious ways to cope with such hellish conditions. 
Let's take a look, shall we?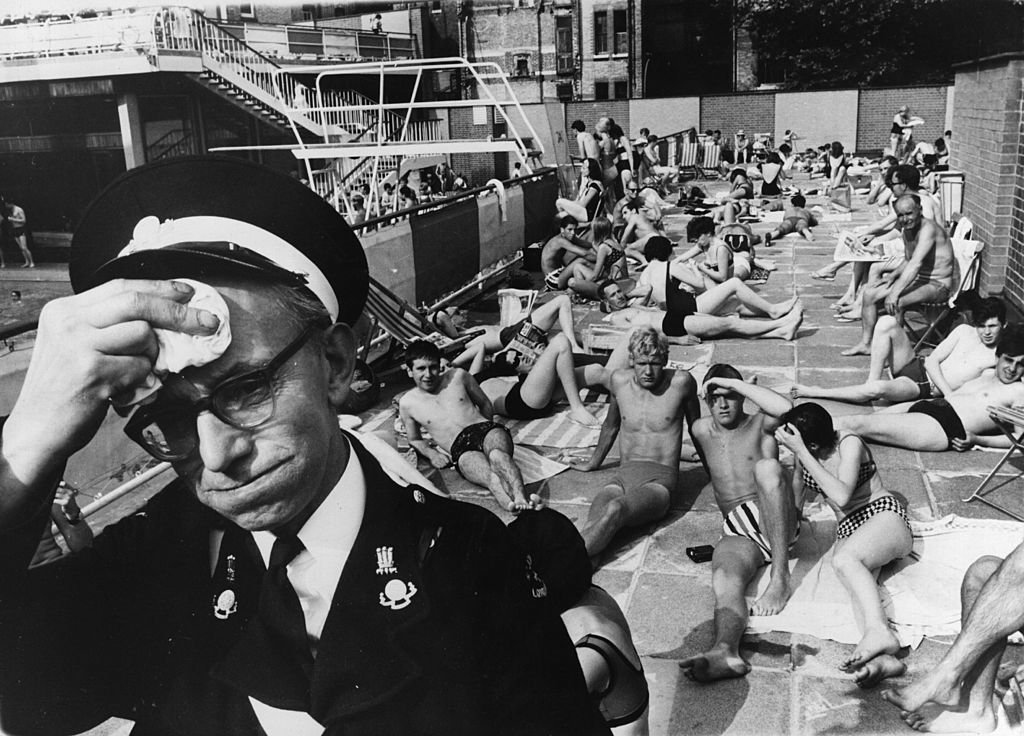 The Hottest Summer Ever? 
We wish we know the answers to this question—but unfortunately, even though the first thermometer was invented around the 1590s by the great Galileo, a standardized system to measure temperatures was not in place until the 1700s.
In case you're wondering, yes, Fahrenheits actually came first, before Celsius and Kelvins. 
Due to the lack of a standardized system back then, it is now difficult to determine how hot the summers actually were before thermometers and the associated measurement systems were introduced. However, it is worthy of note that several summers have been documented as hellishly hot throughout history, such as the 1540 European Drought, on top of numerous undocumented events in history.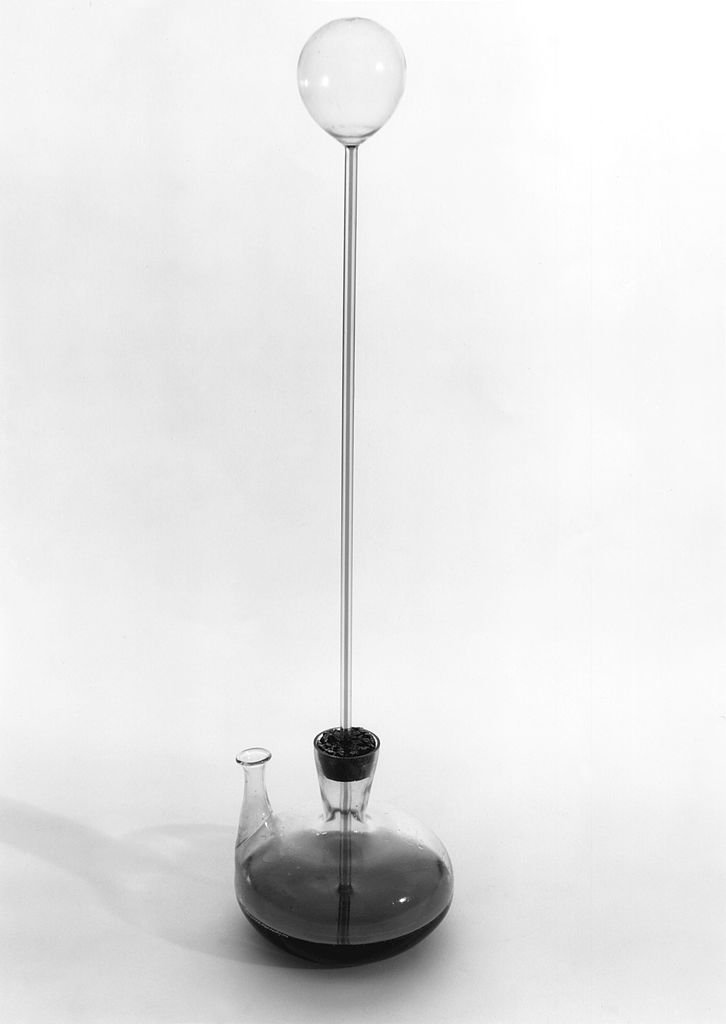 First Documented Heatwave (With Temperature Reference)
The first documented heatwave in Continental Europe may well be the July 1757 heatwave—back in 2003 it was even believed to be the hottest summer in Continental Europe since the 1500s, and that's saying a lot. But how hot was it really? 
Well, on 14 July that year, it reached a high of 37.5 °C (99.5 °F), which is quite significant considering the average temperature at the time was around 20 °C. 
While we do not have pictures from 1757 to show you how hot it was for the folks back then, here's what the Berrow's Worcester Journal said in 1757, regarding the hot summer they had to endure that year:
The Weather, for some Days past, is said, by the Curious in such Observations, to have been several Degrees hotter than for these four Years past.
In fact, it was so hot that poet John Scott of Amwell dedicated part of his writing to this unbearably hot summer in his 1760 Four Elegies: Descriptive and Moral. At the beginning of Elegy II, he started with: "Written in the hot weather, July, 1757." The elegy then included stanzas that went:
Lost is the lively Aspect of the Ground;

Low are the Springs, the reedy Ditches dry;

No verdant Spot in all the Vale is found;

Save what yon Stream's unfailing Stores supply
What a vivid way to describe an intolerable summer.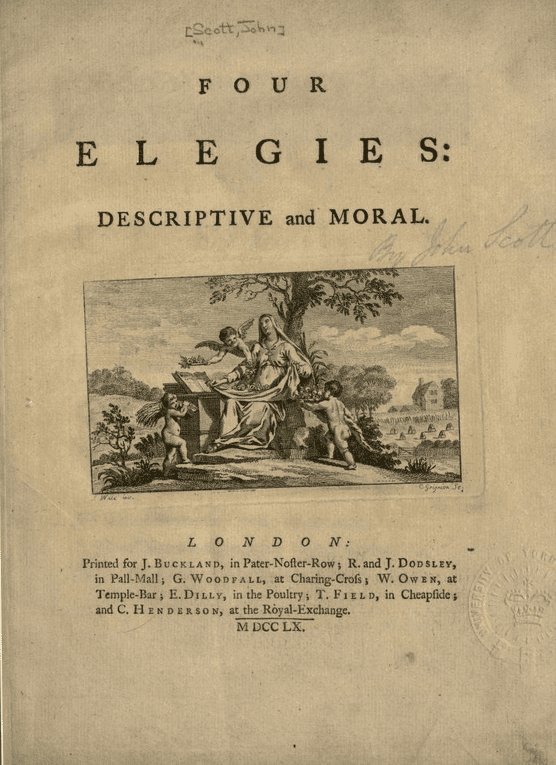 Ice Harvesting
The first air conditioner was not invented until the 20th century—so how did people stay cool back then? Well, as it turns out, most of the practices are not that different from what we have today. 
Nothing beats a good old icy drink in the middle of the summer, and the same goes for the folks that came before us. But then now you might be wondering—how did people get the ice back then? Before refrigerators? 
Ice harvesting was a common practice in countries with a relatively cold climate in the winter, and in America, the practice took off in the early 1800s. Ice harvesters would go to frozen lakes in the winter and cut off sheets or blocks of ice and store them in cool places to use during the summers. Such places were known as icehouses. However, the availability of ice blocks varied by year, depending on the climate.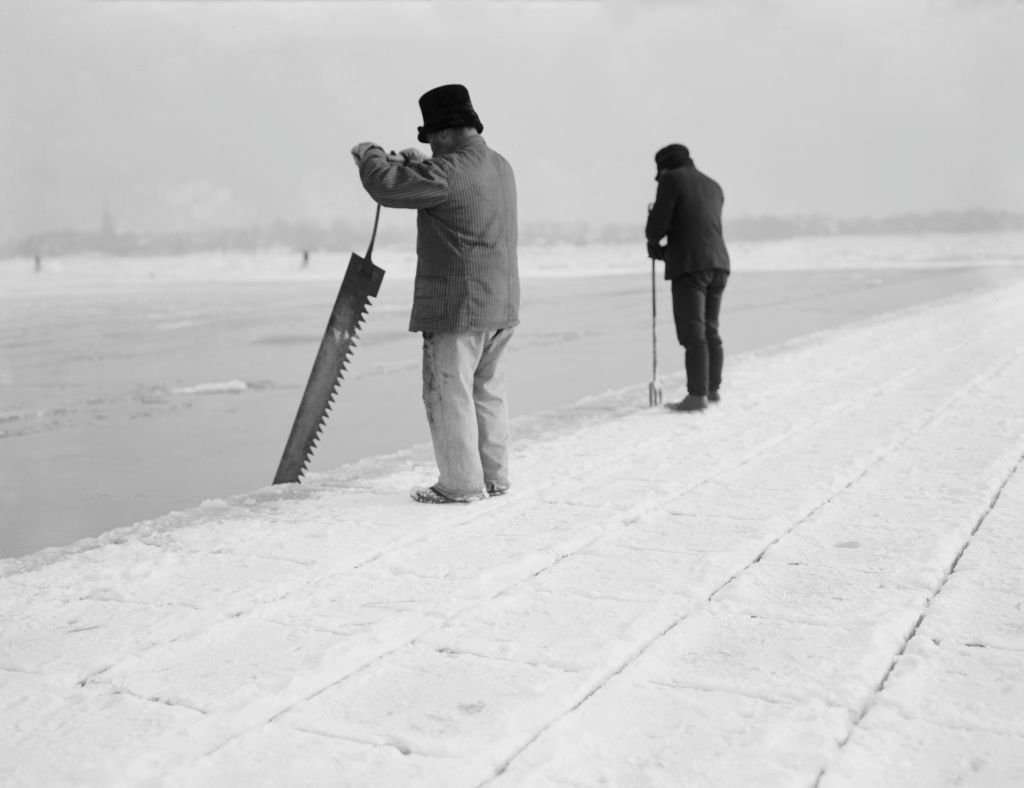 High Ceilings 
Another trick people used back then lies in the way houses were built—the ceiling height, in particular. 
Buildings with high ceilings can utilize internal air convection—remember your science class? Hot air goes up and cold air goes down? That's the theory. By building houses with higher ceilings, hotter air will rise up towards the ceiling, leaving the colder air at the bottom right where you stand. Pretty smart, right? 
This is also the reason why a lot of the older houses have high ceilings.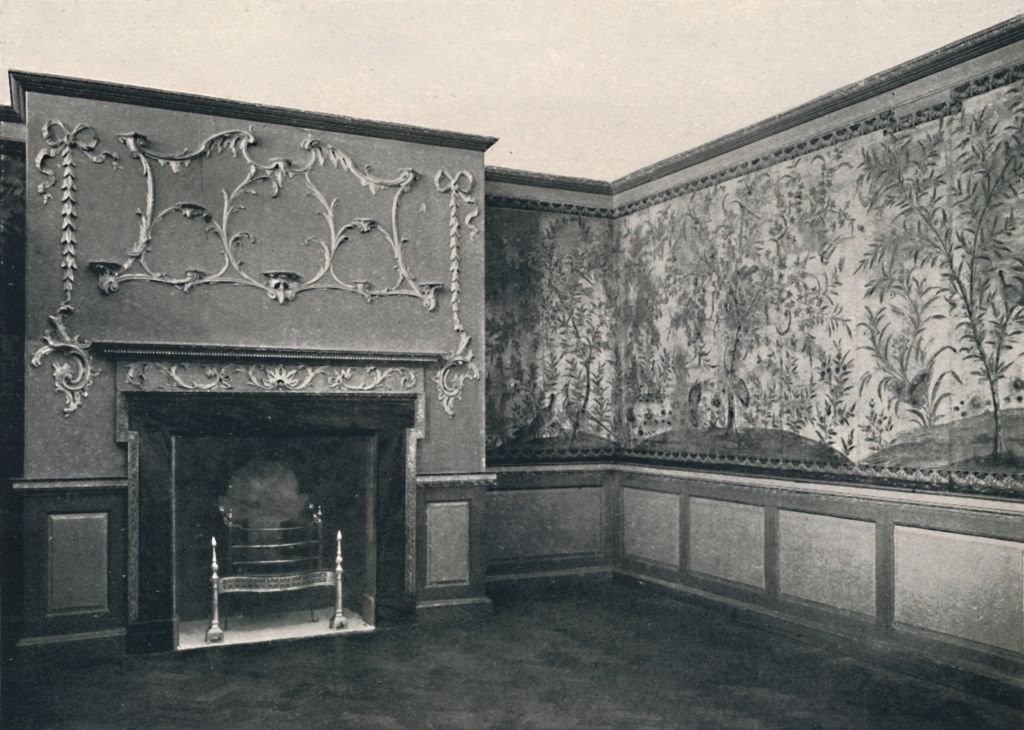 Beach Time!
This is a no-brainer, really. Summer and beaches go with each other like peanut butter and jam—sure, people might already have ACs at home, but nothing beats the cool summer breeze that rolled along with the waves. 
But if you think that your local beach is pack full of people, think twice after looking at this picture. 
The picture below was taken in Coney Island, New York, in July of 1940, where the recorded temperature during the heatwave was approximately 31.7 °C (89 °F). 
Again, it might not seem much today, but it was hellish back at the time.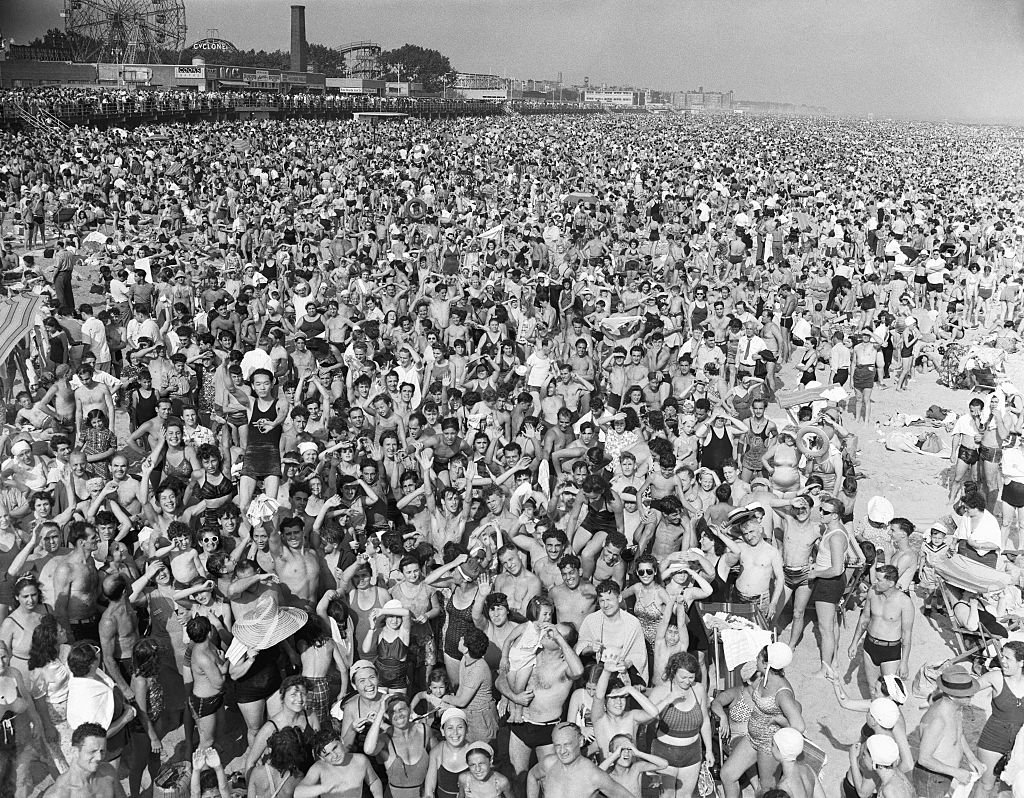 Under the Shade
Another no-brainer—under the shade. While in certain countries staying under the shade, especially when it's humid, wouldn't make that much of a difference, getting away from direct sunlight is instrumental in preventing heat strokes. 
But what if you don't have a hat? Or for some reason you cannot sit under a tree? 
Well, maybe you can learn from these gentlemen from 1913 and put some newspapers on your head to shield you from the sun?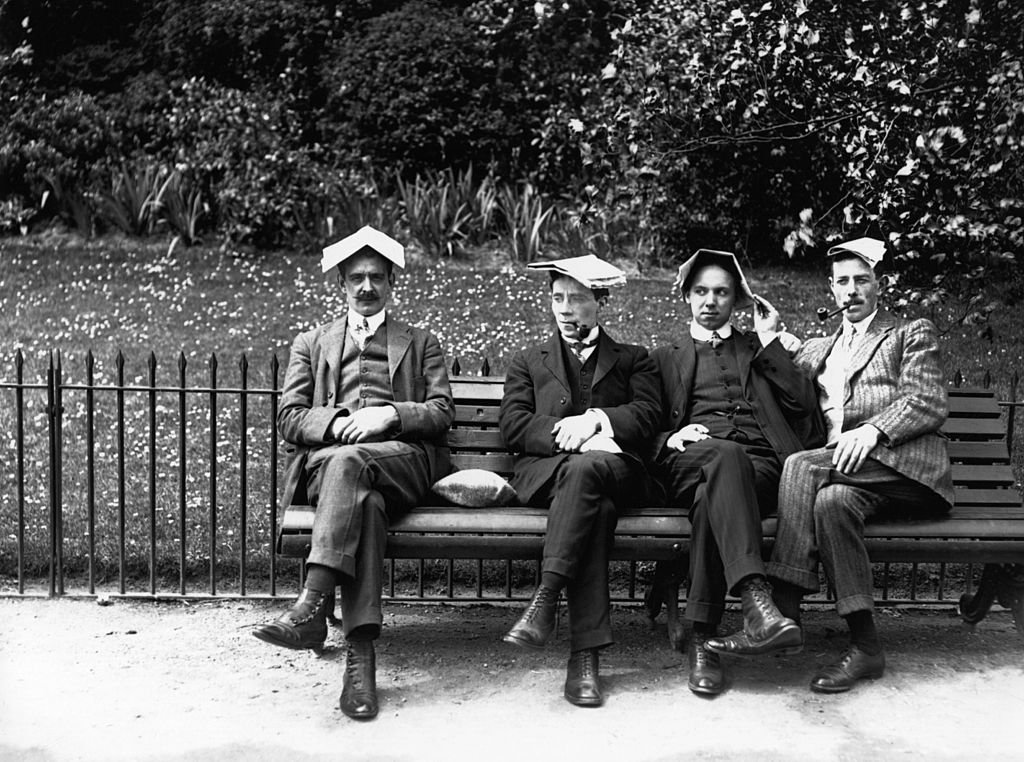 Make Your Own Hat
While putting newspapers on your head can shield you from the sun, it can be a bit inconvenient since it can fall off easily whenever you turn around.
Solution? Sun hat! Just like what these school girls were doing as they were watching Wimbledon during a heatwave in June 1953.
In case you're interested, here's how you can fold your own newspaper hat.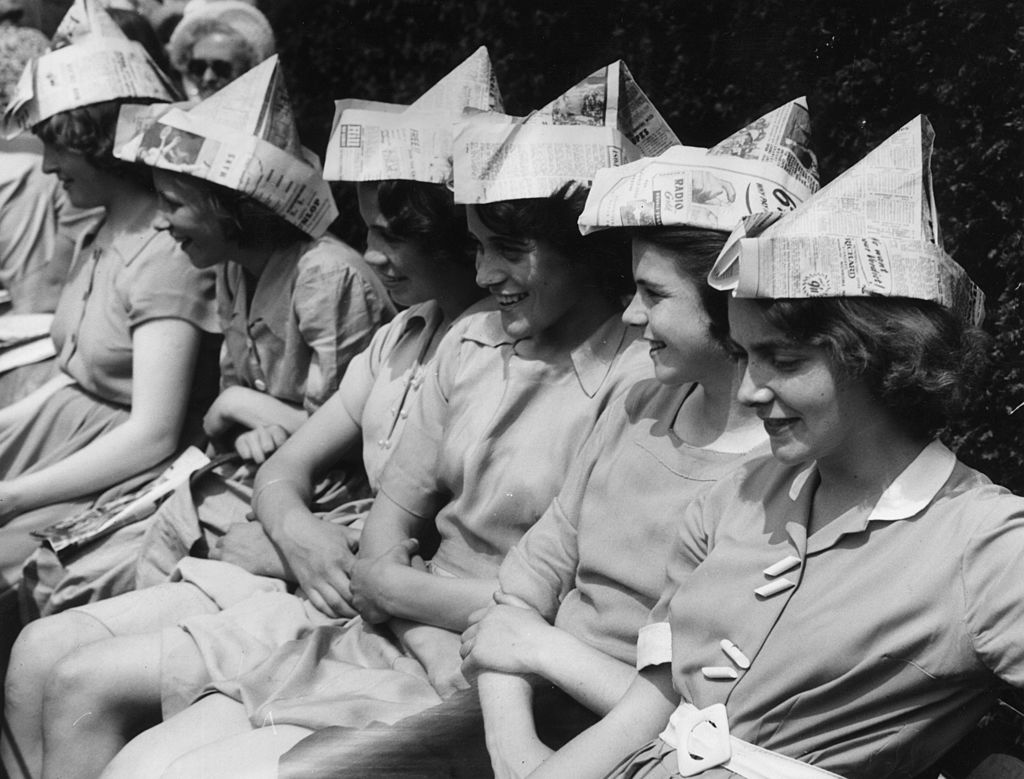 Fountain Time 
The 1976 British Isles heatwave was the second hottest summer recorded in British history, and if you know a thing or two about English weather, you'd know that people aren't accustomed to such unforgiving weather.
Sunny England isn't always sunny, in case you're wondering. 
Pictured here was Trafalgar Square in Central London on 13 June—even though it was illegal to bathe in the fountains, some people decided that it was worth the risk after all.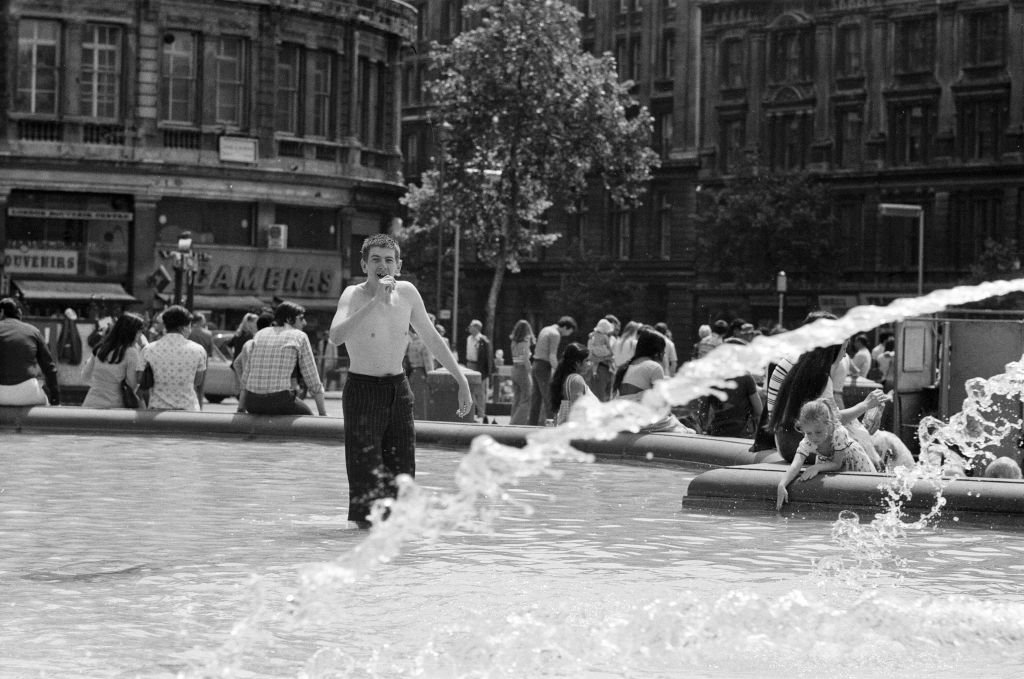 What a Scorcher! 
Keep your friends closer, but keep your handkerchiefs closer during a heatwave. 
Some practices to combat summers have been lost in time it seems—keeping a handkerchief around you, for example. How often do you see people using their handkerchiefs these days?
It might be a good trend to revive after all—stop using paper napkins and use handkerchiefs instead. They're better for the environment anyway.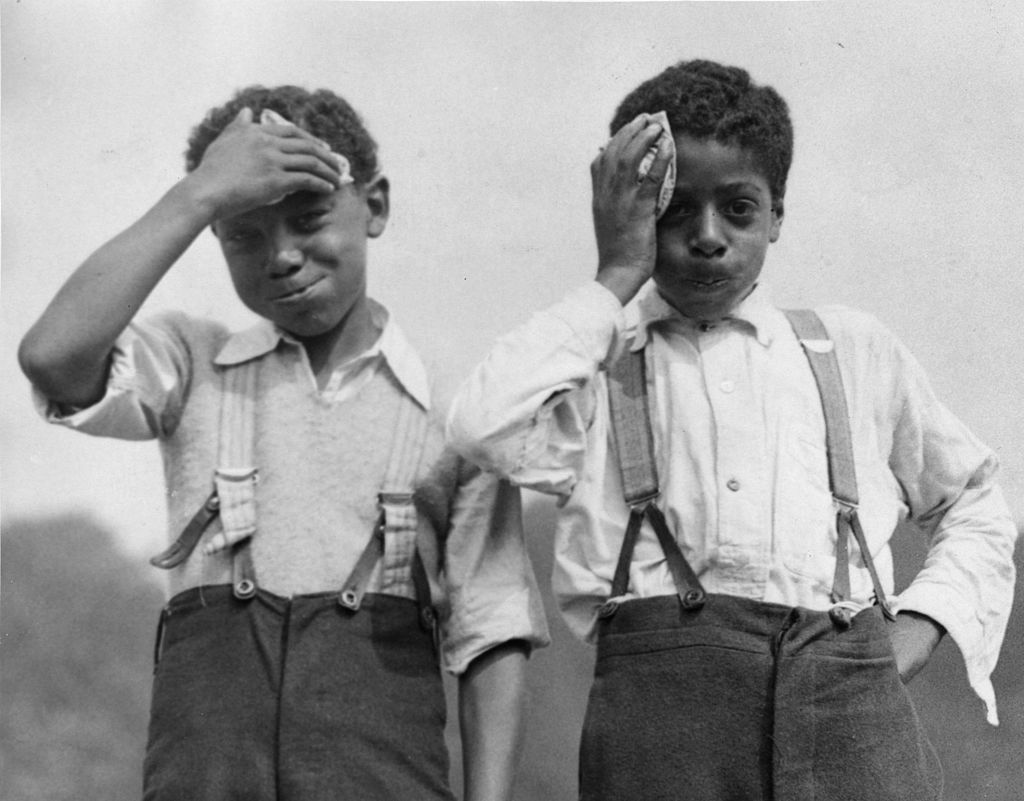 Make Use of the Heat 
You might have heard about this already—on a really, really hot day, it might actually be possible to fry an egg on metal surfaces.
We never tried that ourselves, but according to this picture, it seemed to be possible. 
We are not saying that you should try it for yourself, but when life gives you lemons, you make lemonades.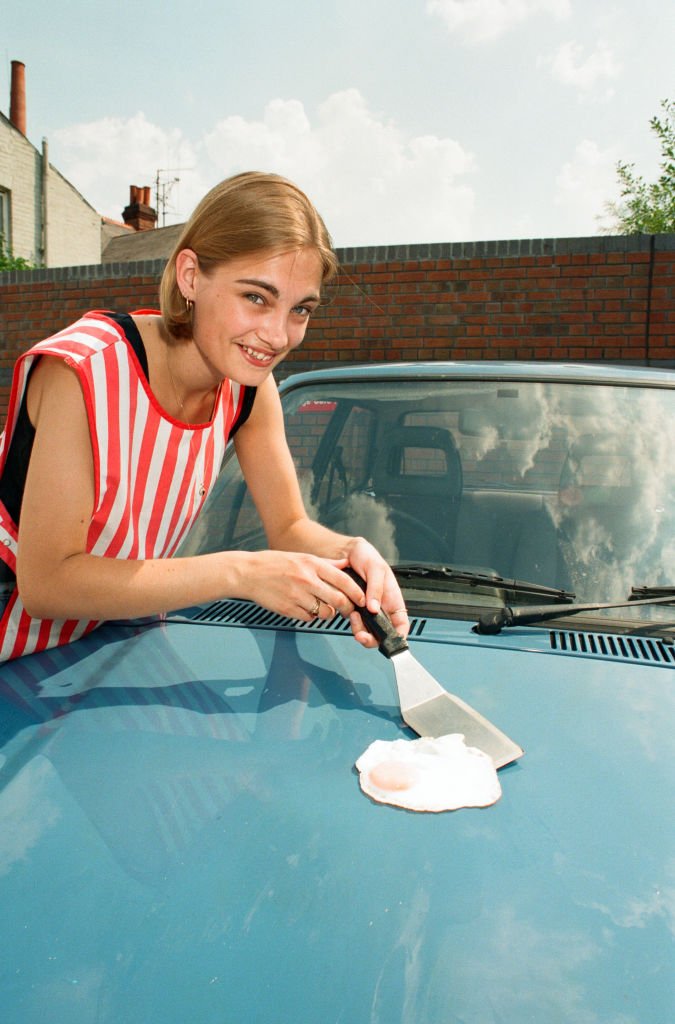 The Unsung Heroes 
Let's not forget those who brought us our icy drinks amidst a stifling heatwave—often in their full attire as well. Yup, we are talking about the waiters. Must be a tough job if you think about it.
You might be wondering what's happening in this picture … Why are they wearing a full suit while walking in a line? And why a guy had a banner that said "Victory?"
Pictured here is actually a "Waiters Race" in Torquay, England, taken amidst a heatwave in 1957. What's a Waiters Race? Quite literally, waiters racing against each other, combining speed and a dry tray. Impressive, isn't it?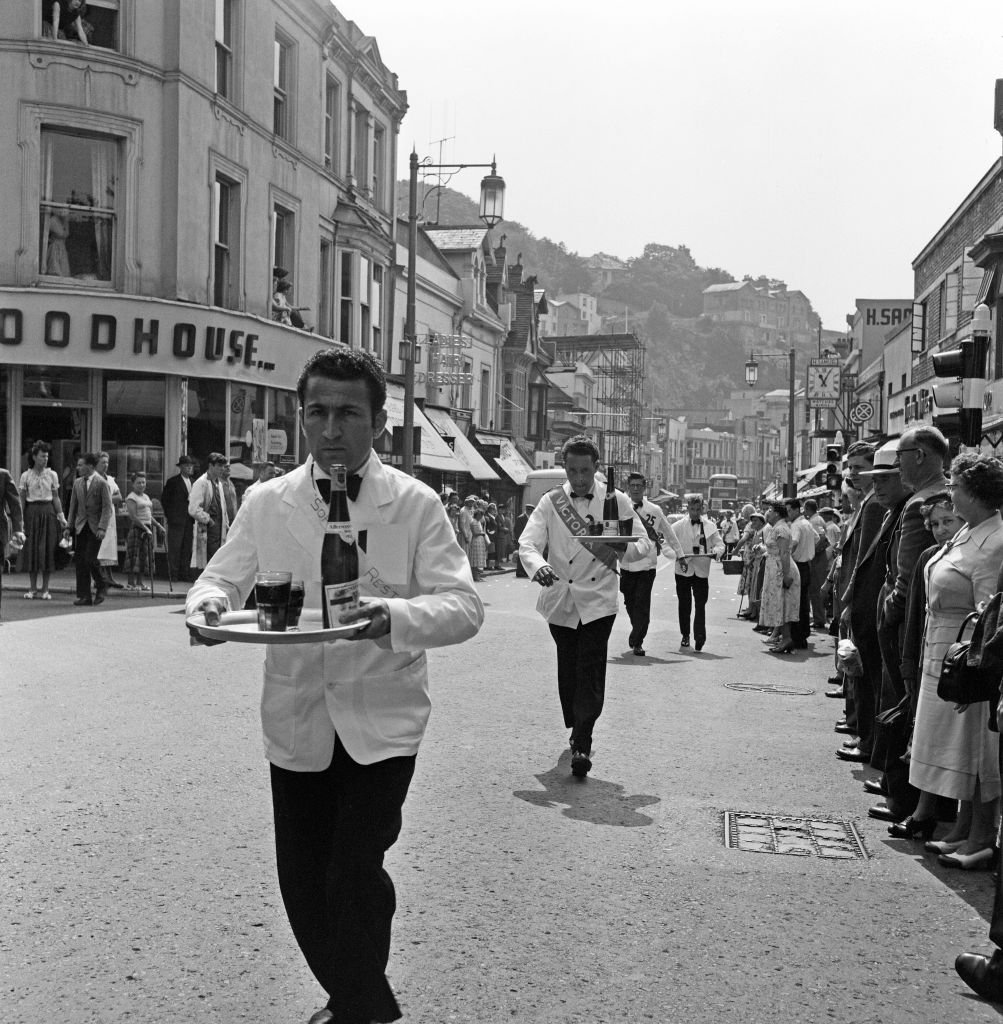 One Ice Cream for the Road, Please 
Don't feel like getting a cold drink? What about ice cream? Come on, no one can say no to ice cream.
Just look at this guy here, even when he was on a bicycle he couldn't resist the temptation of getting some ice cream from the kiosk. Let's just hope he wasn't eating his ice cream while riding his bike at the same time. Safety first.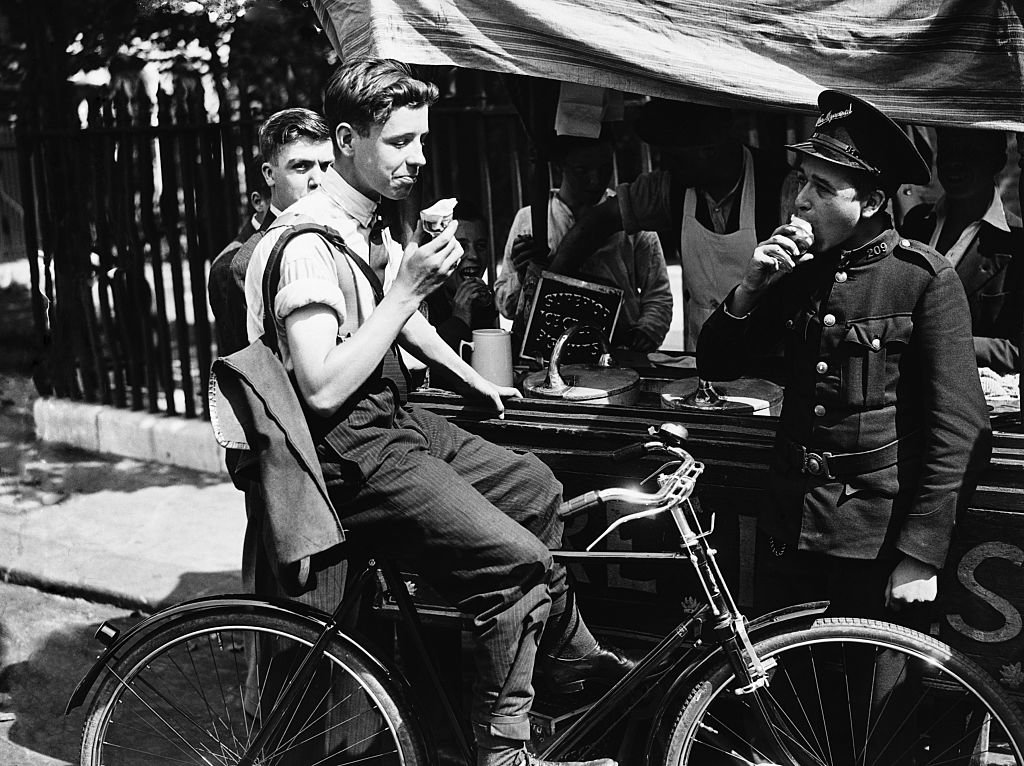 Well, here is how people back then used to deal with unbearably hot summers. Yes, you're not alone—and if anything having air-conditioners is truly a blessing if you think about it. What do you think about these pictures? Have you done the same things before? Or perhaps they gave you some inspiration? 
If you enjoyed reading this article, don't forget to share it with your friends and family! Who knows, they might even recognize a face or two in these pictures!