Iris Apfel's Husband Passed Away at 100 — Inside Their Love Story and Personal Life
American fashion icon Iris Apfel is a month away from turning 100, the age her husband Carl Apfel was before he died in 2015. Get inside their incredible love story and fascinating personalities. 
Iris Apfel is a fashion and style icon in more ways than one. Her creativity is one aspect of her career that has never been in doubt in her long and successful career. 
That creativity helped her excel as a textile designer, White House interior designer, jewelry line, and clothing line owner. She has had many highlights in her incredible career, but they are never enough to match her decades-long love story with her late husband, Carl Apfel.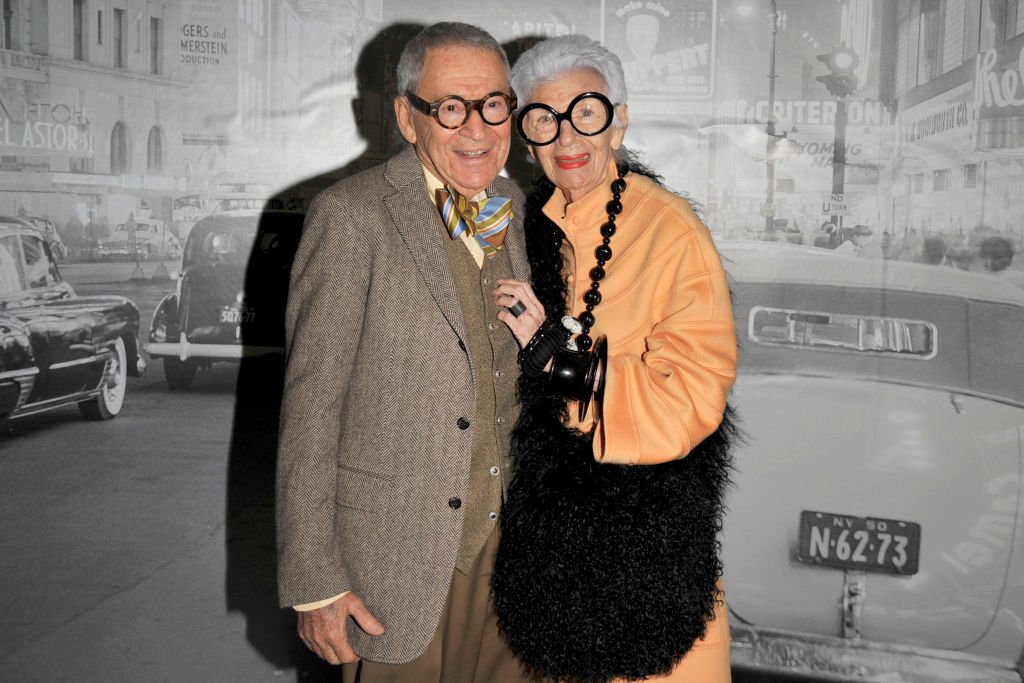 Carl and Iris spent nearly 70 years together and did so many things together. Their love grew from strength to strength as they advanced in age and still burns despite Carl's death. 
IRIS'S EARLY LIFE
Iris was born in Astoria, Queens, New York, on August 29, 1921. She was the only child of her parents, who raised her on a farm in conjunction with her grandparents. 
As a child, Iris was passionate about style and went to different sections of New York each week, collecting unique pieces. She attended New York, where she studied art history. She also attended art school at the University of Wisconsin. 
IRIS APFEL HUSBAND: CARL APFEL
Iris met Carl in 1947 while staying at a Lake George resort in upstate New York. The couple had an instant connection and married a year later. In an interview with The Guardian, she described their graduation from their first date to their marriage. She said: 
"Our first date was Columbus Day. Thanksgiving, Carl proposed. Christmas I got blinged. Washington's birthday, we were married." 
The couple reflected on their relationship in Iris's 2015 documentary "Iris." Carl said there was something about Iris that got into him while she described him as her little pussycat. She added that he was cool, cuddly, and cooked Chinese and she could not do any better. 
Iris and Carl tied the knot on February 22, 1948. In her documentary, she said she never wanted a wedding but wanted to elope. However, her parents and grandparents wanted a wedding. Their wedding ceremony was fairly small, with 125 guests in attendance. 
Although Iris could not elope as she wanted, she struck a bargain on her wedding dress, which was one of her dreams. She wanted a dress she could wear after her wedding and got what she wanted. 
THE COUPLE BEGINS OLD WORLD WEAVERS
In 1950, Carl and Iris co-founded Old World Weavers, a textile company that specialized in restoring home furnishings. They never intended to go into the fabric business, but everything just kind of happened. 
The couple's business involved them working on White House projects under nine presidential administrations from Truman to Bill Clinton. However, it was not just the White House that they traveled together. 
The 99-year-old has never had plastic surgery and once expressed her reservations about the procedure.
Old World Weavers did exact reproductions of 17th, 18th, 19th, and early 20th century fabrics, so Iris did her best to get those reproductions to be as close as possible to the original. Hence, she and Carl traveled so much together to find those materials. 
Together, they visited Turkey, Morocco, and Lebanon, collecting several pieces. Iris combined these pieces to create unique designs that her clients drooled over. 
The couple decided not to have children since they were always on the road. Iris said she did not believe in children having nannies, so she did not want to do such.
She also said having kids is like protocol, and couples are expected to. However, she is not one to be pigeonholed. Iris has also said she never wanted to have children because one cannot have everything, and she knew she wanted a career. 
2005: THE YEAR IRIS BECAME A CELEBRITY
In 2005, when Iris was 83 and well into her retirement from interior design, Met's Costume Institute's curator, Harold Koda, contacted her with the hope that she could showcase her unique sense of fashion in an exhibit. 
The Museum had canceled a previously scheduled show, leaving Koda and her team scrambling to replace it with another show with a compelling story that they could easily set up before the opening day. 
Iris agreed to the exhibition titled "Rara Avis: Selection from the Iris Apfel Collection." Iris's iconic fashion collections were highlighted in the exhibition, showing her remarkable creativity and bringing Iris Apfel Fashion to the fore. 
CARL'S DEATH
On August 1, 2015, Carl died three days before his 101st birthday. He was undoubtedly a fashion icon in his own right and a man who loved his wife to the fullest. 
According to the New York Times, Carl wore a ring that never left his finger. Iris bought the ring from an antiquarian in the 1950s and gifted it to her husband, who never took it off because it got stuck to his fingers. The ring finally fell off two days before he died.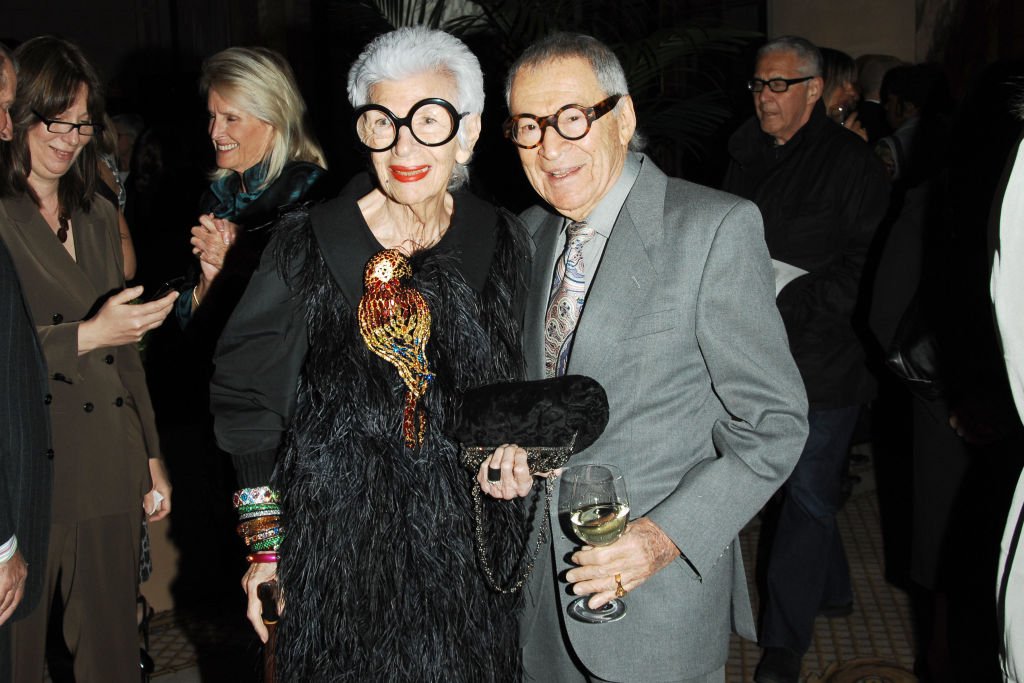 After the Carl Apfel funeral, Iris posted a touching tribute to him on Facebook. She described the day of his funeral as the saddest day in her life. She also added: 
"I can't say enough how grateful I am to have the outpouring of love and support from everyone."
STILL GOING STRONG AT 99
Besides becoming a fashion pop star in her old age and being regarded as an icon in style, Iris also receives compliments for how she has aged gracefully and continues to look good despite being almost 100. 
The 99-year-old has never had plastic surgery and once expressed her reservations about the procedure, saying there is no need to do it unless one has a nose like Pinocchio or has been involved in a fire. She also said she has seen few people come out like Picasso after plastic surgery. 
On her secret to aging gracefully, she said she always eats well and never eats junk food. She also avoids soda and gave up smoking. Iris also said she does not do regular exercise and does not drink heavily. 
Iris has undoubtedly lived a fulfilled life with many lessons for others to learn from. The geriatric starlet highlighted some of these lessons in her book "Iris Apfel: Accidental Icon."
She advised people not to obsess over their age, pick a partner who celebrates their success, and go for things that excite them. These and many more are some of the things that have helped her become who she is today. Her words of wisdom are worth reading and abiding by.