Daily Joke: Boss's Assistant Informs Him Not Only of Negative News
One morning, a guy went to work, only to be welcomed with a truckload of negative reports. His personal assistant began to spill about the deterioration that had been happening to their company.
She explained that the company's profit had been reduced by five percent. They had lost a job in China, which meant that they might have a ten percent loss at the end of the semester too.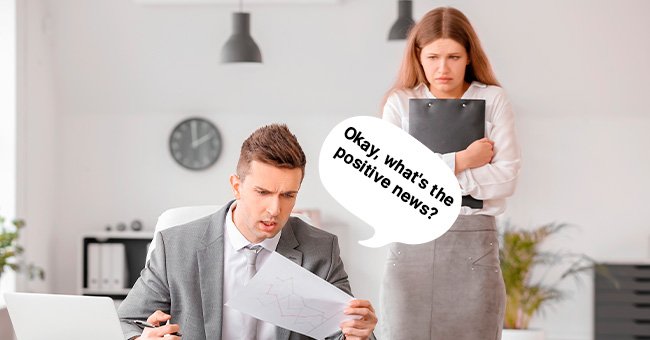 Moreover, the personal assistant informed him that an employee named Mr. Jones had dropped his resignation letter. She also revealed that the guy's wife called and explained she was leaving and taking their children with her. 
Finally, the lady mentioned that their boss wanted to see him as soon as possible, and the boss looked very upset.

Disturbed, the guy replied to his assistant: "All you have told me was so bloody negative. Do you have any positive news to give me?" Then, the lady said, "As a matter of fact, I do. The COVID test you took yesterday came back positive."
HOLIDAY BEHIND THE FRIDGE
A man bought a world map and gave his wife a dart. Wherever the dart landed on the map was where the man would take his wife when the COVID-19 pandemic ended. After throwing the dart at the map, the woman said to her husband:
"Turns out, we're spending two weeks behind the fridge."
MAN IN FEMALE UNDERWEAR
After the COVID-19 pandemic, two men finally met at the gym to work out. When they were done with their fitness routine, the men moved to the locker room to change.
While changing, one of the men noticed that his friend was wearing women's underwear. Curious, he asked his friend when he started putting on women's underwear. Then the friend said:
"Since my wife found them in the glove compartment."
TEXTING GONE WRONG 
A couple was texting each other, and the husband told his wife she was negative. Replying to her husband, the woman told him he was stubborn, arrogant, had a low life, and that he cared about nobody but himself.
Fuming with rage, the woman wrote that she was the only one who had put up with his insensitive behavior. Finally, the wife even reminded her husband his hair transplant failed. 
Then the husband said, "I was just letting you know that your COVID test was negative."
Did you find this joke hilarious? Here's another one about a newlywed couple who moved into their new house.