Daily Joke: Man Asks Another Guy Why He Has a Big Orange Head
A man who visited a bar for the first time saw another fellow with a big orange head, so he went over to the strange-looking man to ask why his head was structured in such a manner. 
This was after the visitor had spoken to the barman, who advised him to buy the orange head man a drink in order to get a response. The young man requested two cups of beer and then happily made his way towards the fellow who sat gloomily.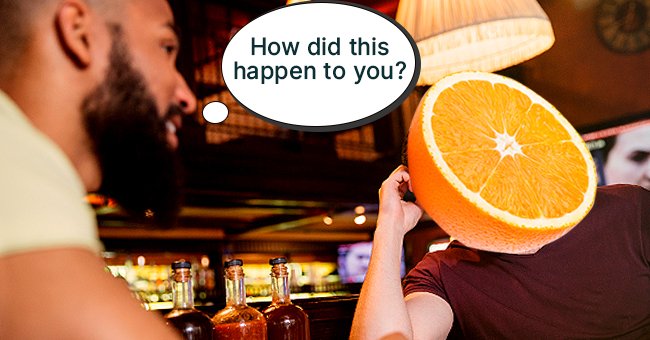 The man with the strange head looked up and said, "So, I'm guessing you want to hear my story." 
The visitor gave an honest reply by explaining that the barman mentioned buying a drink as a way to hear his incredible story. Mr. Big Orange Head let out a noticeable sigh, leaned forward, and began a mysterious tale.
He told the other guy that the ordeal began three years ago when he was on a summer vacation on a popular beach. As he was moving, the man struck his feet against a hard object, only to find out that it was a magical lamp housing a genie.
At first, it was unbelievable, but after he picked the object up, dusted, and rubbed it, a magical creature appeared. It instructed the man to make three wishes and that all would become a reality. Still in shock, the man decided to give it a try with wish number one.
He wished to become the wealthiest man on planet earth. Within seconds, the genie appeared with a suitcase that contained a $100 bill. He took it, but then another one appeared, and another and another, leading him to become very rich.
It made total sense to him, so he made a second wish. This time, he wanted the most beautiful woman to be his wife. The genie made magic the second time, and it became a reality.
For his third wish, the world's wealthiest man with the most beautiful wife asked the mystical creature for a "BIG ORANGE HEAD," which did come true, only that the genie did not understand the exact wish!
Did you find this joke hilarious? Here's another one about a man who surprised his friends with a huge pumpkin head.
Source: Reddit