Daily Joke: Woman Tells Butcher She Had a Baby with Him
One day, a young woman with a baby in her arms walked into a butcher's shop. As she entered, her eyes darted around the shop before looking at the man sitting behind a huge table.
She moved down to him with the baby in her arms, told him that the baby was his, and asked what he intended to do about it. The man looked at her, surprised. The news choked him.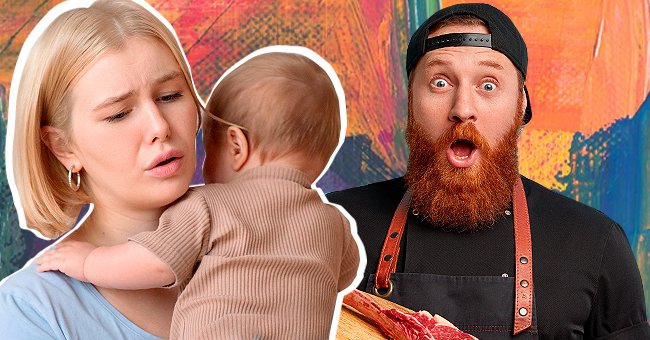 The butcher, who was married, wasn't sure if he could have fathered a child without knowing. But, after confirming the news, he told her that he would provide her with free meat until the baby's 16th birthday. 
The woman agreed and left his shop. Every day after that day, she would go to his shop in the morning to collect the meat he promised. She continued doing this, and when the boy was old enough to go on errands, she started sending him instead.
The butcher kept waiting for the day the boy would turn 16, so he would be free. Then one day, the boy walked into the butcher's shop and told the man that the next day was his 16th birthday.
The butcher noted that he was very well aware of that fact because he had been counting for years. He handed the usual pieces of meat to the teenager and told him to inform his mother that those were the last she would be getting.
With a smile, he also told the boy to watch the expression on his mother's face when he broke the news to her.  When he got home, he explained all that happened at the butcher's shop to his mom.
The woman laughed, and the boy did not understand the reason for her joy. But, she told the boy that he would have to visit the butcher one last time because she had a message for him. 
She told her son that when he gets to the butcher's shop, he should watch the butcher's expression when he tells him that she had received free bread, milk, and groceries for the last 16 years. 
If you enjoyed this joke, you might find this one even more hilarious. It is about a woman who took her daughter to a doctor for tests. When the results came, it caused a disagreement, but the doctor's remark was a rib cracker.
Source: Reddit.com