Michael Jordan's Only Grandson Is 'Prince' to His Dad Showing Flourishing Afro in New Photos
If Michael Jordan's only grandson is a prince to his dad, his flourishing afro is his crown. Scroll down and see adorable photos of Rakeem Christmas Jr.'s striking hairdo while playing with his father.
As one of the daughters of NBA legend Michael Jordan, Jasmine Jordan has always attracted people's attention. She took things to the next level in 2018 after she announced her engagement.
Jasmine made the big announcement on Twitter as she posted photos wearing a burgundy outfit and looking at her engagement ring and future husband, Rakeem Christmas Sr.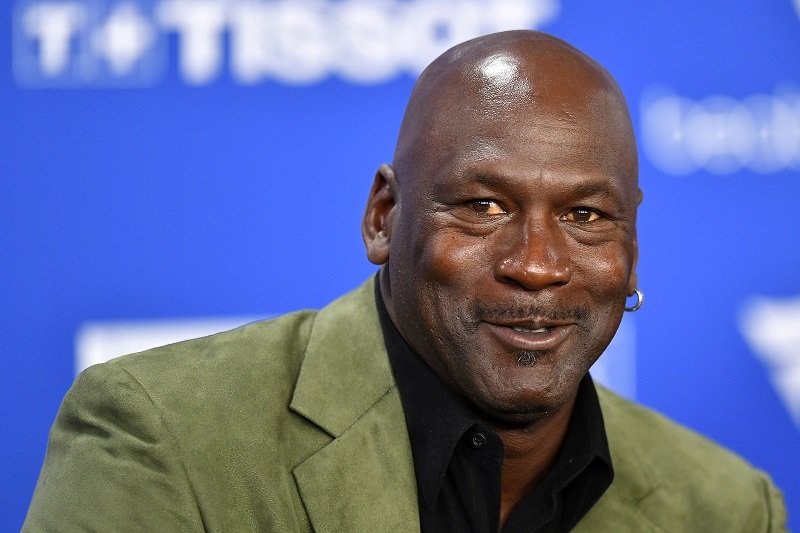 JASMINE AND RAKEEM'S RELATIONSHIP
Rakeem Sr. and Jasmine met at Syracuse University, where she graduated with a degree in sports management. After that, she landed a job with her father as basketball operations coordinator for the Charlotte Hornets. 
Jasmine is also an executive at Nike's Jordan brand. On the other hand, Rakeem Sr. used to be part of the university's basketball team. In 2013, when he was a starter, the team made it to the Final Four.
Happily Engaged | 💚@R_Xmas25 pic.twitter.com/sfmN3H81Yo

— Jasmine M. Jordan (@MickiJae) June 10, 2018
During his senior year, Rakeem Sr. led his team in scoring and rebounding, with 17.5 points and 9.1 rebounds per game on average. In 2015, the Indiana Pacers chose him in the second round of the NBA draft.
He played in the NBA's developmental league before signing professional contracts in Turkey, New Zealand, the Philippines, and Puerto Rico.
Last season, Rakeem Sr. played for the Yulon Luxgen Dinos, a professional team in Taiwan. It's fair to say that basketball is a prevalent topic during family meetings.
INTRODUCING RAKEEM CHRISTMAS JR.
In May 2019, almost a whole year after Rakeem Sr. and Jasmine announced their engagement, they welcomed their first child, Rakeem Christmas Jr.
Although the boy makes frequent appearances on his parents' social media accounts, his face has rarely been shown on camera. Fortunately, Jasmine has shared some details of her son.
The Jordans' fans hope for a big wedding, especially because we're talking about the GOAT's daughter.
A few days before Rakeem Jr.'s first birthday, she admitted they couldn't make a big celebration due to the coronavirus pandemic. Instead, she planned a "quarantine gathering" for her, her son, and her fiancé. She said: 
"We're going to have balloons everywhere. I'm going to make a birthday cake – It will be the first time I've baked, so we'll see how that goes."
Michael also shared some details about being a grandfather, including that he has fun watching, holding, and playing with Rakeem Jr. According to Jasmine, Michael needed some time to get used to being a grandpa. 
Jasmine even said her dad wanted Rakeem Jr. to call him "Mike" or "Michael," but he accepted the "grandpa" title as soon as he saw the now-toddler for the first time.
She pointed out that her dad and son had an "incredible bond" as they did things together as much as possible. During quarantine, they were "on FaceTime and Zoom like 24-7."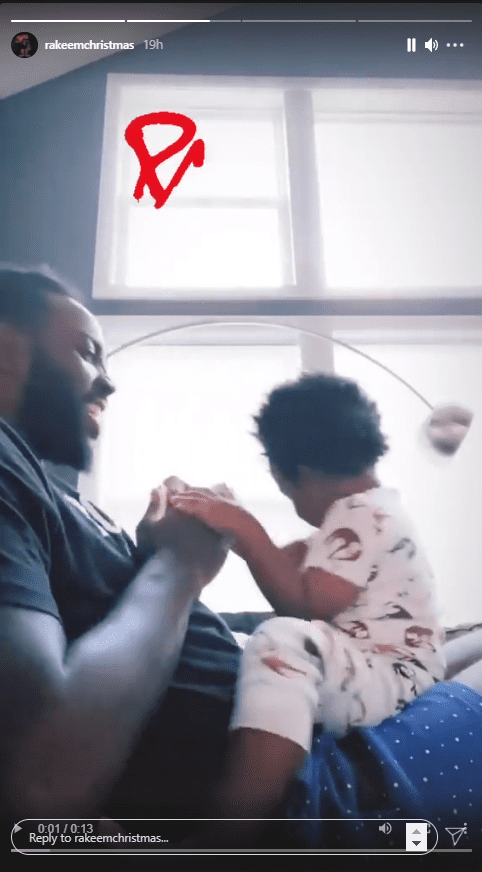 RAKEEM JR.'S FLOURISHING AFRO
Much to the delight of the Jordan family's fans, Rakeem Sr. uploaded a video to his Instagram Stories showing him playing with his son in the most adorable way.
What attracted more attention was the boy's stunning afro and how happy he and his dad looked together. Rakeem Sr. also wrote "Prince" in the post.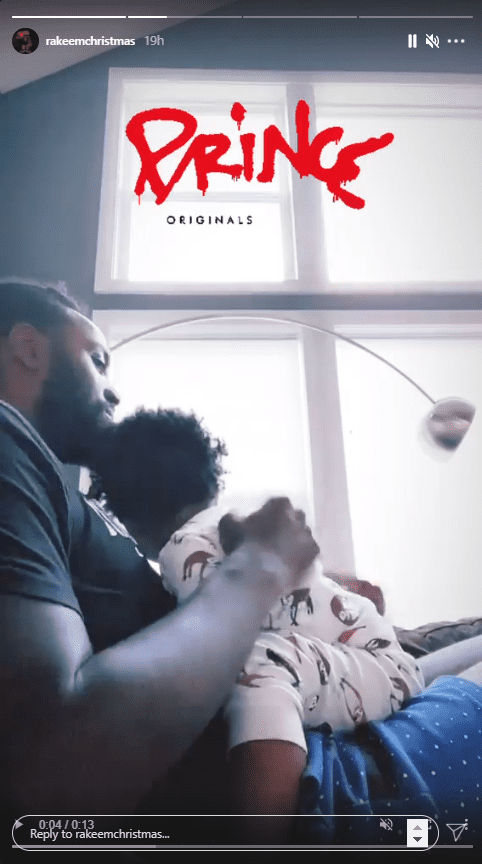 Just like Rakeem Sr. and Jasmine couldn't celebrate their son's first birthday big time due to the COVID-19 pandemic, they couldn't get married when they were supposed to.
Fortunately, the ceremony is expected to take place in September 2021. The Jordans' fans hope for a big wedding, especially because we're talking about the GOAT's daughter.