Serena Williams Puts Toned Curves on Display in Skinny Ab-Baring Nike Ensemble in New Fashion Shoot
Serena Williams recently stunned her fans on social media with pictures from a photoshoot she had for Nike. She is known far and wide as an iconic tennis player with a passion for fashion. Get acquainted with that side of her. 
An impressive serve is not the only thing Serena Williams knows how to dish out. She also has some top-notch modeling skills, which she employs during photoshoots for the top brands she endorses. 
One of her latest shoots was for Nike, and it captured her posing in a peach-colored two-piece ensemble that showcased her taut abs and curvy figure. The bottom part of the outfit was a pair of shorts that ended mid-thigh.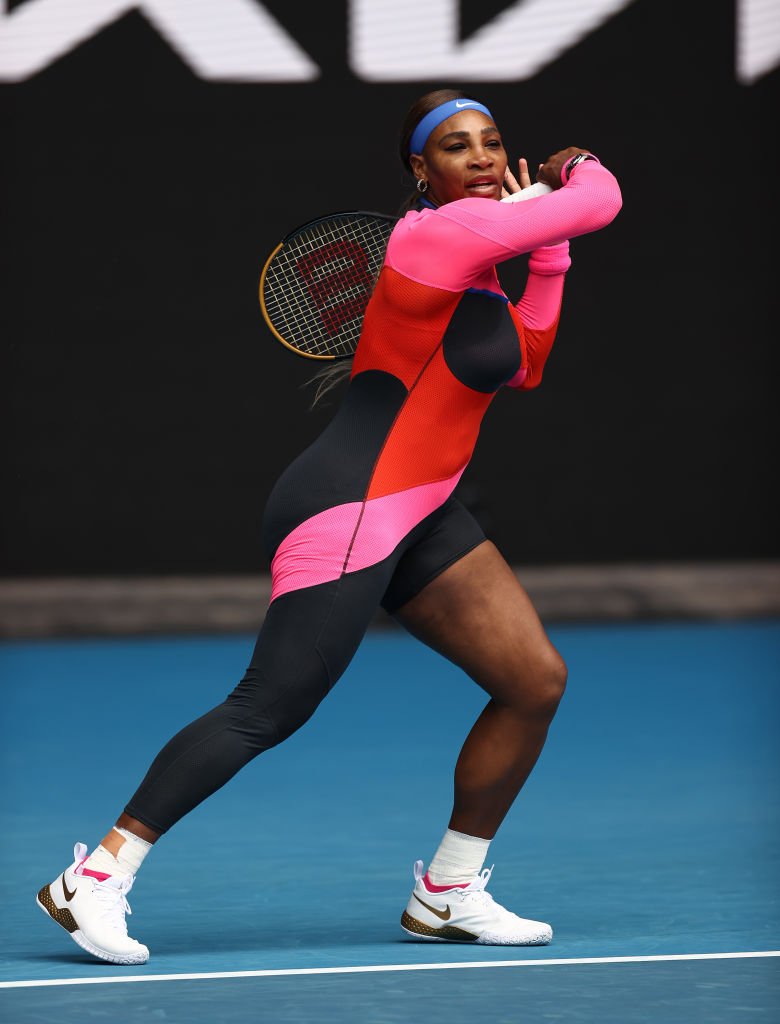 The shot was taken outdoors; it saw Serena leaning against a dark wire fence, her attention focused on the camera. Behind her, just out of focus, was a beautiful white house that made for a perfect backdrop. 
Her hair was styled in loose curly waves that fell past her shoulders, and she barely had any jewelry on. Unfortunately, the caption was left blank, but that's okay; her fans had more than enough to say about the post. 
Colton Haynes was among the crowd of admirers; he could not seem to decide on an adjective worthy enough of Serena but was able to get his point across — she looked gorgeous! Other fans echoed the same sentiment, but their admiration of her is not only borne of her good looks.
She is a talented tennis player who has had a lasting impact on Women's tennis, and she managed to do all that while keeping up with her responsibilities as a wife and mother. Keep reading to learn more about her family. 
SERENA'S MR RIGHT 
Serena is currently married to Reddit co-founder Alexis Ohanian. The two have been together for quite some time, and as far as everyone knows, that will not be changing anytime soon. 
It has given her a deep appreciation and respect for average women who have had to go through the same process.
It's all thanks to the work they have consciously put into understanding and loving each other. It is why Serena believes that marriage can only be bliss when both parties are willing to put in the work. 
The award-winning sportswoman and her tech-inclined husband are proud and dedicated parents to a daughter named Olympia. Serena takes her duty as a mother very seriously and has even joked in the past that she and her child will remain inseparable until the tot celebrates her 18th birthday. 
SERENA AS A MOTHER
Serena's job as a mother did not start off smoothly. She suffered from complications after the delivery of her daughter via c–section, and when she came out of that, she battled postpartum depression. 
Oh, and who can forget the bundle of nerves she had to tangle with as a new mother. In the past, she told Vogue that there were times when she admitted to herself that she could not do what it takes to be a mother. 
She even confessed to breaking down several times only to get mad at herself for doing so before feeling guilty for having such turmoil when her baby was right there. 
Thankfully, she put all that behind her and focused on being a good mother to her child. Between her career and her dealings off the court, Serena is a busy bee, but she has figured out a way to make herself available to her family.  
Still, she admits it is not an easy task, and it has given her a deep appreciation and respect for average women who have had to go through the same process while holding down jobs that don't encourage the kind of flexibility she enjoys. 
STRUGGLES OUTSIDE MOTHERHOOD
As a public figure, Serena's life has constantly been subjected to intense scrutiny, and so has her body. Given her color and bold figure, she was the brunt of many cruel comments on the internet. 
Although she resolved to avoid reading what people thought about her, she still attempted to fit into their standards until one day, she decided to accept her body the way it was. This decision liberated her, and she has never looked back.