Meghan Markle Intends to Turn Sussexes from 'Exiled Royals' into 'Profitable Brand' in US
Meghan Markle and her husband, the Duke of Sussex, Prince Harry, stepped down from their roles as senior royal family members, but since their historic move, the couple has landed a series of high-paying deals.
When Meghan Markle left the entertainment industry for a life within the palace walls, not many imagined that it would only be a few years before she returned to her country, sealing blockbuster deals.
Markle and Harry were wedded in 2018, but cracks began to appear in her relationship with some royal family members less than a year later. Things got to a peak last year when the couple opted to step down from their roles as senior royal family members.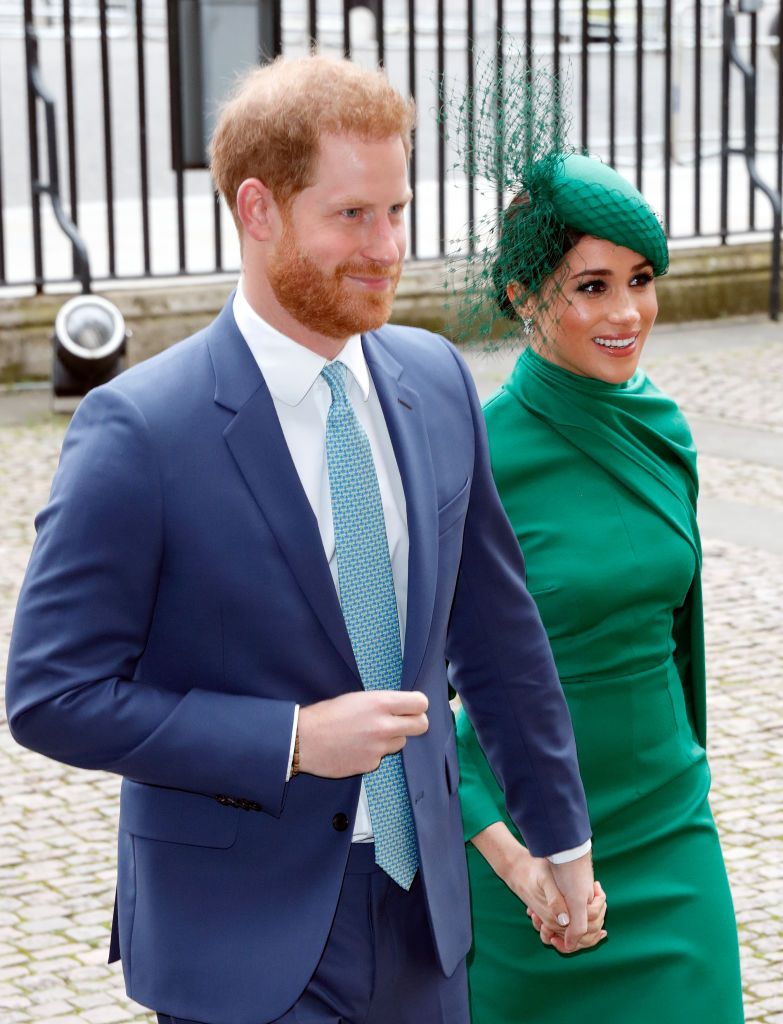 FROM EXILED ROYALS TO PROFITABLE BRAND
Prince Harry and Meghan Markle moved their young family around for a while before settling for life in the highbrow part of California.
The couple cited privacy and independence as the reason for their movement, but since getting to the United States, the duo has showcased their business talents and sealed multiple deals, raking in millions.
A royal expert Tom Quinn has identified the Duchess of Sussex as the brain behind the couple's newly found fortune in America. According to Quinn, Markle is using her connections to turn their family into a profitable brand.
Opting to choose California, which she knows best and has good connections, the mother of two is alleged to have carefully planned their escape from the regimented life in the palace into a world of commercial success.
After leaving the royal family last year, the couple moved to Canada, where they stayed for a while before making the permanent switch to California, which experts believe is Markle's nest of influence.
Royal biographer Angela Levin claimed the couple is doing all they can to keep the checks rolling in to maintain their lifestyle. According to Levin, to see the Sussex couple, one would have to buy a table at an event hosted by them.
FIRST SERIES WITH NETFLIX
Prince Harry is making a huge switch from royal to possibly a TV star. The 36-year-old will reportedly serve as an Executive Producer in the "Invictus Games" documentary and would also make a camera appearance.
The move will be the first collaboration between streaming giants Netflix and Harry and Markle's production company Archewell Productions. The deal would see Harry and Markle rake in millions of dollars.
A new Archewell Productions release has been announced by @netflix. Heart of Invictus (director Orlando von Einsiedel and producer Joanna Natasegara) is a multi-episode series that will follow a group of @WeAreInvictus competitors on their road to @InvictusGamesNL in 2022. pic.twitter.com/slLZ8LJQTV

— Omid Scobie (@scobie) April 6, 2021
ANIMATED SERIES FOR NETFLIX
Harry and Markle would also be producing a series for Netflix. The animated series will focus on the life of a 12-year-old girl inspired by the lives of influential women in history.
The Duchess will serve as executive producer for the family-oriented show. However, no date has been given for when the show will hit the screens, but production is reported to be in its early stages.
HARRY'S MEMOIR
Harry's new memoir, which is set to hit the shelves next year, caused a huge stir within the royal family as there are fears over what would be revealed in the tell-all book.
While royal family members are on the edge of their seats, Harry's new book has brought further fortune to him. The 36-year-old reportedly earned $20 million from the book, with some proceeds to be given to charity.
HARRY AND MARKLE'S LOVE
Despite the many oppositions they have faced, Harry and his wife sure have a sweet romance going on. The couple has defied royal traditions and stood against norms to give their voice to their story.
Since their 2016 introduction by a mutual friend, Harry and Markle have become a united front and have gone on to build a closely-knit family with their two kids, Archie and Lilibet.