Alton Brown Says He Was 'An Old Creaky Ship' When He Met Elizabeth Ingram — Inside Their Love Story
Celebrity Chef Alton Brown and his wife Elizabeth Ingram have been married for 3 years. The amazing couple had shared interesting details of how their romance began and their life before they met; here is a look at their love story.
Interior designer Elizabeth Ingram, famous for her unique restaurants and residential home designs, and her husband Alton Brown, a Chef and TV personality, have one of the most romantic love stories.
Alton and his ex-wife, DeAnna Brown, had a daughter, Zoey Brown, before their divorce. Following the end of his first marriage, the "Good Eats" star found love again when he met Ingram back in October 2016.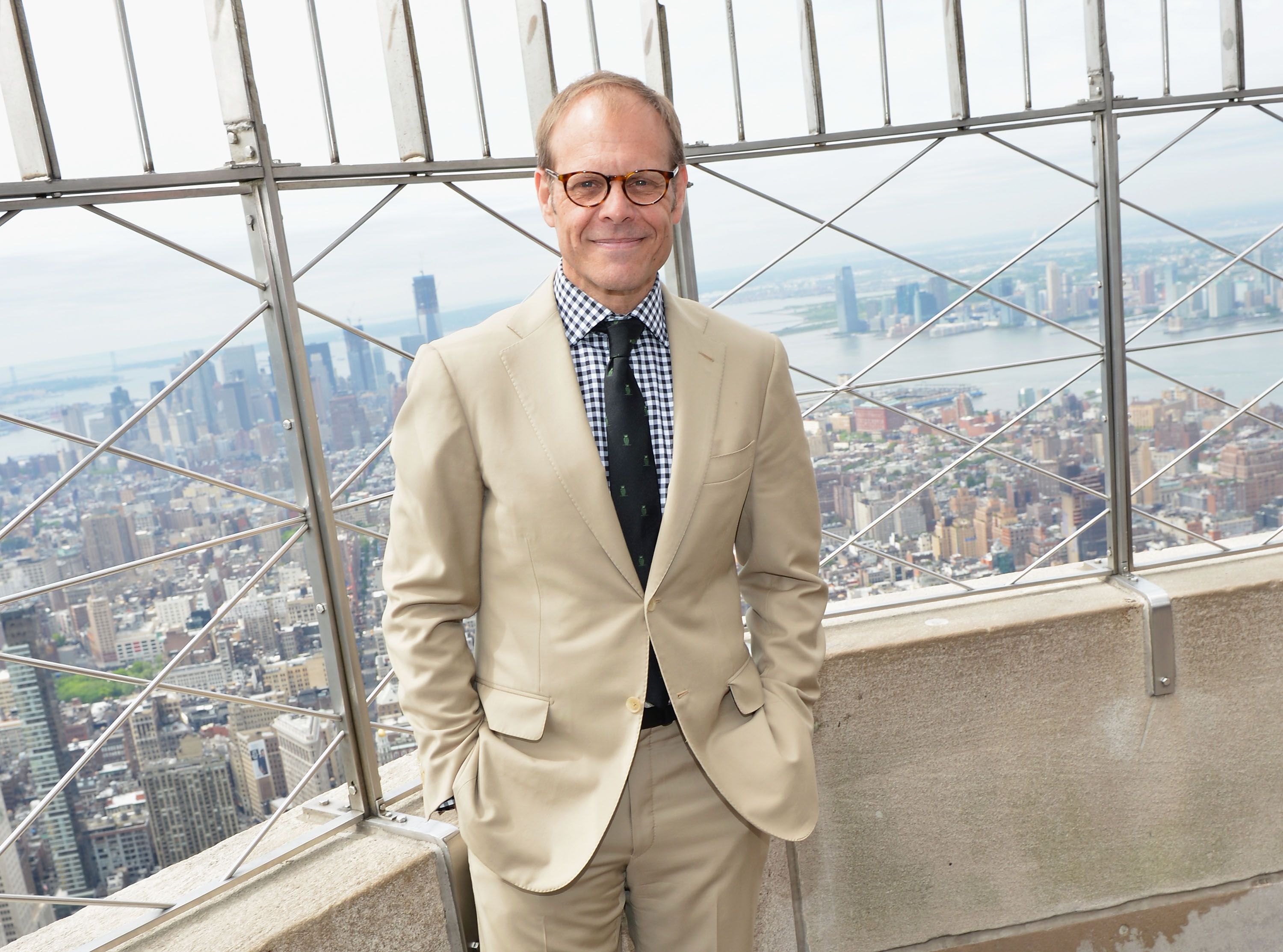 ALTON AND INGRAM'S LOVE STORY
Alton and Ingram met during a book signing for one of Alton's books, "EveryDayCook." The couple also worked together when the Chef hired Ingram to help revamp his three-bedroom apartment in Marietta, Georgia.
Mutual acquaintances of the two had called Ingram to inform her that Alton had seen some restaurants she had designed, and he was impressed. But, at the time, Ingram didn't know who Alton was.
Alton Brown and Elizabeth Ingram's love story began with this Marietta, Georgia, apartment: https://t.co/M4ku0hVPMa pic.twitter.com/V3HJ3XuOFf

— Architectural Digest (@ArchDigest) July 8, 2020
Ingram and Alton's collaboration on a 7-month renovation project turned into an unplanned dating in 2017. Alton noted that he initially regretted his decision to buy the house in Mariettabecause the apartment was in a pretty bad state.
They were highly devoted to their Southern Baptist religion during their marriage, but Alton left the Church after their split.
Alton Brown and Elizabeth Ingram's Home Is a Labor of Love https://t.co/yseFWyMVIb pic.twitter.com/PX9FIFDAtu

— Apartment Therapy (@AptTherapy) September 14, 2018
However, things turned around when he started working with Ingram. Alton always respected Ingram's every decision when it came to work, and this gradually built up a relationship between the pair.
WHO IS  ELIZABETH INGRAM?
Ingram is well known in the world of restaurants, bars, and residential interior designs. She is the brain behind the misty-eyed designs of Atlanta's restaurants, Beetlecat, Marcel, Superica El Tigre, and Golden Eagle.
"At some point, meetings turned into dates. I'm not going to lie—and I can't put my finger on when it was—I started looking forward to seeing her more than the space."—@altonbrown on designer-fiancée Elizabeth Ingram https://t.co/3gdiSZDwPP pic.twitter.com/aWVwcnArdt

— Architectural Digest (@ArchDigest) September 16, 2018
In 2017, she launched her brand of beautiful furniture. Once speaking on her career, the designer explained the challenges with designing residence due to people's varying choices and difficulty making a decision. But for restaurants, she said: 
"With a restaurant, it's more me trying to tell the story of what it is, or weave a tale of what the story of a space is..." 
At Joyface, Elizabeth Ingram creates a lounge-like basement bar—in ten days—with thrift shop finds: https://t.co/NyWqW6f0nE pic.twitter.com/UVyJXctlUX

— Architectural Digest (@ArchDigest) January 3, 2019
WEDDING BELLS
Alton once opened up about when he and Ingram worked together, explaining how he couldn't remember when the romance began. In "The Best Thing I Ever Ate" star's words, "I started looking forward to seeing her more than the space." 
The lovebirds got engaged a little over a year after they complicated the Marietta project where they now reside. Following their engagement, the Chef noted that he was sure they would make a perfect married couple.
They tied the knot in 2018 on a boat in Charleston, South Carolina. Alton shared a close view of the food served on social media, and he also posted pictures of him and his new bride.
The couple rocked similar white sneakers, and while Alton was all donned up in a light brown suit, his bride wore a white lace gown and cream-colored scarf. Ingram's social media also showed her in a green body-fitting dress.
INSIDE ALTON'S DIVORCE
The celebrity chef and his ex-wife DeAnna called it quit in 2015. Following the divorce, the "Food Network" star gave some details about their separation in an interview.
Alton noted that he and DeAnna changed over the years, and their interest in life also changed. They were highly devoted to their Southern Baptist religion during their marriage, but Alton left the Church after their split.
Alton Brown explains how his divorce changed the way he eats, in this wk's podcast: https://t.co/k1g06YwLGI pic.twitter.com/BFLVocrwf7

— Dan Pashman (@TheSporkful) November 16, 2016
The church had tried everything to keep them together despite their strong will to separate. Alton explained that the rules of the church strongly contradicted his social beliefs. 
He explained that he had no problem with God, but it is the organized religion he didn't accept. Since their split, Alton and DeAnna do not have a close relationship, but they still co-parent their daughter, Zoey.