Pizza Olympics: Why You Should Pair Your Favorite Olympic Sports with Its Own Pizza
After a long wait, the Tokyo 2020 Olympic Games are finally here. And there's no better way for you to get into the Olympic spirit than by pairing your favorite sport with your favorite pizza. So, gather your friends, get ready, and feast!
Basketball X BBQ Chicken
The United States has produced some of the best basketball players of all time, and they usually dominate the Olympics. But recently, the rest of the world has caught up, and the games are much more intense than ever before.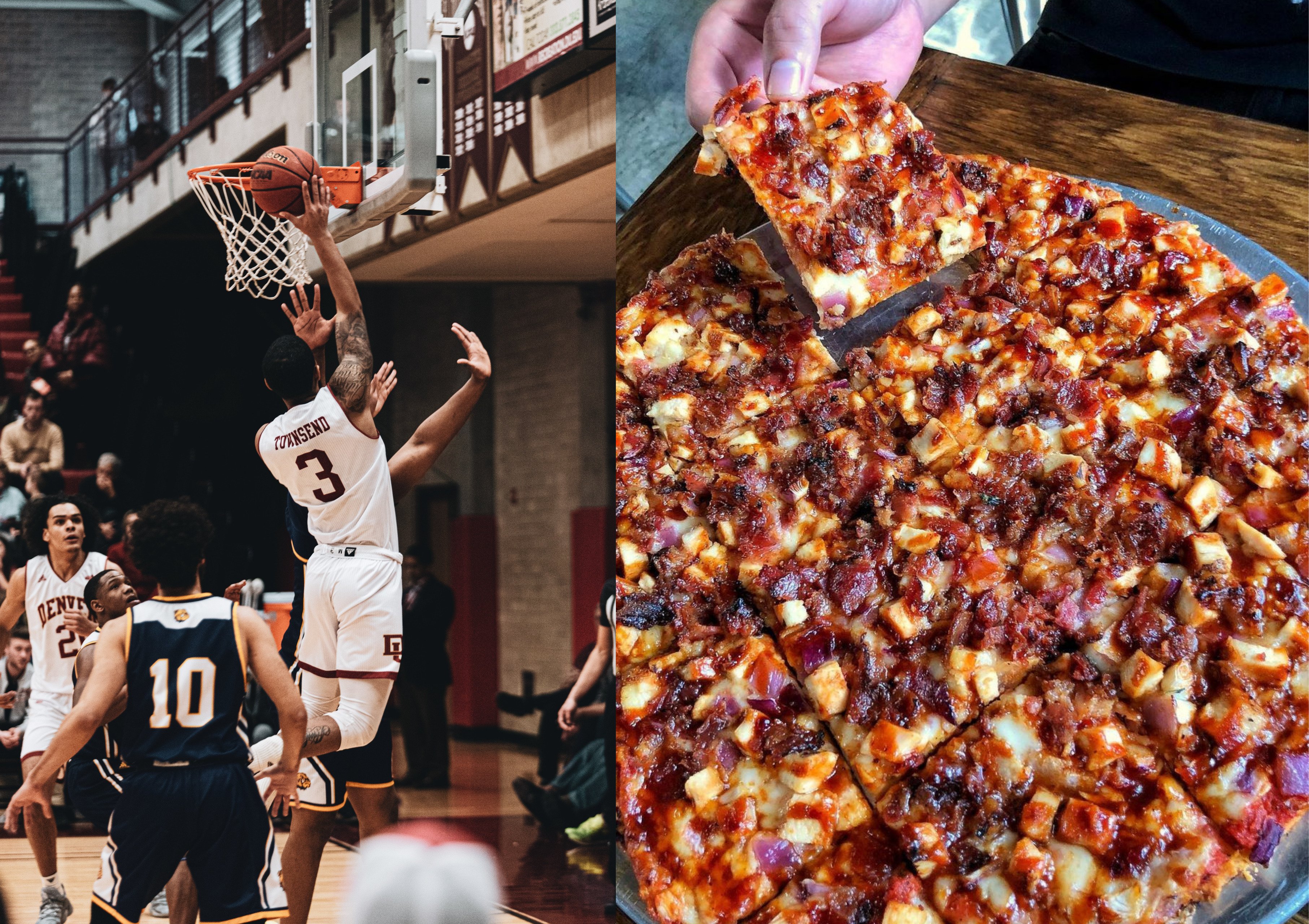 These games will likely keep you on the edge of your seat. Now, wouldn't it be great if you could just reach out and grab a slice of BBQ Chicken Pizza in between timeouts? There's nothing like enjoying the pizza of champions while your team is playing. Although, if Team USA suffers another upset, you might want to consider pairing your pizza with some ice cream. 
Water Polo X Hawaiian Pizza
Water Polo is one of the most ferocious yet confusing sports on the Olympic calendar. They basically swim around a pool, throw a ball at each other, and try to put it in one of the goals. And for some people, it's quite entertaining.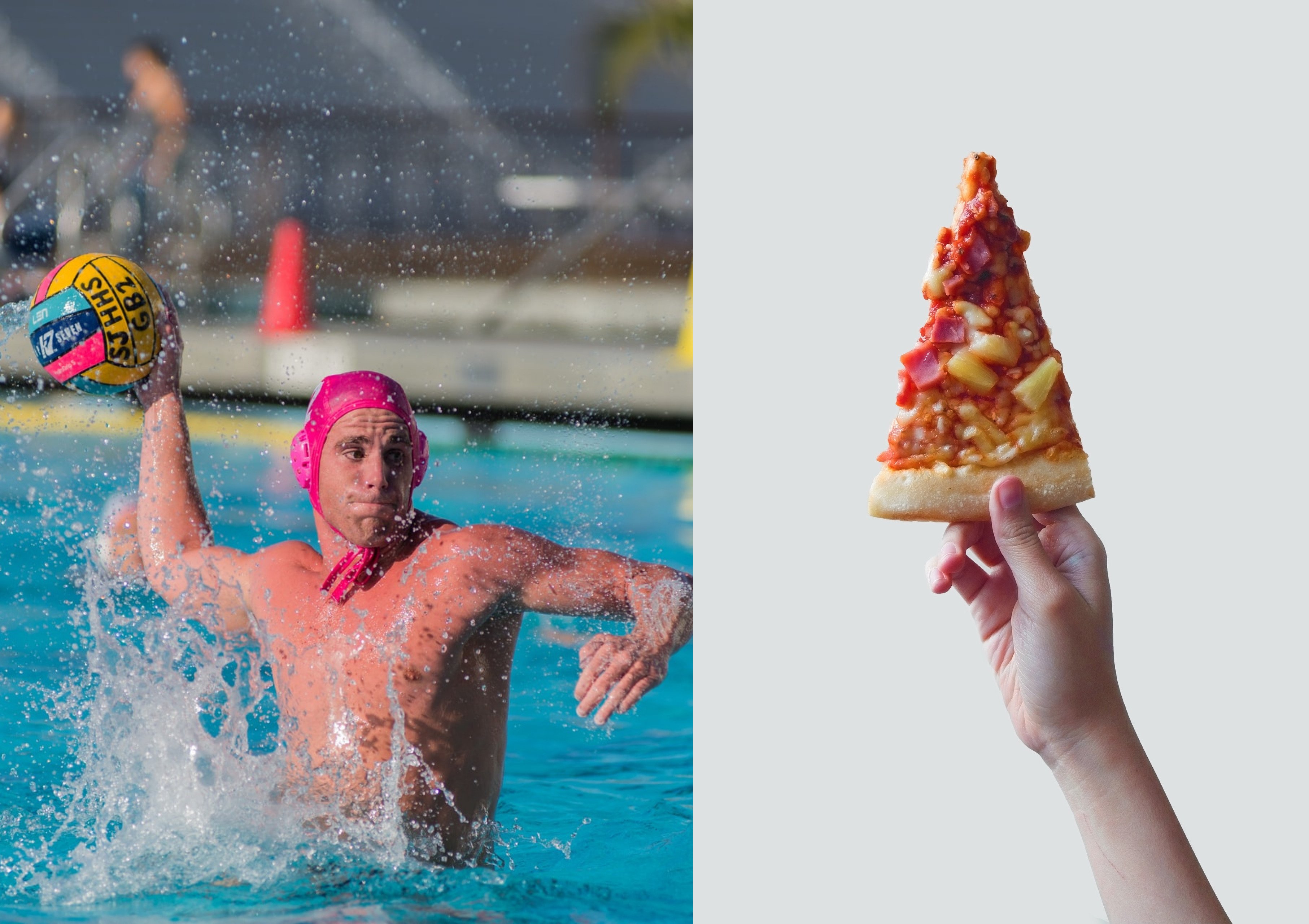 If you watch Water Polo, then you're likely the type of person that likes pineapple of their pizza. But, as any Italian would tell you, pineapples don't go on pizza, the same way that Polo doesn't go with water. The two just don't mix. 
Women's Soccer X Pepperoni Pizza
The best soccer players in the women's game converge at the Olympics every four years and show the world how good they are. In 2016, Germany took the crown, and this year Team USA will try and wrestle it from them.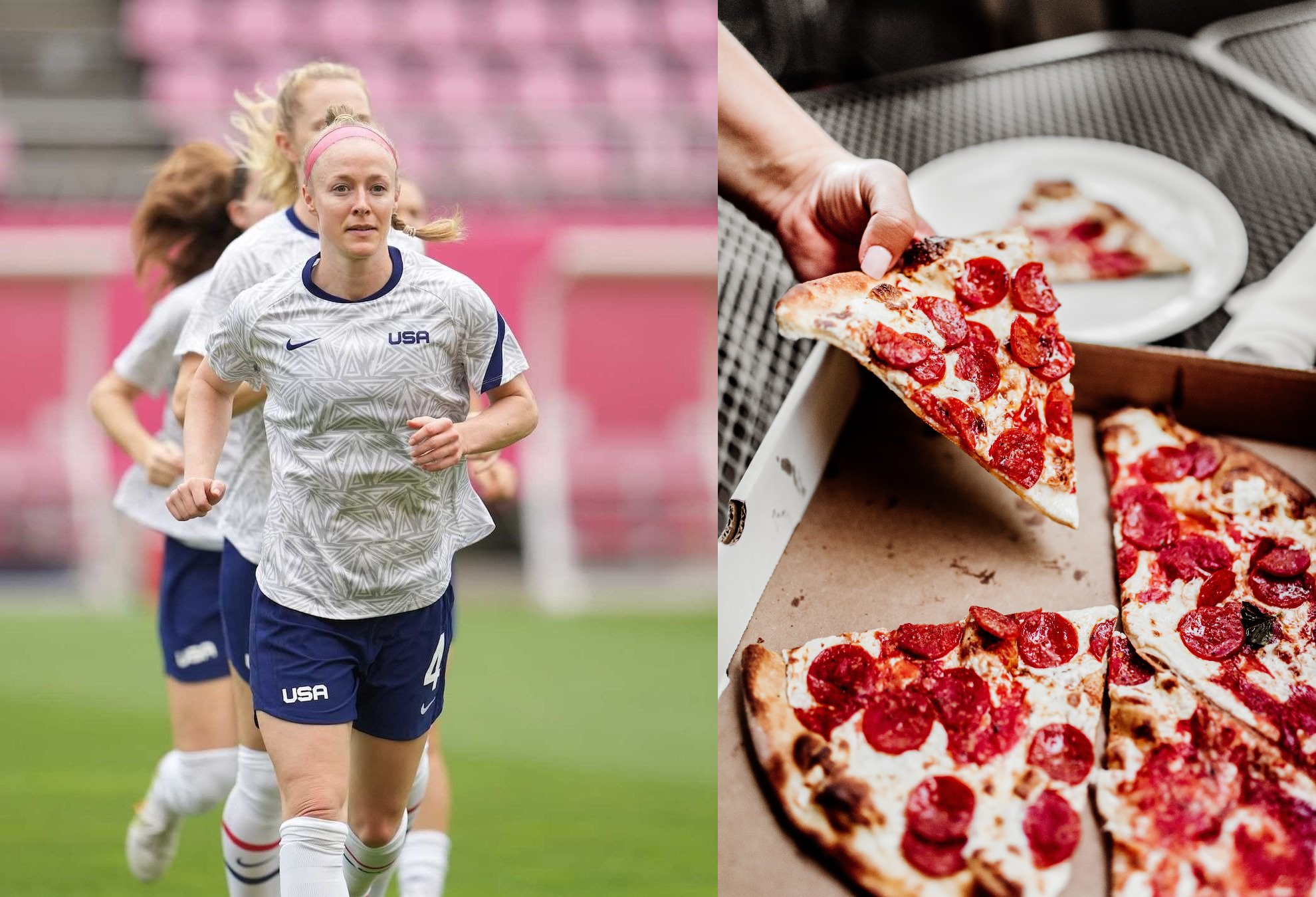 Team USA is the heavy favorite to win in the Tokyo 2020 Olympics, and they'll most likely win it. Since they'll probably be breezing through the competition, why not join them and make snack time a breeze with a slice of Pepperoni Pizza? A deliciously uncomplicated pizza that'll make you feel like you've just won the snack Olympics. 
Swimming X Meat Lover's Pizza
This is the superteam of Pizza and Olympic mashups. On the one hand, you have one of the greatest Olympic sports of all time, and on the other, you have one of the greatest pizza's ever made. What more could you possibly need?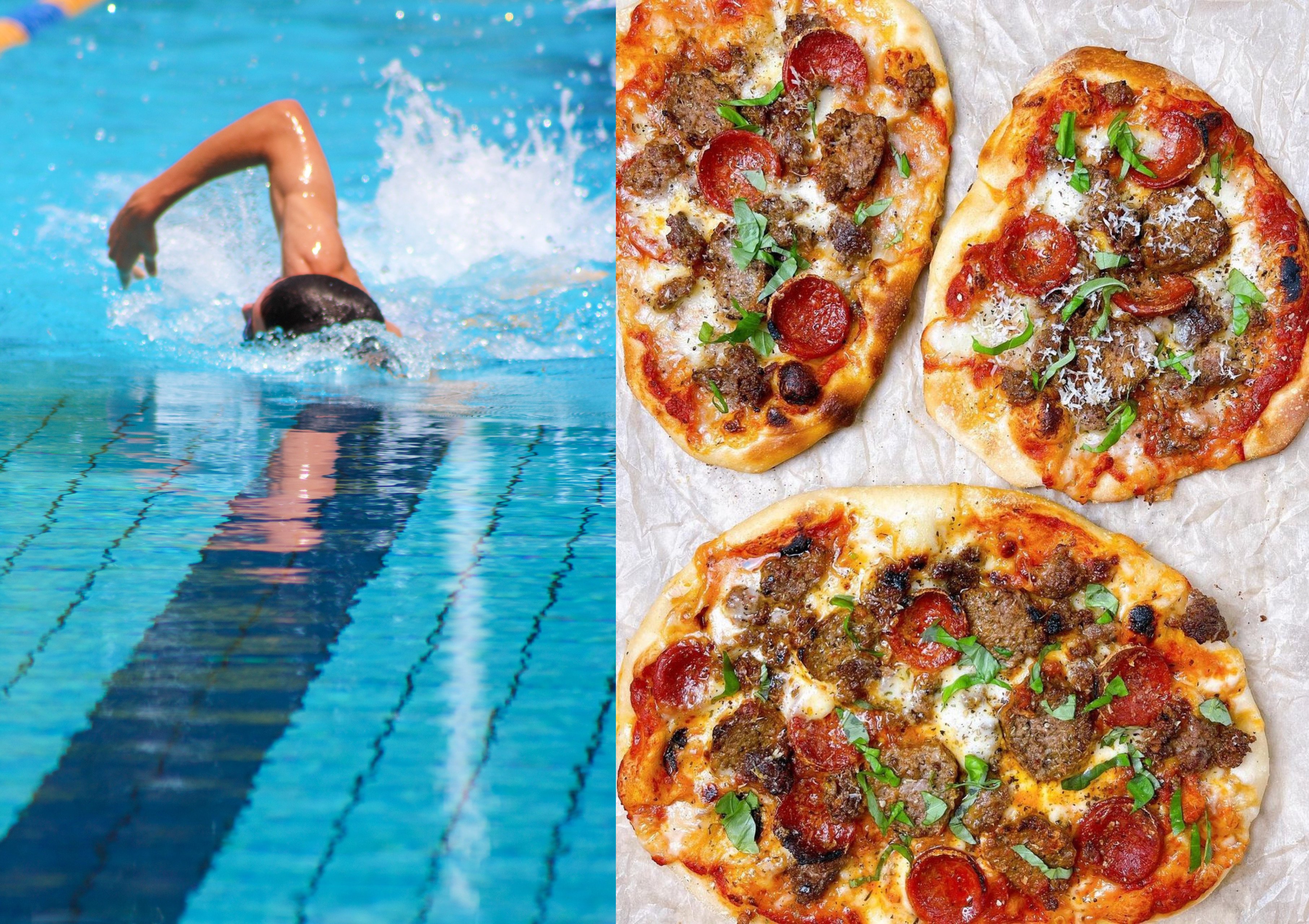 Think about it, if you're gonna be watching the best swimmers stack up medals for their trophy cabinets, wouldn't you want to have a stack of your own? There may be a rule about eating before swimming, but there's no rule for eating a great pizza while watching other people swim.
Track and Field X Veggie Pizza
Even though Usain Bolt has retired from the Olympics, there's no shortage of talent in the track and field events. And the rivalry between Team USA and Team Jamaica still lives on. This year's events will be intriguing to watch, but there's a catch.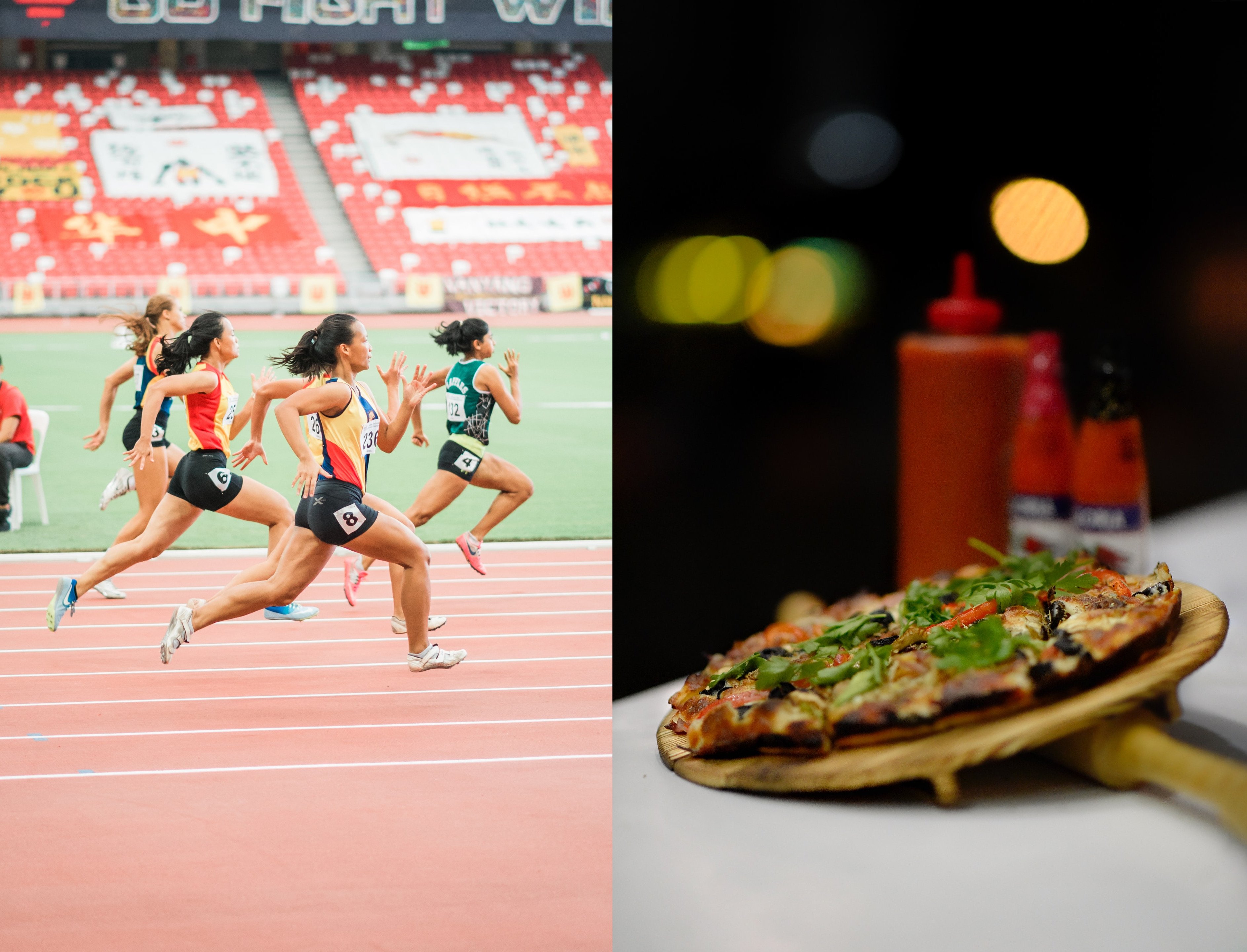 Watching super-fit athletes running around a track in records times can make you feel a little bad about your pot-belly. Don't worry. There's a simple solution. Just have few slices of veggie pizza, and you'll be good to go.
Handball X The Works Pizza
Handball is one of the most fun sports to watch, even when you don't really understand what's going on. Handball involves a lot of running, dribbling, jumping, throwing, and catching. Basically, handball is a mixture of different sports, which is why there's only one Pizza you can eat while you're watching it.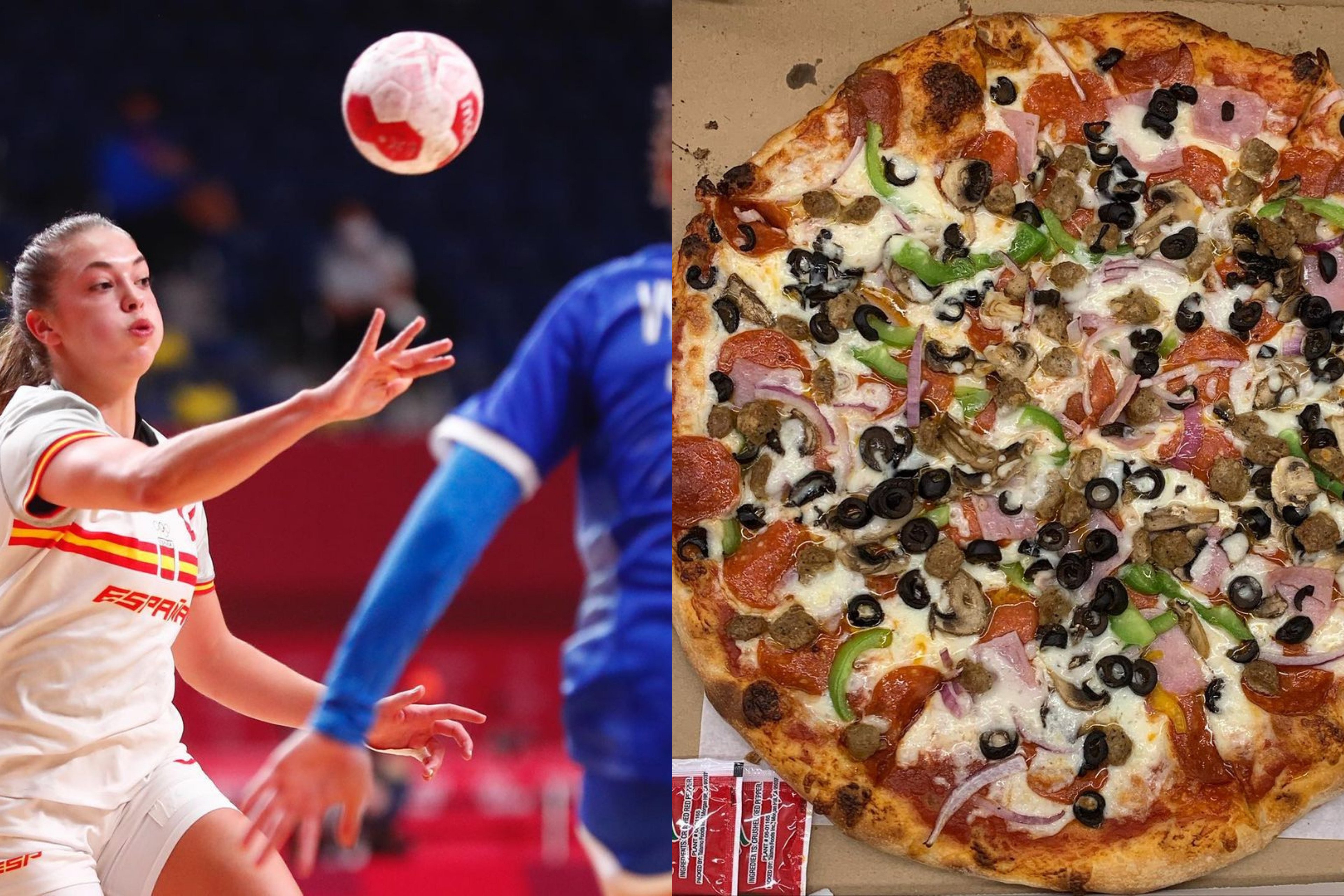 And that is The Works pizza. The secret is in the name. But, when it comes to heartiness, The Works takes it up a notch. And considering how hungry you'll be from trying to follow the rules of handball, this is the only pizza for you. 
Wrestling, Taekwondo and Judo X Supreme Pizza
Combat Sports in the Olympics are every fan's dream. Over the last few decades, these sports have evolved into proper spectacles. And the only way to enjoy a spectacle like this is with a pizza fit for a king/warrior.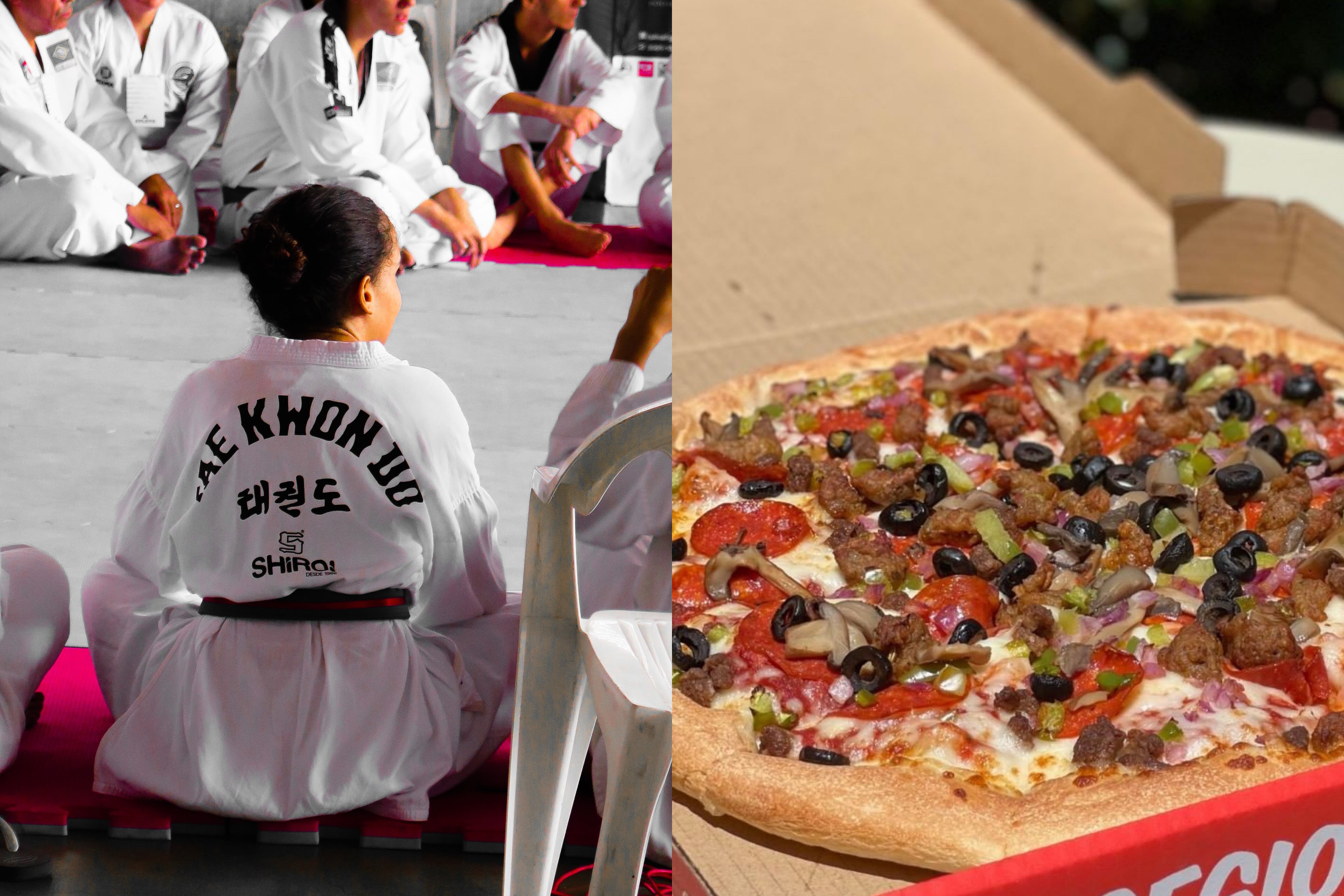 There's nothing like eating a full box of supreme pizza to make you feel like the king of the world. One bite of this pizza, and you'll be feeling like you can take anyone on, even Olympians. But whatever you, don't try their moves at home, medical bills aren't cheap. 
Table Tennis X Buffalo Pizza
Table tennis and ping pong aren't the same things, but they're often confused. When they watch table tennis on television, most people think that they could probably play it as a profession. So, in some ways, it's one of the more underappreciated sports of our time.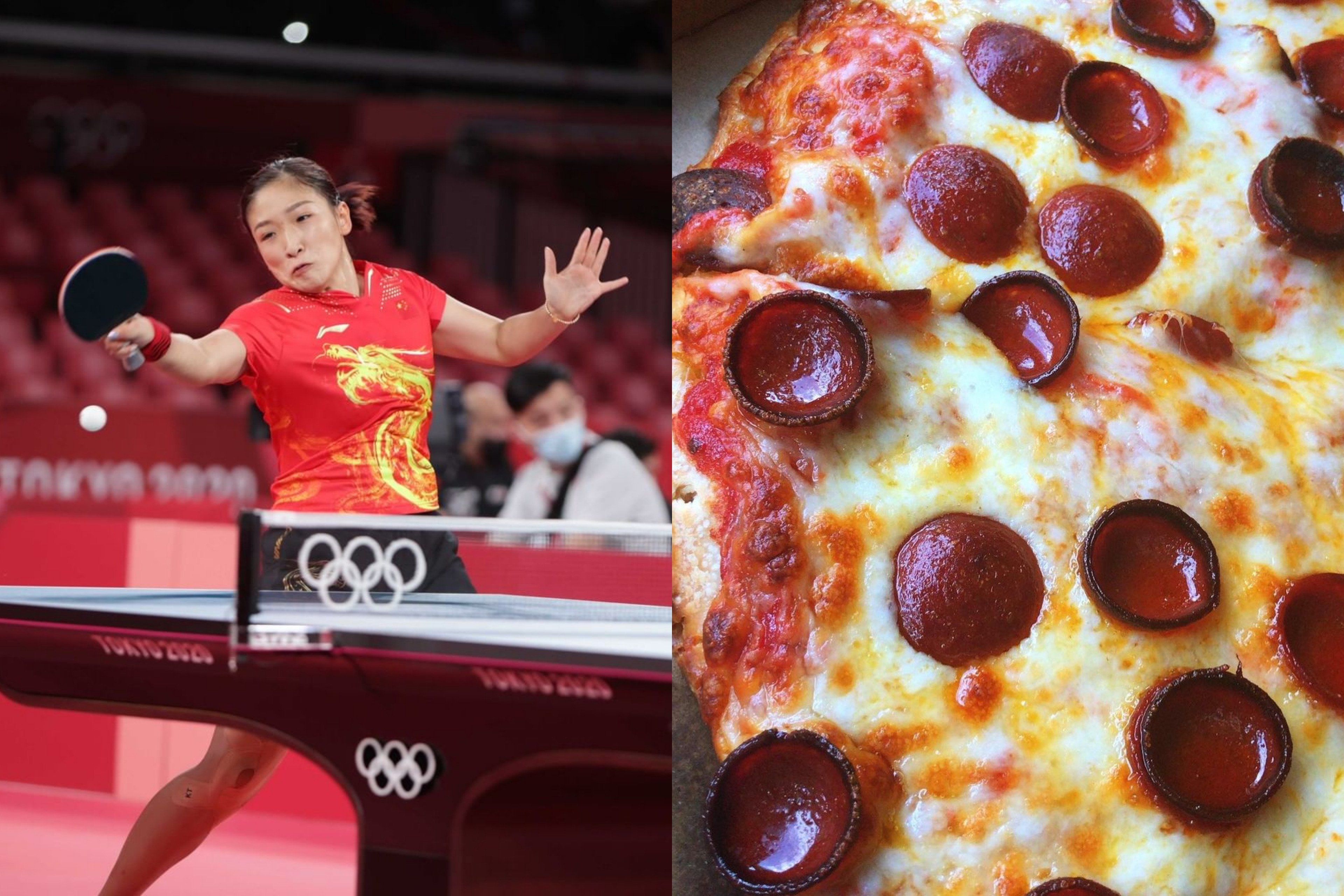 And the same can be said about Buffalo-style pizza. It's the one pizza that should be on everyone's bucket list but isn't. If you can sit down and enjoy a good game of table tennis, then what better snack to enjoy than Buffalo-style pizza?
Gymnastics X Cheese Pizza
Gymnastics is easily the most popular sport in the Olympics. It's also the most competitive, and the rivalries between countries can become heated. In recent years, Team USA has dominated Gymnastics, which doesn't look like it's going to change.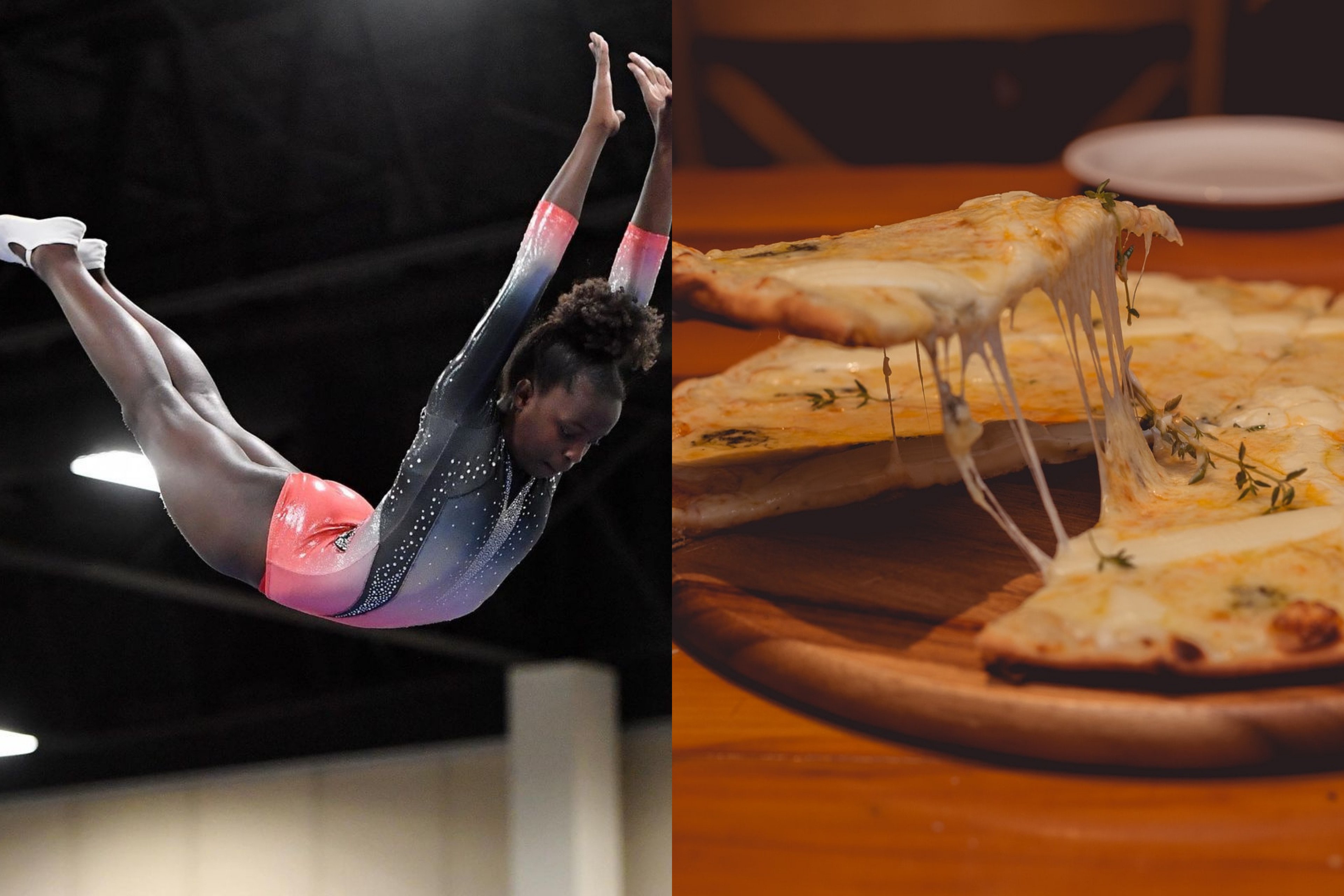 So what better way to watch Simone Biles fly through the air like an angel than with a slice of warm cheesy pizza in your hand? This classic pizza is a masterpiece, just like some of the athletes on show at the Olympics. 
Team Volleyball X Margherita Pizza
Volleyball really summarized most of the Olympics. It's a sport played by exceptional athletes that you've probably never seen or even heard of. And yet, once you get the hang of it, you'll realize that looks can be deceiving.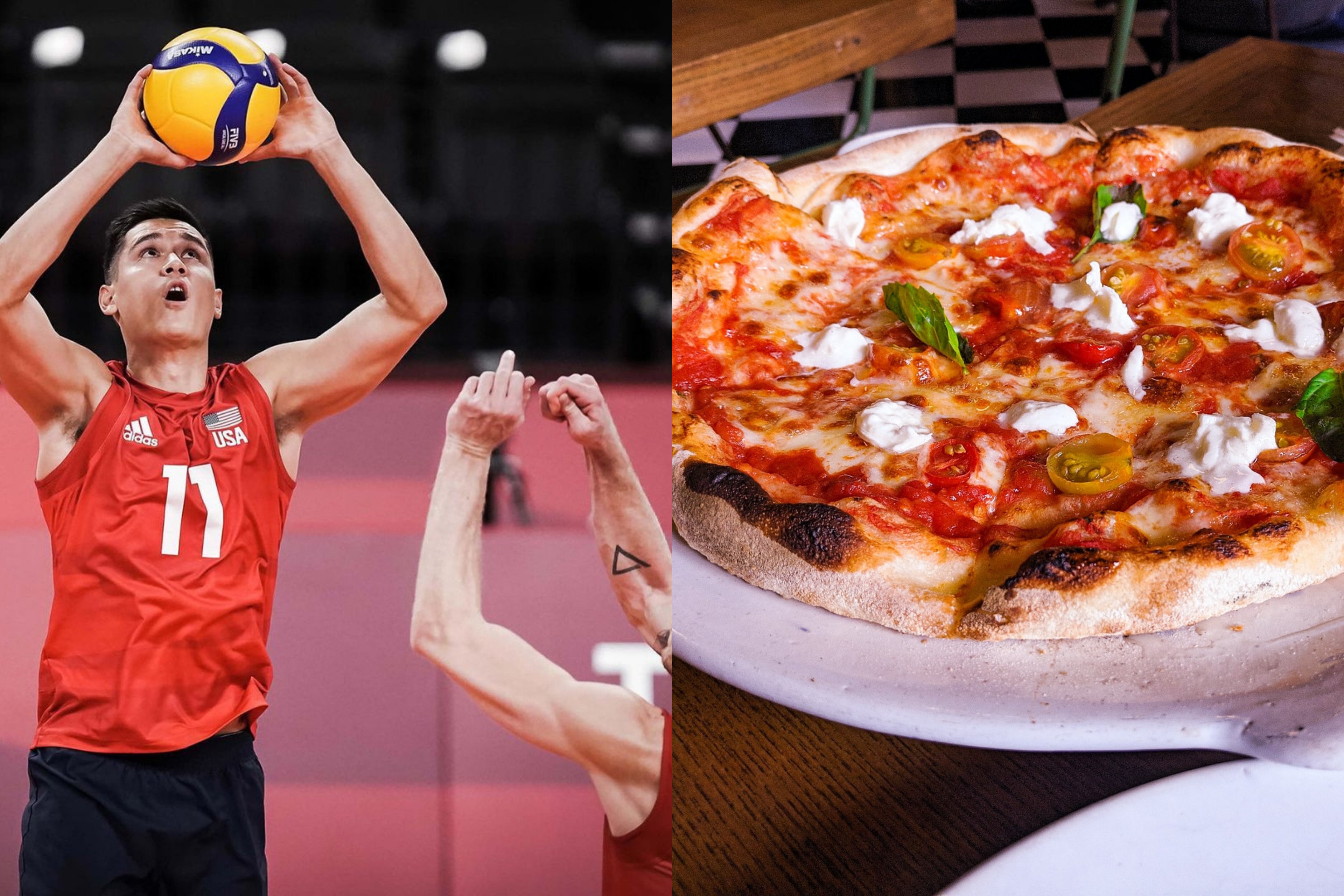 This is why before you can sync your teeth into the next Volleyball game, you need to get your hands on a Margherita Pizza. It is the volleyball of pizza. It doesn't look all that charming at first, but this is deceptively tasty. And like volleyball, the secret of Margherita is in its simplicity.
Now that you know which pizza to pair with what Olympic sport, all that's left is for you to sit back and enjoy the games. You can never go wrong with a good slice of pizza and a healthy dose of Olympic sports.