Daily Joke: Elderly Mother Admits to Her Son She Hasn't Eaten in 26 Days
A young adult went to school in New York, leaving his mom in their home in Florida. When he got there, he made friends quickly and blended into the system without difficulty because of his typical Guffy nature.
While he was in school, he made it a habit to call his mom every day. However, he never called at the same time so his mom never knew when to expect his calls.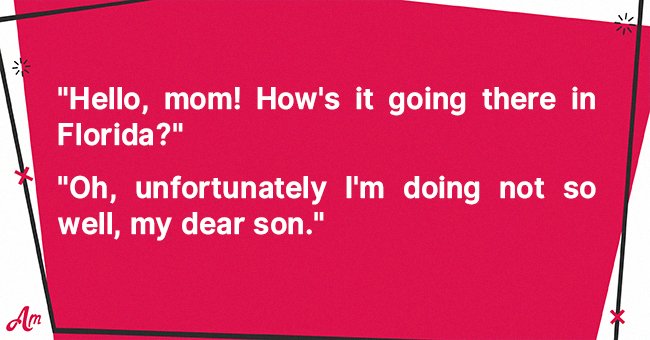 Most times, when he called, she was never prepared and was usually doing something. However, things continued as usual, and when he called later, she found herself with a friend or in a friend's house.
She started feeling uncomfortable about this because she didn't want her son to think all she did was go out with friends and talk all day. She stopped hanging out with her friend, and when her son called, she was now alone.
But the activities in the son's New York school increased, and he son stopped calling daily. But this got her more concerned because now she didn't know what day or time to expect his call.
His irregular calls continued, and now whenever he called, she was usually in the kitchen or eating. It became a regular coincidence, and she started becoming worried again. 
She hated the fact that she was always eating when he called. The woman did not want her son to have the notion that all she did was eat all day, so she thought of what to do.
One day, the boy called his mom, and her voice sounded weak. He immediately became concerned because he thought she was sick. But, when he asked what had happened, she explained that she had not eaten anything in a while. 
The boy asked his mom how long it had been, and she told him that the last food she ate was 26 days ago. The boy was surprised and wanted to know why his mom was starving herself.
Thank God he finally called her because when he asked why she was doing this, the mother told her son that she was ashamed that whenever he called, she usually had food in her mouth. In her words:
"I didn't want to be caught with food in my mouth when you called."
If you enjoyed this joke, you might find this one even more hilarious. It is about a woman who told her granddaughter that hers was the only birthday she remembered. A gesture the young girl thought was sweet till she learned the reason.
Source:
Upjoke.com