'Dog the Bounty Hunter's Duane Chapman Shares Loving Post Showing Off Fiancée Francie Frane in Chic Country Outfit
"Dog, the Bounty Hunter" is a lucky man. Less than a year after the death of his lovely wife Beth Chapman, he has found love, and he is not afraid to show her off to the world.
In June 2019, Duane Chapman lost his lovely wife Beth Chapman to throat cancer, and less than a year later, he is celebrating his engagement to now-fiance Francie Frane.
The 61-year-old does not shy away from showing off his fiance and often posts photos of her on Instagram and just recently, he kept his fans up to date with his love life when he posted a beautiful photo of his fiancee.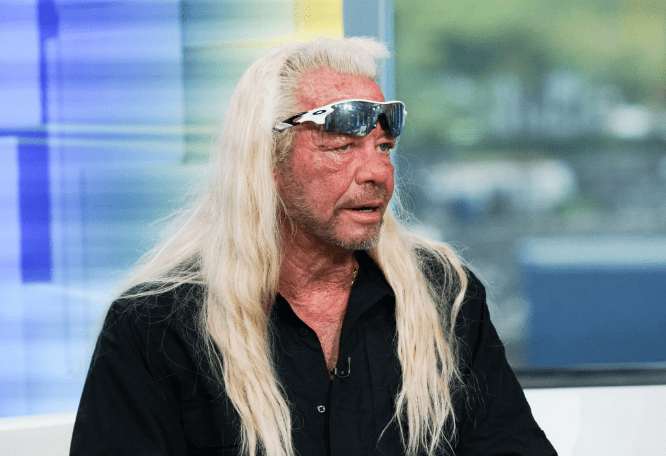 The photo showed Frane, 51, and Dog in what seems to be a log cabin. Frane was in a short floral dress and brown cowboy boots. She was standing facing Dog, who could be seen through a reflection in the mirror. 
Frane had her hair parted in the middle, with her blonde curls falling over her shoulders. She was wearing a beautiful smile on her face as her fiance takes the photo of her. 
Dog posted the photo showing off his fiance and captioned it sweetly, declaring his love for her and ensuring she knows just how he feels about her. He wrote:
"My Francie Francie I Love You !!!! And soon be proving that beyond a Shadow of a doubt!!!"

Fans of the couple were excited about the photo and congratulated the two on finding love while others praised Frane on how good she looked in the photo. 
The two got engaged at Dog's home in Colorado, where the two had been quarantining. She shared the experience saying that she'd gone to pick up some food, and when she came back, she got the surprise of her life.
Dog had the lights turned down and had lit some candles. He said he wanted to talk to her. He then went down on one knee and popped the question after asking her to spend the rest of her life with him. 
The two met by pure coincidence as Dog had reached out to Frane's husband Bob, intending to ask him to do some work in his home, oblivious of the fact that he'd passed on.
A short while after Beth passed on, Dog spoke to People saying that he would not be marrying again.
Dog and Frane would later bond over both their losses, and amid the grief, love was born. They say God brought them together at a time when they both needed each other, albeit unknowingly at the time. 
At the time of their getting together, none of them was actively looking for love. A short while after Beth passed on, Dog spoke to People saying that he would not be marrying again.
While many were happy for him to have found love, others criticized his moving on so fast after the death of his wife, which prompted his daughter, Bonnie, to defend him from angry fans.
She let them know that Beth would've been happy that he's moving on. Some fans, however, felt he'd moved on too fast and should've mourned his wife a little longer. Others branded it as disrespect to his late wife, saying:
"I'm very upset Dog, you should have waited longer than that. I'm sorry but I have no respect anymore."
Frane seems to have stolen not only Dog's heart but his daughters' as well. Lyssa, one of Dog's daughters, took to her Instagram stories to wish her dad and his new fiancee a happy life together.
She welcomed Frane to the family, at the same time telling off the critics that were not happy with the union. She went on to ask people to keep their judgment to themselves and let the happy couple be.