See Tamela Mann Flaunting Slimmer Tummy & Blonde Hair in Leopard Top, Matching Skirt & High Heels
Singer Tamela Mann has excelled at many things, including her weight loss journey. These days she shows off her hourglass figure in stunning outfits, and her recent post, which is a testament, left her fans lovestruck. 
Over the last two years, American gospel singer and actress Tamela Mann has made it her topmost priority to live a healthy lifestyle.
She embarked on a significant weight loss and fitness journey, which caused her to lose a considerable amount of weight. While at it, Tamela, 54, made sure to keep her fans updated with multiple posts on social media.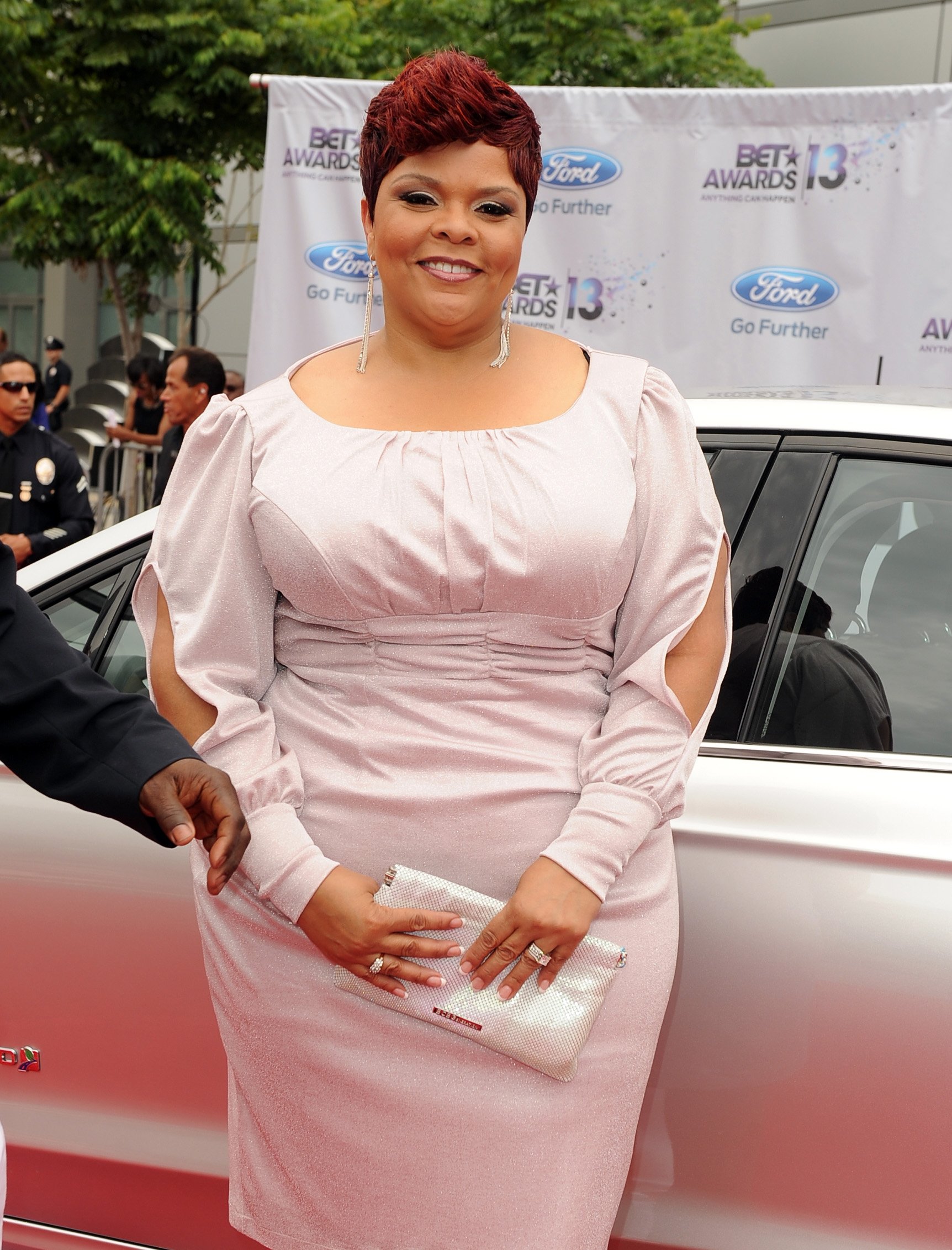 Since losing incredible weight, the powerful songstress constantly flaunts her slimmed-down physique on her Instagram page, which she shares with her husband and fellow singer, David Mann.
TAMELA'S HOURGLASS PHYSIQUE
Two days ago, the renowned gospel artist, Tamela took to her Instagram page to share a sizzling hot snapshot of herself, leaving her fans and followers swooning.
In the caption, Tamela revealed that the night was beautiful and her heart was so whole. Also, she mentioned that her new album "Overcomer" was available everywhere from August 6. She wrote:
"Tonight was beautiful and My heart is so full!!"
The mother-of-one looked elegant in a stylish leopard print top, paired with a fitted high waist skirt and a plain brown belt that accentuated her slimmer tummy and curvy figure.
Tamela's crossed legs were gorgeously tucked in a pair of black stilettos. She sported elegant makeup, rocked her blonde wavy hair, and smiled heartily, revealing her white dental structure.
The photo ignited delight in the hearts of her fans and celebrities alike, and without hesitation, the comments section was filled with words of admiration.
According to Tamela and David, divorce was never an option, irrespective of the challenges faced.
Fellow gospel minister Priscilla Shirer admitted that she had the best time and noted that Mann's music was the best. Famous gospel singer CeCe Winans wrote, "Wow!! You look fabulous, sis!! 👏🏾."
TAMELA'S WEIGHT LOSS JOURNEY
Tamela's decision to shed some pounds resulted from the need to be healthier and setbacks she faced while struggling with excessive weight.
During an interview, the star made it known that she was tired of fighting the weight demon because she had accomplished many things. Tamela always wanted to pick up an outfit from the store to wear without it being made especially for her.
Also, the actress struggled with knee problems and needed to lose weight to make it better. The Grammy award-winning singer began her journey in April 2019.
Tamela joined the likes of Kate Hudson and Oprah Winfrey and became an ambassador for WW( formerly known as Weight Watchers). 
With the help of the brand's program, Tamela successfully lost 50 pounds and shared the great news on Instagram. Once, the singer explained that her weight loss journey was a tasking one; however, she has made up her mind to complete it. 
Tamela also noted that she did not want to become a liability to her family, but she wanted to take care of herself by making better choices.
Although Tamela revealed that she still ate what she liked to eat, she learned how to cut the portions and pick the right healthier choices; through it all, the "Madea Goes to Jail" actress had the unwavering support of her family, especially her husband.
TAMELA'S SUPPORTIVE HUSBAND
During an episode of Essence's "Yes, Girl!" podcast in 2019, Tamela was full of praise for her husband. She gave gratitude to God for the encouragement she received from David and also mentioned that her husband loved her at her heaviest, which was about 365 pounds.
Seeing Tamela weather the storm with the support of her husband remains an inspiration to their fans. The pair have been married for 33 years and counting.
During a chat, the power couple opened up about how they have managed to stay married despite the high divorce rate in Hollywood.
According to Tamela and David, divorce was never an option, irrespective of the challenges faced. The pair had witnessed their parents go through divorce and made a conscious effort to work through any situation.
David's advice for every couple is that once or twice a year, they try and go back to recommit to the vows previously made.