Daily Joke: Hunter Kills and Eats a Bald Eagle, and Judge Asks Him What It Tastes Like
A young man worked as a hunter in a remote area and was known for his excellent hunting skills and hard work. One afternoon, the hunter got hungry, checked his kitchen for leftovers, but there were none.
He decided to visit a nearby forest on a hunting trip. While in the woods, the hunger became worse, and there was no animal in sight. After a while, he heard the sound of a bird, and as he looked up, he found a bald eagle on a tree.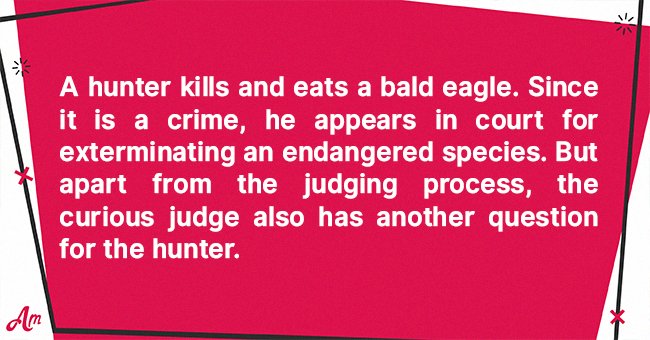 He raised his Marlin 336C gifted to him by his brother from the city and shot at the bird. As it fell, he quickly ran to pick it up and kept it in his hunting bag before carefully securing his hunting rifle back in its usual position.
However, something that has never happened to the young hunter occurred that evening. After he got home and ate his grilled eagle, authorities appeared at his doorstep and arrested him for violating the Endangered Species Act. 
The young hunter was surprised, but he still followed the police officers to the station, and he was later charged to court. He pleaded guilty and threw himself at the court's mercy.
He got a lawyer, and during his trial, he explained to the judge that he wasn't aware that killing and eating a bald eagle was illegal. He also noted that he would never repeat the mistake if the court set him free.
Although he pleaded vigorously and remorsefully, the judge still noted that he committed a crucial offense. But because he wasn't aware of the law, the judge decided to give him a second chance and let him go this time.
But before he left, the judge noted that he still had to do one thing. The hunter quickly replied that he was willing to do anything the judge wanted.
The man with authority reminded him that it had been illegal to kill a protected species for years. However, he stated that because of this fact, only a few people have had the opportunity to eat a bald eagle. So, he asked the hunter to describe to everyone how a bald eagle tasted. 
The young hunter assessed what the judge asked of him for a while and tried to remember how his eagle dinner tasted. He looked at the judge and explained:
"It tastes pretty good. Kind of like a cross between a spotted owl and a condor." 
If you enjoyed this joke, you might find this one even more hilarious. It is about a farmer who came up with a plan to breed his pigs with his friend. After several tries with no success, the man got tired but the pigs were just getting started.
Source: Reddit.com