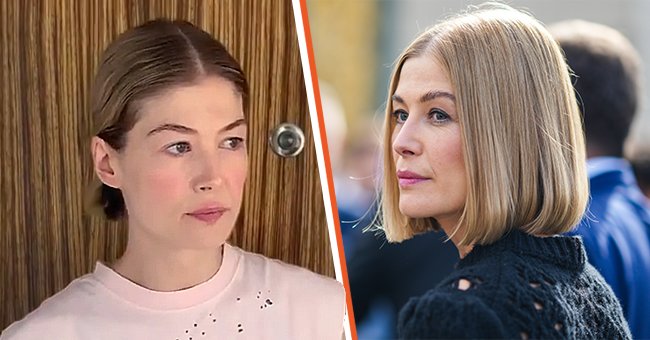 Getty Images | Instagram.com/mspike
Rosamund Pike Shares 2 Sons with Ex-addict Partner Who Had 4 Other Kids before Dating the Actress
Rosamund Pike is a Hollywood actress and a doting mother of two, whom she shares with her loving partner, businessman Robie Uniacke. However, before having a beautiful family, she went through two relationships that ended in heartbreak.
Before having a beautiful family with her partner, Robie Uniacke, Rosamund Pike endured a few heartbreaks from her past relationships. Nevertheless, she brought it to where she is today – a mom to two children, Solo and Atom.
Despite being together for years, Pike and Uniacke are still not married. The British actress said it felt "more right" to have a child with the person you love without tying the knot.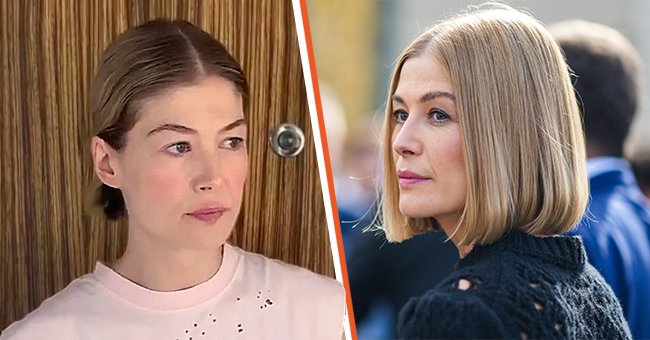 Rosamund Pike during Paris Fashion Week - Womenswear Spring Summer 2022, on September 28, 2021 in Paris, France. | Source: Getty Images & Instagram/mspike
The star first fell in love with actor Simon Woods, whom she met at Oxford. Both studied English Literature while dating for two years. While all the other men envied Woods for captivating one of Oxford's most beautiful women, he had a secret Pike did not know – he was gay.
Just as she had been cast in "Die Another Day" alongside Pierce Brosnan, Woods mustered the courage to tell Pike his sexuality. Nine years later, he fell in love again with Burberry's creative director, Christopher Bailey.
Woods also lived happily ever after tying the knot with his boyfriend in a civil ceremony at the Chelsea register office. Meanwhile, Pike, who remained a friend, wished them well in their life together.
A few years after her first romance ended, the "Gone Girl" star entered a relationship with director Joe Wright. The couple was undoubtedly madly in love while furthering their careers in the industry. In 2008, the pair got engaged and purchased a house in Spitalfields, East London.
Sadly, Pike never got to walk down the aisle. Wright called off the engagement after he discovered Pike sent out save-the-date invites ahead of their wedding. According to his friends, Wright was not aware she sent such cards, but Pike said otherwise. She said:
"We'd both designed it, and the design was to make them laugh."
Just when it seemed her luck in love ran out, Pike met Uniacke, a man with a controversial reputation. Some of Pike's friends feared that she was walking into another mistake, but the actress couldn't care less about Uniacke's past. In fact, she called him "the most interesting person I've ever come across."
Pike, a businessman and former heroin addict was already a father of four when they met. He had a son, Robie, with Emma Howard, and three more kids with ex-wife Rose Batstone.
Today, he has two more kids, Solo and Atom, whom he shares with the actress. Pike recalled wanting to have her second child after filming the psychotic-thriller "Gone Girl." "The film was so tough and such a hard experience that the instant I'd finished, I thought, 'I need to bring something positive into this world," she said.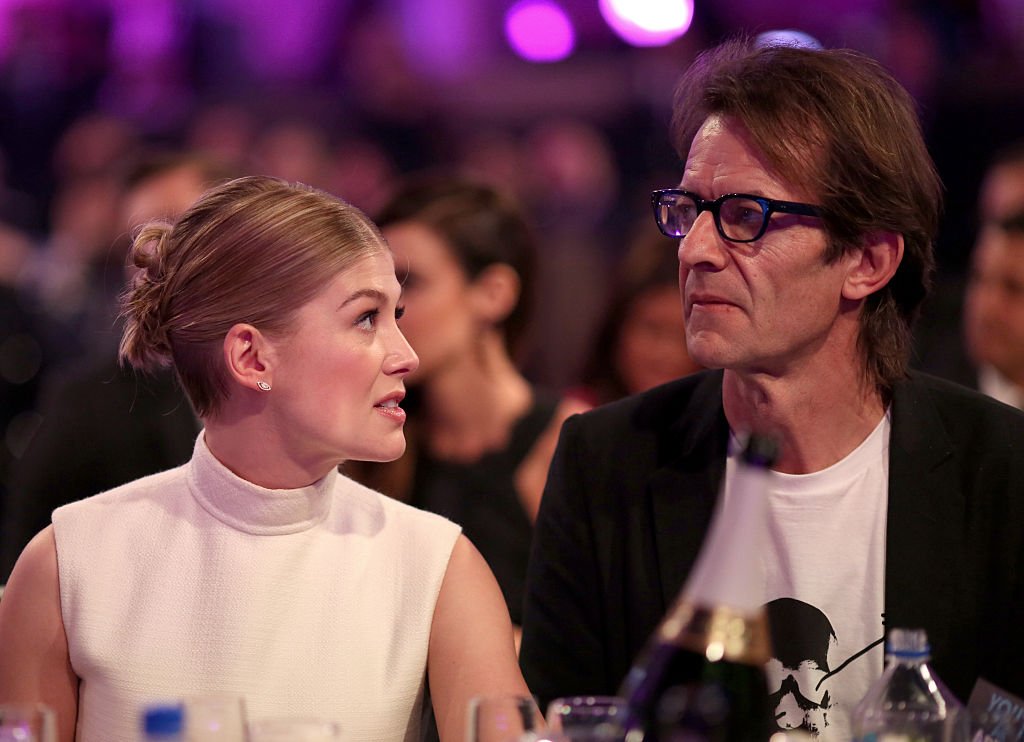 Rosamund Pike and Robie Uniacke at the 20th annual Critics' Choice Movie Awards on January 15, 2015 in Los Angeles, California | Photo: Getty Images
Pike's children are becoming intelligent boys who can speak both English and Mandarin. The actress once shared a video of her sons teaching her to speak the language, as she could not.
Although she was determined to pursue a career in Hollywood after being rejected by all the drama schools, Pike did not think her fame would shoot up.
The "Return To Sender" star explained that Uniacke felt it would be interesting to communicate with their sons in a different language. So, he learned how to speak Chinese from scratch and taught the boys.
Although the couple shares two kids, they are still not married. Previously, Pike hinted that marriage might not be written in her stars. She told Vogue, as reported by Daily Mail:
"It is interesting to break all the rules. I'm not married, I have a baby, and it feels infinitely more right."
Pike undoubtedly loves her partner, who has shown immense support for her career. Previously, he gave her advice that helped her career. The "Jack Reacher" star, who suffered several failed relationships, was thankful for finding love with Uniacke. She sees her partner as a clever man with an astute mind.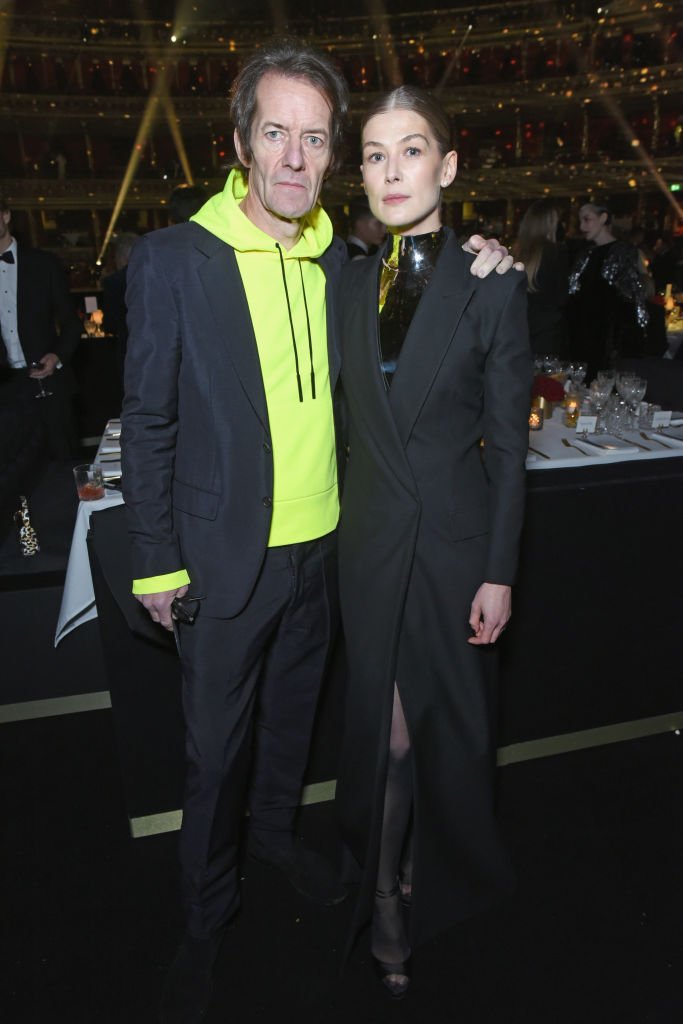 Robie Uniacke and Rosamund Pike at The Fashion Awards 2018 In Partnership With Swarovski on December 10, 2018 in London, England | Photo: Getty Images
Taking Uniacke's advice to heart, the "I Care A Lot" star has been doing well in the entertainment industry. Following her outstanding role in "Gone Girl," she won an Academy Award nomination for her performance.
Pike's fame came as a surprise to her. Although she was determined to pursue a career in Hollywood after being rejected by all the drama schools she applied for, Pike did not think her fame would shoot up.
Like Pike, Uniacke's career hasn't always been a bed of roses. In 2018, he reportedly got disentitled as a company director and was banned from operating as a director for four years.
Uniacke's company, Pale Fire Ltd, was deemed insolvent and afterward disestablished. According to the liquidator's report, his account was overdrawn by £133,000, and the businessman had no income and assets.
However, the liquidator accepted his offer of £25,000 in the full and final settlement. Uniacke confirmed that no payment had been made to HMRC since July 2012, even with claims of about £260,508 being paid into his account.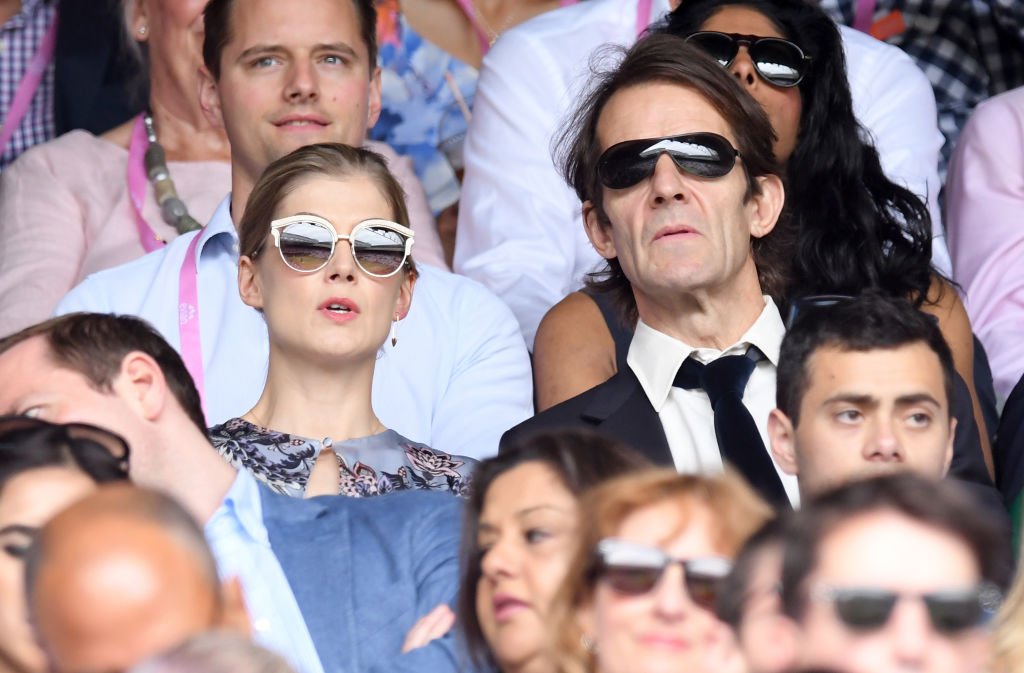 Rosamund Pike and Robie Uniacke at Wimbledon 2017 as evian guests during day 13 on July 16, 2017 in London, England | Photo: Getty Images
Pike is not the only Hollywood star who experienced heartbreak with relationships. Previously, American actress Jenifer Lewis shared how her ex-lover conned her into investing in a fake company.
It turned out that the man she planned to have a future with was a professional con artist and ex-convict who also scammed other women. Lewis immediately demanded the man and was determined to see him behind bars.
Fortunately, Lewis has since moved on from the unfortunate event and lives happily. Many have also empathized with her since her story was publicized.
Please fill in your e-mail so we can share with you our top stories!