Michael Jordan's Daughter Proves She Has Inherited Dad's Brown Eyes While Posing in Close-Up Photo
Michael Jordan's daughter recently showcased one of the facial features she inherited from him in a close-up shot. The picture comes a couple of days after her bridal shower. 
Michael Jordan's daughter Jasmine may not have inherited his athletic abilities; however, she did not come away from the womb without some markers that identify her as his daughter. 
An example of such an indicator is the color of her eyes and the shape it takes when she smiles. In the past, she once pointed out how she and her father both get squinty eyes whenever they smile hard.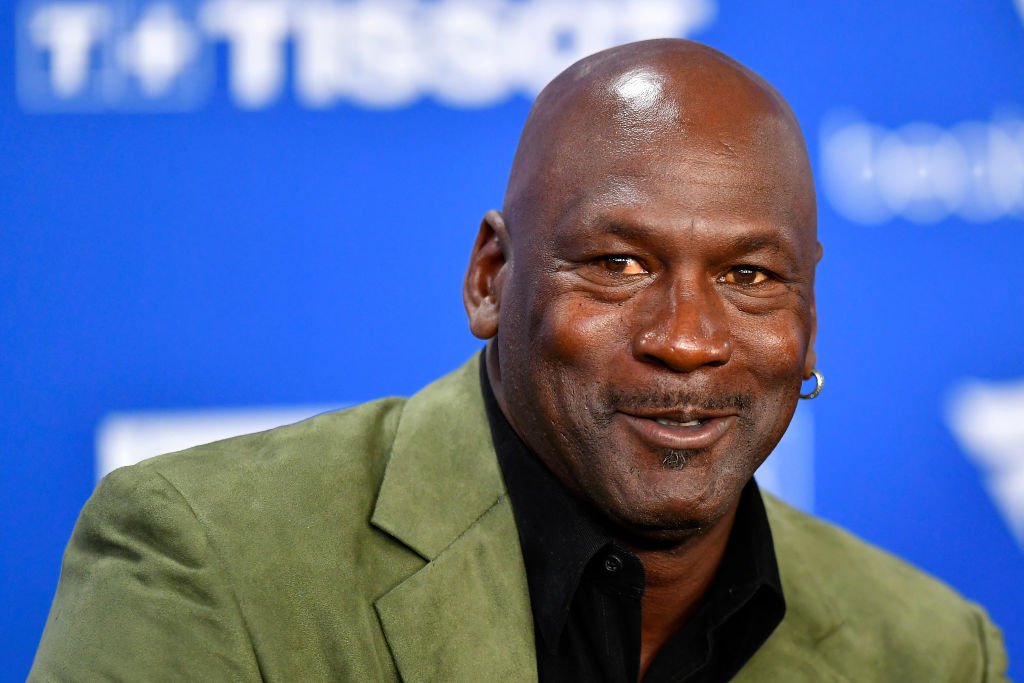 Her eyes are brown colored just like his, and she recently took to her Instagram page to showcase them. She did this with a selfie, which caught her posing with one hand supporting her gorgeous face. A bit of the henna painted on the hand could be seen. 
Jasmine was wearing a purple robe in the selfie, and her dark hair was styled in long, straight strands that framed her lovely face. In her caption, Jasmine declared that she did not have a lot to say since the "eyes tell all." 
Her fans loved the post, and they said as much in the comment section; words like "stunning" and "beautiful" came up many times as the enamored users tried to express just how pretty she looked. 
JASMINE HAD TO GOOGLE HER FATHER
Jasmine shares a strong bond with her father. He loves her very much, and while she was young, he and his then-wife tried their best to give her a taste of ordinary life. They excelled so much at it; she had no idea of how famous he was until she was about ten years old.
The decorations were all top-notch, with every detail in place, but it was the people in attendance who made the occasion memorable.
At some point, she had become aware of the obsession people seemed to have for her father, and it had gotten her curious enough to google his name. It was at that moment that she realized what the fuss was all about. Not that it changed how she saw him.
JASMINE HAS BEEN ENGAGED FOR A LONG TIME 
Jasmine has been in a committed relationship with her beau basketball athlete Rakeem Christmas for quite some time now. The two welcomed their first child, Rakeem Jr, together in May 2019, making her father a granddad for the first time. 
Happily Engaged | 💚@R_Xmas25 pic.twitter.com/sfmN3H81Yo

— Jasmine M. Jordan (@MickiJae) June 10, 2018
Jasmine Jordan attended Syracuse University, where she co-headlined SU's Orange Madness in 2012 with Scoop Jardine.
She graduated with a degree in sports management, and even though she does not play like her father, she found a job on the sidelines as a basketball operations coordinator for the Charlotte Hornets — a team majorly owned by her father. 
Jasmine and Rakeem announced news of their engagement in 2018 but decided to take their time before deciding to make things more permanent between them. 
THE WEDDING IS JUST AROUND THE CORNER
Jasmine and Rakeem's fans have been waiting to hear the good news of their marriage ever since they got engaged in 2018, and now it seems the wait is coming to an end.
Late last month, Jasmine, who is the result of Michael's past relationship with his ex-wife Juanita Vanoy, celebrated her bridal shower. A video that captured the exquisite decorations from the joyful event was posted on YouTube. 
The decorations were all top-notch with every detail in place, but it was the people in attendance who made the occasion memorable for Jasmine.
Drinks were toasted, and there was a lot of jubilation in the air. Given how smoothly it ran, fans are looking forward to the wedding ceremony, confident it will be one to remember.