Olympic Medalist Raven Saunders' Mom Dies Days after Her Daughter's Win in Tokyo
Shot putter Raven Saunders is still mourning her mom's death, who passed away days after she won a silver medal at the Tokyo Olympics. Here's everything we could find about the Saunders.
On August 3, Clarissa Saunders, the mother of Olympic shot putter Raven Saunders, passed away in Orlando, Florida. She was in Florida for a viewing party to watch Raven participate in the Tokyo Summer Olympics.
It is important to point out that Clarissa, whose cause of death has not been disclosed, passed away only two days after Raven won a silver medal in the women's shot put competition.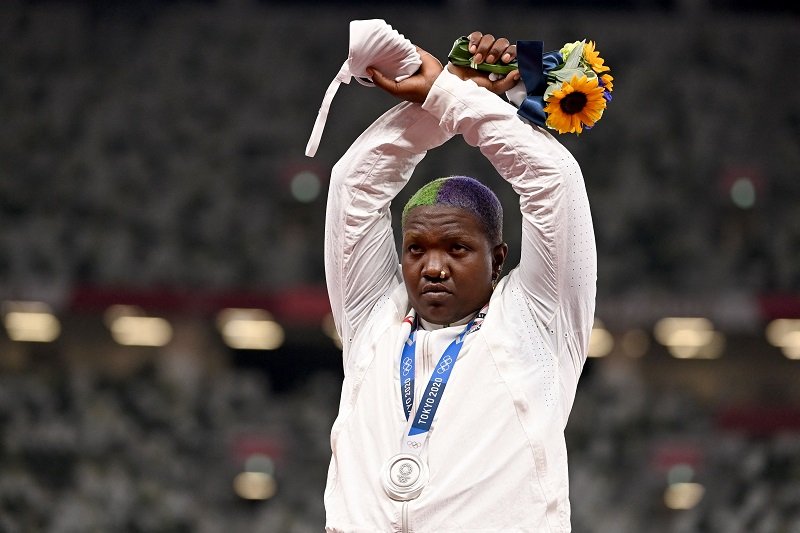 Raven attracted a lot of attention during her time on the podium as she held her arms up in the shape of an X to raise awareness about oppressed people around the world. 
She admitted to being proud of inspiring and motivating Black people, members of the LGBTQ+ community, and others dealing with mental health issues.
In October 2020, Raven confessed that her mental health was deeply affected after placing fifth at the Olympic Games in Rio in 2016. She was so depressed that she even contemplated suicide. 
Fortunately, Raven checked into a mental health facility in January 2018 and learned how to differentiate her value as a person and her success as an athlete.
Raven admitted she would take some time off social media to focus on her mental health and family.
Shortly after Clarissa's passing, Raven took to social media to honor her late mother. She posted short videos of Clarissa and other family members and wrote: 
"I'll miss your love, your smile, your hugs, your advice, your jokiness, your random twerks. […] Mama I know you love me with every fiber in your body."
Raven also assured Clarissa that her grandchildren would know how "wonderful and beautiful" she was and asked her and God to protect and watch over their family. 
On Twitter, Raven admitted she would take some time off social media to focus on her mental health and family. She added that Clarissa was a "great woman" and her "number one guardian angel" who would always live through her.
Hoping off social media for a while to take care of my mental and my family. My mama was a great woman and will forever live through me. My number one guardian angel 🙏🏾 I will always and forever love you. https://t.co/XWOjE56EjI

— Raven HULK Saunders (@GiveMe1Shot) August 3, 2021
Clarissa and Raven made headlines for the first time in 2016. After Raven qualified for Rio 2016 as the youngest shot putter, her family started selling donuts to raise money and send Raven, Clarissa, and aunt Tonetta Coleman to the Olympic games. 
Unfortunately, Raven was not the only Olympian who lost a family member while in Tokyo. Gymnast star Simone Biles revealed her aunt unexpectedly passed away. 
If you or someone you know is considering suicide, please contact the National Suicide Prevention Lifeline at 1-800-273-TALK (8255), text "help" to the Crisis Text Line at 741-741 or go to suicidepreventionlifeline.org.